"The Messenger" Director Oren Moverman Doing Kurt Cobain Biopic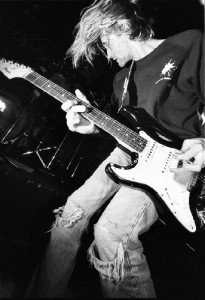 THR's Risky Business blog is reporting that The Messenger director, Oren Moverman, is in negotiations to direct and rewrite a script by David Benioff for Universal's untitled Kurt Cobain film. The 2001 biography "Heavier Than Heaven" by Charles R. Cross will be used as the main basis for the film. The studio wants to use it to recount the personal interactions and other elements from the life of Cobain.
This isn't the first time anyone has tried to do a film on Cobain. Gus Van Sant's Last Days was based upon Cobain's last days. Even though the characters are renamed, it is very obvious that the main character is meant to be Cobain.  Cobain has been the focus of many documentaries over the years, and there is plenty of material following his life and tragic death.
I'm just a stone's throw away from the age that Cobain was when he died, and it changes my perspective on things quite a bit more. When I was younger he seemed much older than he does now. I realize now just how young he was, and although I'm not sure he was a "genius" (talented of course), it is a genuine loss to lose someone that young.
Note: How awesome would it be to have a name like Oren Moverman?