The Long Box: Comic Book Casting Call – Daredevil
Back in 2003, Fox acquired the rights to Daredevil during the initial surge of interest in comic based films.  The original cast was Ben Affleck as Matt Murdock, Jennifer Garner as Elektra, Michael Clarke Duncan as The Kingpin, and Colin Farrell as Bullseye.  The movie opened to mixed reviews.  A sequel was discussed but never happened.  In 2005, Fox gave the Elektra character her own movie, and it was a flop – the lowest grossing film with a Marvel character ever.  After the abysmal failure of Elektra and the lukewarm reception of Daredevil, Fox put everything Daredevil on the back burner (they were too busy making crappy Fantastic Four & X-Men movies).  Around 2010, Fox again tried to reboot the franchise with director David Slade (30 Days of Night) but couldn't get a new version of the film off the ground.  In the fall of 2012,  the rights reverted to Disney/Marvel Studios.  There is a a really good chance that we will finally get to see a great Daredevil film.  Here's my take on it.

The Idea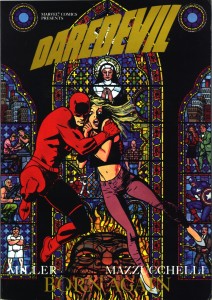 In 1987, David David Mazzucchelli and Frank Miller jumped from DC's Batman to Marvel's Daredevil.  These men wrote a story that would become one of (if not the) best Daredevil story ever produced.  In Born Again, the former Murdock/Nelson Law Firm secretary and girlfriend of Matt Murdock, Karen Page, leaves New York for Los Angeles in hopes of becoming an actress.  As fate would have it, Karen fails at becoming a big time actress and gets into porn, prostitution, and heroin.  She sinks so low as to sell the secret identity of Daredevil for a quick fix. The information makes its way to Wilson Fisk (The Kingpin), and he proceeds to make Matt Murdock's life a living hell, breaking him mentally and physically.  The film would be about Daredevil's fall from grace and his triumphant return.
The Writer and Director
The writer/director of this film will have to handle both the dark and gritty content and the sheer size of the story.  Granted, a new Daredevil flick won't get the same budget as a Spider-Man or Avengers, but Marvel is unlikely to put it on a shoe string budget.  Joe Carnahan would be a great fit to this film.  Carnahan wrote and directed Narc, Smokin' Aces, The A-Team, and The Grey.   Coincidentally, he is already attached to the reboot for Marvel Studios (who am I to argue?).  I think Carnahan has the ability to bring this very dark story to the big screen and make it look and feel completely different from the previous version.