THE LION KING 3D Opens September 16 and Will Be Released to Blu-ray October 4! Win Passes to the Screening!
Enter for your chance to win a pass, good for two!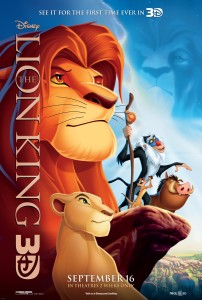 When "The Lion King" first roared into theaters in 1994, the story of Simba and his father touched the hearts of an entire generation—its pioneering soundtrack, unexpected humor and compelling characters captivated audiences worldwide. The film, which followed "The Little Mermaid" and "Beauty and the Beast," propelled The Walt Disney Studios' animation renaissance, becoming the highest-grossing animated film of all time. (In the U.S., it continues to be the highest-grossing hand-drawn animated film ever.) "The Lion King" won the Oscar® for Best Original Score (Hans Zimmer) and Best Original Song (Elton John/Tim Rice, "Can You Feel the Love Tonight") and earned Golden Globes® in both categories as well as for Best Motion Picture—Comedy or Musical. It is the best-selling home entertainment release of all time and inspired a Tony Award®-winning Broadway musical that became the seventh-longest-running musical in Broadway history in January 2011.
And now, the popular classic is in 3D for the first time ever.
A special two-week theatrical extravaganza kicks off Sept. 16, 2011, showcasing the film on the big screen in Disney Digital 3D™. Its highly anticipated home-entertainment debut kicks off October 4, celebrating the Diamond Edition release of the epic movie "The Lion King" in high-definition Blu-ray™ and Blu-ray 3D™.
Nearly a decade since "The Lion King" last appeared on the big screen, the upcoming theatrical release invites new generations into the Circle of Life. The two-week, 3D presentation is a planned wide domestic release—the biggest since the film's 1994 debut—and the film's first-ever 3D release.
The Blu-ray debut marks the first time "The Lion King" has been available in any form since 2004. Featuring pristine high-definition picture and sound, the Blu-ray creates an incredible at-home experience with a host of picture and sound enhancements, interactive features and bonus content, including a new set of hilarious animated bloopers.
In order to enter the contest, become a fan of ReviewSTL on Facebook and share ReviewSTL.com with all your friends (click the "share" link on the bottom-left side of the page). Then leave a comment under the contest post, telling us your favorite memory from 'The Lion King' – then like the post to complete your entry. NO PURCHASE NECESSARY. PLEASE REMEMBER TO READ THE RULES!
SCREENING IS SATURDAY, AUGUST 27 AT WEHRENBERG CHESTERFIELD GALAXY 14 CINE (10AM).
Good luck! We hope to see you at the movies!
Watch the trailer below:
[hdplay id=410]