'The Howling' is to be reborn.
I bet you'd never guess that Hollywood would do another horror remake? Ha, just kidding the executives are going bleed every horror franchise dry. Expect crappy remake after crappy remake. Why? Well, because it is easy and cost effective. None of these will be breaking box office records, but they will however make their money back. Most of these films are critically panned, but have a built in audience which equates to a decent run at the box office and great DVD sales.
From Variety.com
---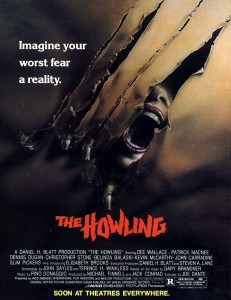 "The Howling" is coming back.
Indie producers Joel Kastelberg and Moonstone Entertainment's Etchie Stroh are re-launching the werewolf franchise as "The Howling: Reborn." Former studio marketing exec Joe Nimziki, who worked at New Line, MGM and Sony, will make his feature directorial debut from his own script.
Pic's due to start shooting in February for a Halloween release, with plot details under wraps.
The original "Howling," directed by Joe Dante from a script by John Sayles, was released in 1981 and spawned six sequels. Dee Wallace-Stone starred as a news anchor stalked by a serial killer who turns out to be a werewolf.
Steve Lane and Bob Pringle, who served as exec producers on the original, will also exec produce "The Howling: Reborn."
Kastelberg's credits include "Bodies, Rest and Motion," "Mr. Jealousy," "Sleep With Me" and "Kicking and Screaming" while Stroh's include "Cookie's Fortune," "Afterglow," "Dancing at the Blue Iguana" and "Stranger Than Fiction."
---
Well, I guess with the success of the Twilight series werewolves might get a bit of the boost that vampires has seen. New Moon was just the first of a few werewolf movies lined up over the next few years. Wolfman is likely to be the next big one.