The Hidden Gem: "Breach" Starring Ryan Phillippe and Chris Cooper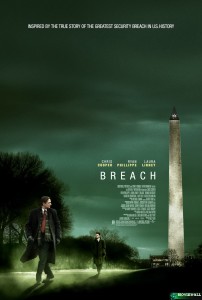 The Keller Plaza 8 Theater located on Lemay Ferry between Highway 55 and Butler Hill is one of my favorite theaters.  First, it is cheap, which is always more fun than spending ten bucks for a ticket.  Second, due to the price, it allows me to see films that I normally would dismiss because I do not want to pay full price.  My dad and I frequent this theater often for these very reasons, and every now and then, you find yourself enjoying a true gem.  Breach, starring Ryan Phillippe and Chris Cooper, was a film that surprised the hell out of me and was one of my favorite films in 2007.
Eric O'Neill (Phillippe), a computer specialist who wants to be made an agent, is assigned as a clerk for Robert Hanssen, an agent with 25 years in the field.  O'Neill is asked to write down everything Hanssen does. O'Neill's told it's an investigation on Hanssen's sexual habits.  O'Neill quickly becomes suspicious and discovers the real reason he has been hired to investigate Hanssen. Within weeks, the crusty Hanssen, a devout Catholic, has warmed to O'Neill, who grows to respect Hanssen.  As tensions rise, O'Neill is pushed to his limits.
I dismissed Phillippe as an actor before this film, but he really shines here.  He provides the insecurity needed for the audience to really connect.  Cooper, as always, is at the top of the game.  He portrays a man that you respect and seems good, but the whole time you know facts about him to the contrary.  Not many actors could pull off this character, and Cooper is perfect in the role.
The most amazing thing about the film is that it is a true story.  The stress and tension that O'Neill goes through seems unbearable.  The life of an FBI agent is not one that I envy in any way.  If you have not seen this thriller, I would suggest doing so right away.  The acting is top-notch with a story that will make you wonder about the secrets that people keep.
If you have seen the film, what do you think?  What is your favorite film starring Chris Cooper?  Let us know in the comments below.