"Fantastic Four" Reboot in the Works by Marvel Studios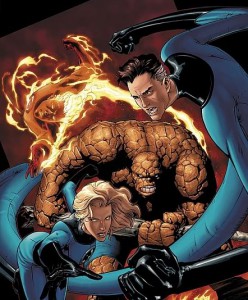 I love superhero films as much as the next guy, but I have a problem with rebooting a franchise three years after the last installment.  This is now the problem with all of the Marvel properties that were sold off to other movie studios before Marvel Studios was established i.e. Spider-Man, X-Men, Fantastic Four, Blade.  The studios that purchased these properties have contract stating characters purchased must be developed every so many years or the rights go back to Marvel.  Obviously the contract puts it more elegantly than I just did, but this is the reason we have an X-Men film getting pushed out in less than a year, a Spider-Man reboot after an already successful franchise, and a sequel to the dreadful Ghost Rider.
So the next film to receive the reboot treatment: Fantastic Four.  Now, I know that I am in the minority, but I really liked the first Fantastic Four.  The sequel, Rise of the Silver Surfer, was a mess, but let us continue to the future of the franchise.  Rumor has it that the studio is shooting out some invitations for main characters already.  Adrien Brody and Jonathan Rhys Meyers are being considered for Mr. Fantastic while Alice Eve and Amber Heard are rumored for The Invisible Woman.  Kevin Pennington and unknown Cody Sousa are favorites of the studio for The Human Torch.
Now, reports state that True Blood star Stephen Moyer has been offered the part of Dr. Doom.  Moyer has yet to confirm or deny the offer that is said to feature his character as ruler of Latveria and a master of the mystic arts.
My opinion (which matters to absolutely no one) is to get someone solid to play Mr. Fantastic, like Brody, and then cast lesser known actors around him.  The story needs to focus on the relationship of the four central characters, and I don't want a star studded affair of big names with little talent.  I think we need to see a new villain as well.  I'm not exactly a buff on Fantastic Four history, but I am sure there other villains that can be used.  We have seen Dr. Doom in both films now.  If you want to do a reboot then let's not cast all of the same characters.
What did you think of the Fantastic Four films?  Who would you like to see cast in the new film?  Let us know in the comments below.