'The Family' opens September 13! Enter to Win Passes to the Advance Screening!
Enter to win a pass for two!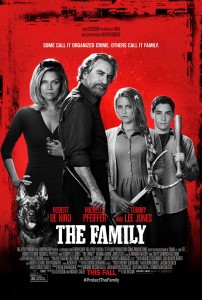 In the off-beat action comedy "The Family," a mafia boss and his family are relocated to a sleepy town in France under the witness protection program after snitching on the mob. Despite the best efforts of Agent Stansfield (Tommy Lee Jones) to keep them in line, Fred Manzoni (Robert DeNiro), his wife Maggie (Michelle Pfeiffer) and their children Belle (Dianna Agron) and Warren (John D'Leo) can't help but revert to old habits and blow their cover by handling their problems the "family" way, enabling their former mafia cronies to track them down. Chaos ensues as old scores are settled in the unlikeliest of settings in this darkly funny film by Luc Besson (Taken, Transporter).
Cast: Robert De Niro, Michelle Pfeiffer, Tommy Lee Jones, Dianna Agron, John D'Leo
Director: Luc Besson
The Family opens Friday, September 13!
Use the contest app below to "like" ReviewSTL on Facebook – then tweet, share, or comment for additional entries!
Winners will be chosen at random from all entries. Supplies are limited. Limit one (1) pass per person, passes admit (2) two. Sponsor's employees and their dependents are ineligible. Screening is overbooked to ensure capacity. Please refer to passes for any other possible restrictions. NO PURCHASE NECESSARY.
Screening will take place Wednesday, September 11 at AMC Creve Coeur 12 (7pm).
Twitter: @TheFamilyMovie
Facebook: Facebook.com/TheFamilyMovie
Tumblr: TheFamilyMovie.tumblr.com