THE EXPENDABLES 3 opens August 15! Enter to Win Passes to the St. Louis Advance Screening!
Enter for your chance to receive a pair of passes to a special advance screening!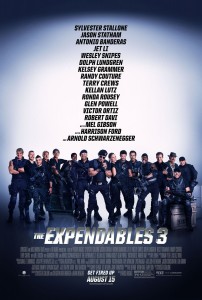 In THE EXPENDABLES 3, Barney (Stallone), Christmas (Statham) and the rest of the team come face-to-face with Conrad Stonebanks (Gibson), who years ago co-founded The Expendables with Barney. Stonebanks subsequently became a ruthless arms trader and someone who Barney was forced to kill… or so he thought. Stonebanks, who eluded death once before, now is making it his mission to end The Expendables—but Barney has other plans. Barney decides that he has to fight old blood with new blood, and brings in a new era of Expendables team members, recruiting individuals who are younger, faster and more tech-savvy. The latest mission becomes a clash of classic old-school style versus high-tech expertise in the Expendables' most personal battle yet.
Cast: Sylvester Stallone, Jason Statham, Antonio Banderas, Jet Li, Wesley Snipes, Dolph Lundgren, Kelsey Grammer, Mel Gibson, Harrison Ford, Arnold Schwarzenegger
Director: Patrick Hughes
In order to enter the contest, e-mail us and tell us why you can't wait to see the movie!
No purchase necessary. Void where restricted or prohibited by law. At the screening seating is not guaranteed and is available on a first-come, first-served basis. Refer to screening pass for further restrictions. Screening pass winners will be drawn at random and notified via email. Limit two (admit-one) passes per person. Must be age 13 or over to enter.
THE EXPENDABLES 3 opens August 15!