THE DARK KNIGHT RISES Opens July 20! Enter to Win Passes to the St. Louis Advance Screening!
Enter to win a pair of passes!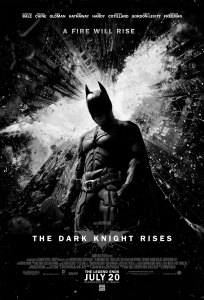 Warner Bros. Pictures' and Legendary Pictures' "The Dark Knight Rises" is the epic conclusion to filmmaker Christopher Nolan's Batman trilogy, Leading an all-star international cast, Oscar(R) winner Christian Bale ("The Fighter") again plays the dual role of Bruce Wayne/Batman. The film also stars Anne Hathaway, as Selina Kyle; Tom Hardy, as Bane; Oscar(R) winner Marion Cotillard ("La Vie en Rose"), as Miranda Tate; and Joseph Gordon-Levitt, as John Blake. Returning to the main cast, Oscar(R) winner Michael Caine ("The Cider House Rules") plays Alfred; Gary Oldman is Commissioner Gordon; and Oscar(R) winner Morgan Freeman ("Million Dollar Baby") reprises the role of Lucius Fox. The screenplay is written by Christopher Nolan and Jonathan Nolan, story by Christopher Nolan & David S. Goyer. The film is produced by Emma Thomas, Christopher Nolan and Charles Roven, who previously teamed on "Batman Begins" and the record-breaking blockbuster "The Dark Knight." The executive producers are Benjamin Melniker, Michael E. Uslan, Kevin De La Noy and Thomas Tull, with Jordan Goldberg serving as co-producer. The film is based upon characters appearing in comic books published by DC Comics. Batman was created by Bob Kane.
Cast: Christian Bale, Anne Hathaway, Tom Hardy, Marion Cotillard, Joseph Gordon-Levitt, Michael Caine, Gary Oldman, Morgan Freeman
Director: Christopher Nolan
THE DARK KNIGHT RISES is rated PG-13 for "intense sequences of violence and action, some sensuality and language."
In order to enter the contest, "like" ReviewSTL on Facebook . Then video yourself as your own superhero, in an audition to be Batman's crime fighting ally – and post it to the ReviewSTL Facebook page (check out this example from KICK-ASS for ideas)! NO PURCHASE NECESSARY. While supplies last. Passes are available on a first-come, first-served basis.
Supplies are limited. Limit one (1) pass per person, passes admit (2) two. Sponsor's employees and their dependants are ineligible. Screening is overbooked to ensure capacity. Please refer to passes for any other possible restrictions. No purchase necessary.
The screening will be held on Wednesday, July 18 (7pm).
Good luck! We hope to see you at the movies!
THE DARK KNIGHT RISES OPENS JULY 20