Enter for your chance to win a pass, good for two!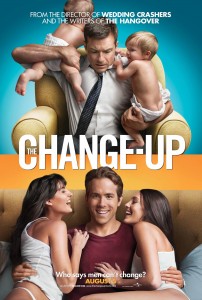 Growing up together, Mitch and Dave were inseparable best friends, but as the years have passed they've slowly drifted apart. While Dave is an overworked lawyer, husband and father of three, Mitch has remained a single, quasi-employed man-child who has never met a responsibility he liked. To Mitch, Dave has it all: beautiful wife Jamie, kids who adore him and a high-paying job at a prestigious law firm. To Dave, living Mitch's stress free life without obligation or consequence would be a dream come true. Following a drunken night out together, Mitch and Dave's worlds are turned upside down when they wake up in each other's bodies and proceed to freak the &*#@ out. Despite the freedom from their normal routines and habits, the guys soon discover that each other's lives are nowhere near as rosy as they once seemed. Further complicating matters are Dave's sexy legal associate, Sabrina, and Mitch's estranged father. With time not on their side, Mitch and Dave struggle to avoid completely destroying each other's lives before they can find a way to get their old ones back.
Starring: Ryan Reynolds, Jason Bateman, Leslie Mann, Olivia Wilde, Alan Arkin
Directed by: David Dobkin
In order to enter the contest, become a fan of ReviewSTL on Facebook and share ReviewSTL.com with all your friends (click the "share" link on the bottom-left side of the page). Then leave a comment under the contest post, telling us why you want to see the movie! Then like the post to complete your entry. NO PURCHASE NECESSARY. PLEASE REMEMBER TO READ THE RULES!
SCREENING IS TUESDAY, AUGUST 2 AT WEHRENBERG RONNIES 20 CINE.
Good luck! We hope to see you at the movies!
Watch the red band trailer below (NSFW):
[hdplay id=394]