Review: 'Cowboys and Aliens' Starring Daniel Craig, Harrison Ford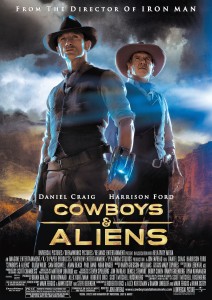 It's a simple, and admittedly awesome, premise. Aliens invade the old west. Perfect in its simplicity. You had me at…well, "Aliens invade the old west." But then you tell me that Han Solo and James Bond will play the cowboys? Well, that's just flat out genius now, isn't it? However, Cowboys & Aliens, it turns out, is a lot like communism – a good idea on paper but in execution…not so much.
Daniel Craig plays Jake Lonergan, an outlaw on the lam [not lamb] after a run in with aliens. He has no memory of the encounter. He has only a mysterious wound, and a shackle far too technologically advanced to be of his time, when he stumbles upon the town of Absolution. Wait? Absolution? Why that sounds suspiciously like a metaphor. The town is held hostage to the sadistic whims and violent outburst of Percy Dolarhyde (Paul Dano) son of local cattle baron, Woodrow Dolarhyde (Harrison Ford). Percy and Jake both end up in jail when aliens attack and abduct a large swath of the town.
From here on out it's a cowboy/alien shootout, right? Ummm….no. First, they have to form a search party and track the aliens. And track…and track………….and track…………………..and track. The aliens don't make their initial entrance until 50-minutes into the film. And when you do finally see them, their appearance is a little odd (picture a gynecology text book illustrated by H.R. Giger). Furthermore, the first hour of the film is incredibly dark. Not "dark" as in "what a remarkably intense and bleak film this is" sort of way, but "dark" as in "are we listening to the radio" sort of way.
The quality of a film is typically inversely proportionate to the number of people credited with writing it. Cowboys & Aliens credits seven different people. And that doesn't even count the guy who wrote the comic book it was based on. Considering its B-movie mash-up subject matter, it's remarkably humorless. True, there are flashes of wit but they mostly feel leftover from previous drafts. While I liked their decision to not play things tongue-in-cheek, the movie becomes so dour that it's hard not to feel that perhaps they overcorrected.
Harrison Ford and Daniel Craig both do fine jobs and are more than game for the concept, but they're given precious little to do other than scowl. It's not bad, just boring; sitting there spinning its wheels, stubbornly coasting on its concept. And with this director, cast and concept it's not enough. It should have been something special.
On a scale of 1 to 10, with 10 being The Searchers and 1 being Benji, Zax & The Alien Prince, Cowboys & Aliens gets a 6.
[hdplay id=373]