The Cardinals This Off-Season
Hey! Hey, you!
Hi.
My, it's been  while, hasn't it? My apologies to both of you who read my writing.
Life's been undergoing a bit of a paradigm shift for me recently, and as a result, I haven't been able to write nearly as much as I used to. I started a new job at Savvis, and though I love it, the time slot I work means I don't really do as many movie reviews as I'd like to, and the Cardinals not playing means, well, not nearly as much baseball to write about.
Fortunately, though, I got a little bit of free time, so I thought I'd post a quick update on the Cardinals and the off-season. I know some of you might actually have lives and don't scour every baseball page hoping for an iota of news that might affect your favorite team.
I, however, have no such prohibitions, and am happy to report on any on-going items.
Off-Season Acquisitions
Justin Christian, OF
Ok, this move won't really shake any underpants other than in the Christian household. Justin's played bits of three seasons in the majors, spending last year with San Francisco, so I guess he technically won a World Series ring. His career stat line (.203/.255/.266, 0 HR, 12 RBI in 155 plate appearances) aren't going to wow anyone. Likely this was a depth move for AAA, as he did have a solid season at Fresno (.343/.409/.508). Christian does have some local ties, as well; he played at SEMO and was signed by the Yankees off the River City roster back in 2004.
Jamie Romak, UT
This isn't technically an acquisition, as the Cardinals actually picked him up from the Royals' farm system last year, but they re-signed him to a minor league deal. Again, this is a depth move, as he's been playing a bit of first, third, left field, and right field, and he's even pitched in the minors. Romak has thus far been a minor league journeyman, as this will be his tenth season in the minors. Still just 26, he's got some pop, but he isn't likely to be more than a bench player if he ever reaches the majors.
Rob Johnson, C
Again, more depth. Johnson's a backup catcher who spent last year with the Mets, posting a .250/.290/.288 line. He's signed to a minor league contract with an invitation to spring training. Likely he'll spend time with the club catching in spring training and be demoted or released before the season starts, like the team did with Koyie Hill last year.
Off-Season Farewells
Bryan Anderson, C – Chicago White Sox
Anderson was projected to be the offensive threat behind the plate that Molina wasn't early in his career, but it never really panned out for him. Bryan raked in the low minors, but never really settled in at Memphis, hitting .260 there over four seasons. He had two cups of coffee in the majors, hitting .273 in 49 plate appearances. The emergence of Tony Cruz as Molina's backup coupled with the raw power displayed by Steven Hill pretty much made Anderson disposable.
Kyle McClellan, P – released
K-Mac always got a lot of hate from Cardinals fans, and I'm not sure why. Perhaps their minds were conditioned to block out the good and remember the bad? I don't know. Kyle was a pretty effective bullpen option when healthy. When Adam Wainwright went down last year, Kyle had a solid first half of the season before he wore down. He never complained, he always did what was asked, he stepped up when needed. Although left-handed batters usually do well against a righty, McClellan was effective at shutting down lefties (career .211/.295/.341 against). The injuries diminished his effectiveness at the end, but he was a solid part of the team for several years, and nobody drove the motorized beverage cooler better than he.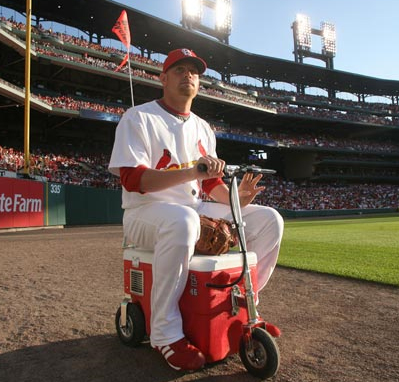 Kyle Lohse, Lance Berkman
My affection for these two guys is pretty well-known, but it was all but a foregone conclusion that neither would be back. After Lance's exceptional 2011, he signed for a reasonable $12 million in the off-season, but he was felled by a reoccurring knee injury and never really was an effective player this year. He's already agreed to be a volunteer at his alma mater, Rice, and he's in talks with a few teams to return.
Lohse, on the other hand, was the Cardinals' best starting pitcher this year. Technically there's still a slim chance he could return, but with the emergence of the team's young flamethrowers (Rosenthal, Miller, Kelly) and the signing of Jake Westbrook to a one-year extension, it's pretty unlikely. The team made Kyle a qualifying offer, which he promptly rejected, and will seek a lucrative multi-year deal elsewhere, perhaps Boston.
Could Be Gone
Skip Schumaker, ?
Ladies love him. Teammates consider him a good teammate. Cardinals fans love his hustle and dedication. The fact is, though, there really doesn't appear to be any room for him. Skip does a lot of things decently, but he doesn't excel at one spot. At one time, he was an above-average outfielder, but his move to second base hampered any progress he would have made there, and now with Rafael Furcal, Daniel Descalso, Peter Kozma, Ryan Jackson all in the mix in the middle of the infield, with Kolten Wong arriving shortly, there isn't much room for competition. The outfield's equally booked, with Matt Holliday, Jon Jay, Carlos Beltran, and Matt Carpenter all able starters, plus one of the top hitting prospects in all of the minors in Oscar Taveras will be arriving soon.
Well hopefully I'll get around to doing another post soon. I'll cover the players who are arbitration eligible and go over some of the injury updates for the team. Hopefully everyone had an excellent Thanksgiving.