'A Late Quartet' is Now Playing at Landmark Plaza Frontenac. Interview With Director Yaron Zilberman.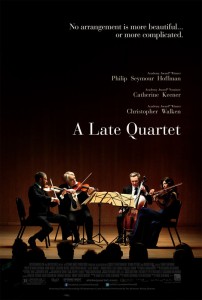 Synopsis: When the beloved cellist of a world-renowned string quartet receives a life-changing diagnosis, the group's future suddenly hangs in the balance: suppressed emotions, competing egos, and uncontrollable passions threaten to derail years of friendship and collaboration. As they are about to play their 25th anniversary concert, quite possibly their last, only their intimate bond and the power of music can preserve their legacy. Inspired by and structured around Beethoven's Opus 131 String Quartet in C-sharp minor, A LATE QUARTET pays homage to chamber music and the cultural world of New York.
Cast: Philip Seymour Hoffman, Christopher Walken, Catherine Keener, Mark Ivanir, Imogen Poots
Director: Yaron Zilberman
We had the chance to speak with director Yaron Zilberman when he came to St. Louis to promote A Late Quartet at the St. Louis International Film Festival. I thoroughly enjoyed the round-table discussion with Zilberman, discussing his "First Movie with a Star-Studded Cast." It was a unique experience to interact with a European director who patiently and vividly explained his directorial process in the making of this film.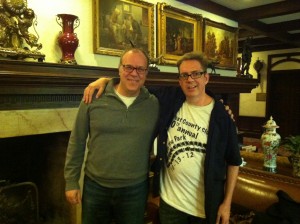 Q: With Such a powerful cast, including Philip Seymour Hoffmann (Robert Gelbart), Catherine Keener (Juliette Gelbart), Christopher Walken (Peter Mitchell) and Mark Ivanir (Daniel Lerner) – are any of them actually professional musicians?
Zilberman: They were all musically inclined, but none of them were actually professional musicians. Christopher Walken is an incredible dancer. He was in many musicals and for Dancers, music plays in their life, he was more intuitive that way. I also learned from him at our first meeting, that he was raised on the West Side of New York City, near the 100th street area, where many musicians resided. And his best friend was a Cellist. So growing up it was all about Cello – learning, playing, talking with these musicians – from that sense he was really connected to that aspect of the film.
Philip Seymour Hoffman, I saw him on stage doing a theatrical production with the Bacher String quartet. Hoffmann reads and the quartet plays this incredible music, and he and the audience were in tears by the end of the production. You truly felt his reaction to the music both he and the audience were hearing. When I approached him about playing this role, he said that this music is very dear to him, and respected the work and dedication that these musicians put into their work, and welcomed the opportunity to play this role. With Catherine Keehner, her son plays the Cello and her ex-husband is a Cellist, so she was very in tune with this type of music. She shared that she has always equated every scene from her movies with a little tune. It may be punk, metal or classical; in almost every movie she equates the scenes this way. You know when someone does that, that music is really a part of them. Mark Ivanir played the piano for several years, so he was also passionate about music.
Imogen Poots, the youngest member of the cast, did actually play the Cello for five years, so you will notice in the film that we kept the camera on her longer while she was playing, because she was actually playing her instrument.
Q: How was it directing these incredible actors? Did you feel that these strong egos were overwhelming to work with?
Zilberman: Working with such legendary actors was really a double sword. On one hand, it is so tough. I won't use the word ego, because that is so obstructive, but they are such great actors, so accomplished. They are such amazing actors and performers, and this didn't happen by chance. Like you see Philip Seymour Hoffman in movie, after movie, after movie. Christopher Walken and Catherine Keener, they are so incredible as well. So having this caliber of actors is very challenging, yet comforting, because they can entertain, right….wow! It was more for me to be the compass of my vision for the parts. I wrote the part of Robert Gelbart, but then Hoffman had his own vision of what the part should be. Being the Director you take your vision and the actors and try to meld it into something special.
The tougher moments in the film was when they were all together, playing as a quartet, but there is no conductor. I had to find a way to direct it from the outside in, to find ways to enhance the scene, while molding the vision that I had, while sharing the vision of the actor portraying the part. Also, three of them are stage actors, and Hoffman is a theatrical director and actor, and Walken and Ivanir are also stage actors, so you can see the magic happen. They are not acting for the camera; they are acting to themselves and to me, as if on stage. And they were always challenging one another, again and again and again. I would be like, "what was that? Give me more" I let them explore their roles and I encouraged them as much as I could. I don't think it would have been too smart for me to have the opportunity to work with such incredible talent, and then for me to stifle them in the process.
Q: It seemed in the movie, like with Philip Seymour Hoffman's role, that once he started getting into his part, he wasn't restrained. When an actor of that caliber starts to take off into character, as a director, do you just let him go?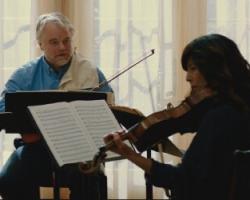 Zilberman: Of course, when actors of this caliber start going, you let them go. You let them give you all they have, because you just want to see it. Then again, as opposed to theater, you have many takes, you can see it like this, or like that, and if that clip went too far, you can choose a more reserved one. It is like you are always rehearsing while you are filming. Sometimes with actors you go over and over a scene, you may not get it today, and you hope for it tomorrow. It was not that way with these actors. You would do a scene and they would get it. And then get it again, and again. They would give me something I could use every time.
Q: Can we talk about the fragility of the quartet? You have this family unit and when one illness affects one of the members, it was captivating to see how this unit practically disintegrates.
Zilberman: Yes. One of the inspirations for the movie was Shakespeare's King Leer. When the King decides to retire and turn the kingdom over to his three daughters who run the show, and then their husbands come in and the King eventually dies a bitter old man after his sees what they have done to his kingdom. I also used visuals, like in Peter's partment, you can find King Leer's map. I also took vision from my only family life. My stepfather had a brain stroke, and everyone's life turned upside down. We don't live in a vacuum, and when there is no structure, everyone is affected. So I tried to contemplate this dynamic in the film.
Q: Your first film Watermarks, seems to be more story telling of real life, more self-financed, self-created film making. This film has more of the main stream appeal. Which type film do you enjoy more in making?
Zilberman: There are actually many similarities to these two films. It is true that this film has a more mass appeal. But the documentary gets exposure through world renowned film institutes and in particular here in the US on HBO. Now with this movie being produced by RKO, a Hollywood production company that finances the type of films like THE LATE QUARTET, and the story themselves have many similarities, so in that way they are both the same. The differences come into play with the type of actors you are filming. In the documentary, you are trying to decide where to place the camera for the best depiction of the actors for the story line. In this film, you were more concerned with every aspect of the film. What color are the walls, what is happening behind the actors in a scene? But both films too were very intimate in their depiction of their relationships. For instance in Watermarks, they are swimmers in a complex relationship.
In THE LATE QUARTET, this film two has the same type of relationships playing out. This film is just exploring another world with the same type of subject matter. In Watermarks, they actors are 80 something, in LATE; they are mainly in their 45's. They are both character driven pieces about strong people going through a crisis and what do they do with that.
Q: Since the film is so entrenched in the playing of such classical greats as Beethoven, what is the premise behind that dynamic in the film and how long did the film actually take to produce?
Zilberman: The goal was to take works of the great masters – both musicians and painters, and relate them to contemporary life. Both the music and the paintings have something to say about life right now. The shooting itself for the entire movie was accomplished in 27 days.
Q: Can you say as the director of the film, were there any scenes that you directed that you felt were your own "masterpieces" within the film?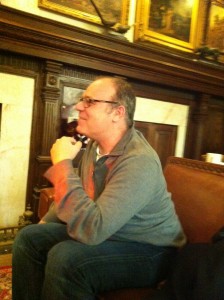 Zilberman: I can't say that, unfortunately. Every scene is so full of emotion when I now look at it. Sadly, what you see in the movie is only the tip of the iceberg of the great acting and the scenes that were created. A lot of emotion, you have to literally pick them up off the floor. The Method acting of the actors is what really brought this film to life. Like when Christopher Walken cries when he sees his wife standing there singing, he is watching her singing and I am feeling him as he is watching her singing. His wife is played
by Anne Sofie Von Otter, one of the most amazing Mezzo-sopranos of our time. She is booked 3 years in advance. It just so happened that she was singing at Carnegie Hall which was 20 blocks from where we were filming, and she came in, did her scene and went back to perform. Christopher said that he was so moved listening to her, that he literally just looked at her hands while she was performing and he was so moved by her voice, he started to cry. You want to create a situation where as the emotion of the actor is actually the response from what is happening in the scene. You don't want to have to say, now cry here. For me, the scene that took me by surprise was my feeling of sadness for Mark Ivanir, playing Daniel, as he is being cast aside once he opens himself up and exposes himself, and then is shot down. Or when Christopher Walken says "Shame on You" into the camera, and I am feeling, "oh no, what have I done wrong, because it is so powerful."
Q: How much of the script was improvised? Or did you keep it strictly to the script.
Zilberman: I really let them improvise if they felt a need. I made sure that the ideas and the premise of the script are in the movie, but I allowed the actors to feel free to fill their own space to idealize their parts. I did not direct their body language, as I know a lot of directors do. I let them have that rawness in order to let the audience fell what I felt throughout the making of the film.
Q: The girl that comes in to replace Christopher Walken as the Cellist at the end of the film – is she Cellist in real life?
Zilberman: Actually yes. Her name is Nina Lee and she actually is the Cellist for the quartet who plays throughout the film. We decided that her name worked so perfectly, that she is actually playing herself in the film.
A Late Quartet is Now Playing at Landmark Plaza Frontenac.