Ten Love Stories That Are Better Than 'The Notebook'
It's pretty much a given, if you are a female, there's a more than likely chance that you love The Notebook. You think Ryan Gosling's Noah is the perfect human being, you think that at the end of the day no film is more perfect of a tale of romance than The Notebook. Well, you are wrong.  Okay, well maybe it is your opinion, but you are still wrong!
The Notebook is an entertaining film, and it manages to pull a lot of heart strings throughout its two hour run time. However, it's manipulative, emotionally shallow, and is really only saved by the strength of its cast.  I told someone I could easily name 10 films that have better love stories than The Notebook, so here I go!
NOTE: You'll notice the consists of other movies from a more modern era. If I included a lot of the classics, I'd have to make a much larger list. Let me know what you think should be included in the comments below.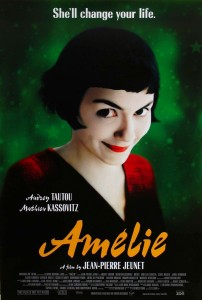 What's it about? Amélie Poulain is eccentric, and that is putting it lightly. To be honest, the eccentric part might be just because she is French. However, for whatever reason Amélie's parents thought she had a heart defect, and because of it she led a very solitary childhood. This life of loneliness caused her be a super hottie (might not be because of the loneliness) with a super active imagination.  After finding an old tin box in her apartment, Amélie embarks on a journey to find the boy it belongs to, and vows upon finding him that she will devote her life to making others happy. While finding what makes others happy, she finds her own love in a man as quirky as her.
Why is it better than The Notebook? Let's start with the simplest reason; it's beautiful. Amélie has an oddness that enhances the beauty of the weird little characters that inhabit its world. Pair it with some great photography, beautiful colors, and an absolutely adorable performance by Audrey Tautou, and you have one of the greatest romantic comedies ever filmed. Jean-Pierre Jeunet has a knack of taking oddball characters and making them endearing. It makes it even easier when the centerpiece of the story is the highly charismatic Tautou. This might be the hardest film to watch on this list because of it being a foreign language film, but give it a shot. The film relies a lot on its visuals, and that alone will be enough to move you through the story.
The whimsical nature of the film lends a unique sense of heart, and makes the casual love story very appealing. The focus on one character who affects the lives of others leads to a payoff that isn't achieved in many films.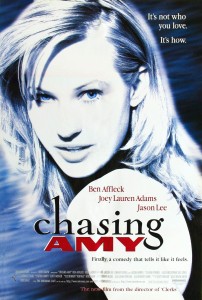 What's it about? Well, before he became an Oscar winning filmmaker, Ben Affleck was the bomb in Phantoms, yo! He was also one of the main stars in Kevin Smith's earliest films. Chasing Amy tells the story of a comic book artist, Holden McNeil, who falls in love with a woman, Alyssa (Joey Lauren Adams), at a comic book convention, only to find out she is a lesbian. Despite the fact that she is a lesbian, Holden pursues her, becomes her best friend, and in a very unlikely scenario the two fall in love. Due to her adventurous sexual past, Holden becomes insecure, and the relationship comes to a fiery crash.  In an effort to save the relationship he makes a proposal that not only dooms his relationship, but causes the demise of his longest friendship. The title comes from a great speech by the director, Kevin Smith, as his alter ego, Silent Bob, where he explains a similar scenario in which has caused his whole life to be a series of events where he is "Chasing Amy".
Why is it better than The Notebook? Not all love stories have happy endings, doesn't mean that they aren't great love stories. Kevin Smith recognized this, and wrote what is easily his best film. Joey Lauren Adams and Ben Affleck have great chemistry, and rise above much of the absurdity of the rest of the film. The fast paced, nerd culture laden dialogue isn't for everyone, but it's a great alternative to the by the numbers rom coms that dominate the market these days. Despite the ridiculousness of it all, the relationships of the film are honest and relatable.  The raw honesty contained within the film puts it on a level beyond any of Smith's efforts. Smith has had a solid career, and even has a cult following, but never found critical success again like he did with Chasing Amy.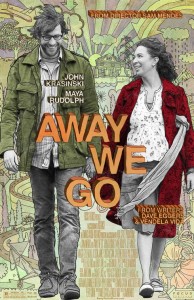 What's it about? Burt (John Krasinski) and Verona (Maya Rudolph) an unmarried couple in their thirties are expecting their first child. With Bert's parents decision to move overseas, and Verona's parents being deceased, they decide to start fresh in a new area with their baby. We follow their travels as they try to find their own slice of perfect. The couple travel to multiple locations across North America, meeting a unique couple or person each time.  The characters range from infuriatingly superior to incredibly genuine and slightly sobering.  Burt and Verona aren't the perfect couple, but endearing nonetheless.
Why is it better than The Notebook? The film's main strength is its assortment of characters. Some of the film's supporting cast is oddly over the top, while others feel like they belong in a completely different film. Away We Go jumps from a standard comedy to a fascinating tale about love, and how it doesn't always work out the way everyone wants it to. It sounds depressing, but the way the film is presented it is oddly heartwarming beautiful. Other than the main storyline, the side storyline between Burt and Verona's friends in Montreal alone makes it a better love story than The Notebook.  The film is the emotional opposite to director Sam Mendes' previous outing, the highly depressing Revolutionary Road.  It's hard not to watch the film and not leave with a sense of optimism that love can guide you through a myriad number of situations.