'Fast and Furious 6' Extended HD Trailer Starring Vin Diesel, Dwayne Johnson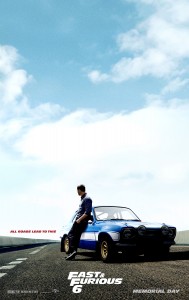 The Fast and the Furious is a guilty pleasure for me. It's Point Break on land instead of water, with suped up rides and high octane car chases. What isn't there to like? The first few movies were fun, and although I didn't get into Tokyo Drift too much, I really enjoyed Fast Five. So seeing the extended trailer for Fast and Furious 6 definitely has me intrigued.
We find our hero Dominic Toretto (Vin Diesel) enjoying retired life in paradise, until Luke Hobbs (Dwayne Johnson) crashes his party. But this time he isn't trying to catch Dom, but rather ask for his help to track down a team of drivers who took down a military convoy. He seems uninterested until Hobbs shows him a picture that was taken a week earlier of his thought to be dead girlfriend Letty (Michelle Rodriguez). That is enough convincing for Dom to get together the old team, in an attempt to find the truth about Letty and take down the drivers. In exchange for his help, Dom asks for full pardons for him and his entire crew so that they can go back home.
Check out the extended trailer for Fast and Furious 6:
About Fast and Furious 6
Vin Diesel, Paul Walker and Dwayne Johnson lead the returning cast of all-stars as the global blockbuster franchise built on speed races to its next continent in Fast & Furious 6. Reuniting for their most high-stakes adventure yet, fan favorites Jordana Brewster, Michelle Rodriguez, Tyrese Gibson, Sung Kang, Gal Gadot, Chris "Ludacris" Bridges and Elsa Pataky are joined by badass series newcomers Luke Evans and Gina Carano.
Since Dom (Diesel) and Brian's (Walker) Rio heist toppled a kingpin's empire and left their crew with $100 million, our heroes have scattered across the globe. But their inability to return home and living forever on the lam have left their lives incomplete.
Meanwhile, Hobbs (Johnson) has been tracking an organization of lethally skilled mercenary drivers across 12 countries, whose mastermind (Evans) is aided by a ruthless second-in-command revealed to be the love Dom thought was dead, Letty (Rodriguez). The only way to stop the criminal outfit is to outmatch them at street level, so Hobbs asks Dom to assemble his elite team in London. Payment? Full pardons for all of them so they can return home and make their families whole again.
Building on the worldwide blockbuster success of Fast Five and taking the action, stunts and narrative to even greater heights, Fast & Furious 6 sees director Justin Lin back behind the camera for the fourth time. He is supported by longtime producers Neal H. Moritz and Vin Diesel, who welcome producer Clayton Townsend back to the series.
For more information, visit thefastandthefurious.com.