Super Bowl XLIX: Getting You Set For Kickoff
Let me first start off by saying, "I'm only writing this article so I don't get fined."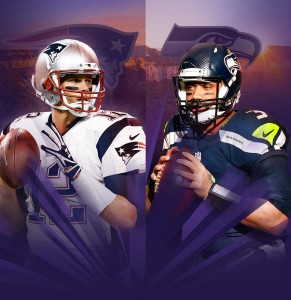 With the culmination of the 2014 National Football League season just days away, the typical frenzy that happens in the days prior to the Super Bowl has been tempered somewhat in St. Louis. Given that the teams playing in Super Bowl XLIX make up 2/3 of a Rams fan's evil triumvirate (with San Francisco being the missing member), it has been hard to find too much excitement from locals I have talked to.  It also seems that most of the media hasn't been as focused on the game, but instead on the controversy attached to the game.  A quick Google search reveals over 17 million hits for "Deflategate"; even St. Louis Blues' Vladimir Tarasenko, Brett Hull and Kelly Chase have teamed up with McBride and Sons to make a Defategate commercial (which is scheduled to air during the Super Bowl).  The only brief reprieve from Deflategate was the Media Day appearance by Marshawn Lynch, who responded to every question asked (a total of 29 times): "I'm just here so I won't get fined." (Is it too late to trademark that and start selling t-shirts?)  Ironically enough, Lynch, will still likely get fined for his appearance because he was wearing attire that was not approved by the NFL.
With all the distractions prior to the Super Bowl, many fans have not had a chance to consider how the teams stack up against one another.  So here is some analysis that will hopefully give you some things to watch for on Sunday evening – in between all those much anticipated commercials, of course.
Super Bowl XLIX pits two well matched teams against each other as the defending Super Bowl Champion Seattle Seahawks take on perennial Super Bowl contender New England Patriots.  This is the 11th time since 1975 where the top seeds from each conference will play for the Lombardi Trophy (the NFC is 8-2 in the previous 10 match-ups, including last year's Super Bowl, with Seattle defeating the Denver Broncos).  Seattle is making their second straight Super Bowl appearance, and third overall (losing to Pittsburgh 21-10 in Super Bowl XL) while New England is appearing in their 8th, six of which have occurred since 2002 when the Patriots shocked the Rams in Super Bowl XXXVI.  Seattle comes into the game as the NFL's best defense, ranking 1st in yards against per game, pass yards against, and points allowed, while sitting at 3rd in rushing yards against.  They also have the top rushing attack in football, leading the league in total yards (2762), yards per attempt (5.3), and rushing touchdowns (20).  But New England is no slouch either, with an offense that generated the 4th most points in the NFL this year (468) and the league's 9th best passing attack.  The New England defense ranks 8th in points allowed and is 9th against the run.  New England's turnover ratio (+12) is also 2nd best in the league.  Both teams routinely get after the opposing quarterback, with Seattle creating QB pressure on 37.2% of passing plays, and New England right behind them, with 35.2%. (Note: QB pressure is defined as sacks, hits, or hurries on a quarterback according to Pro Football Focus).
To further break down the game, let's see how the teams compare at the key positions:
Quarterbacks
Both quarterbacks can make a strong case for being the top passer in the game. Tom Brady has thrown more completions (373), for more yards (4109), more touchdowns (33) and has a higher passer rating (97.4) than Russell Wilson(285, 3475, 20, and 95.0 respectively). Brady also has the edge in experience, making his 28th overall postseason start and 6th Super Bowl appearance. The big stage is not intimidating to Brady, who is already a three-time Super Bowl Champion and two-time Super Bowl MVP, as well as a ten-time NFL Pro-Bowler. Brady currently holds 8 postseason NFL records including wins, passing yards, and touchdowns. Brady was deadly on play action this season, completing 101 of 151 passes for over 1300 yards and 8 touchdowns. Russell Wilson, despite only being in his 3rd NFL season, has racked up 36 regular season wins, good for 18th overall of all active quarterbacks. He has led the Seahawks to the postseason each year and has a 6-1 record in playoff games. He may trail Brady in yards through the air, but he more than makes up for it with his legs. Wilson rushed for 849 and 6 touchdowns, both tops among NFL quarterbacks (and ahead of several running backs).
Advantage: New England
Running Back
If you are a fan of players who give outrageous, witty, and long interviews, Marshawn Lynch is not for you. However, if you are a fan of "old school, pound-the-rock football," Lynch is absolutely your man. Seattle acquired Lynch in October of 2010 in a trade with the Buffalo Bills for a 2011 4th round draft pick and a 2012 5th round draft pick. Needless to say the move has worked out. Lynch is the driving force of Seattle's offense, carrying the ball 280 times for 1306 yards and 13 rushing touchdowns, adding another 367 yards on 37 receptions with 4 touchdowns out of the backfield. Quite simply, he can take over a game and will be New England's first priority on defense. The Patriots will likely use LeGarrette Blount as their main ball carrier. Blount joined New England in late November after being released by the Pittsburgh Steelers. In five regular season games, Blount rushed for 281 yards and 3 touchdowns for the Patriots, and amassed an additional 148 yards and 3 scores against Indianapolis in the AFC title game. In the Divisional Round playoff game, however, Blount managed only 1 yard rushing on 3 carries.
Advantage: Seattle
Wide Receivers:
This is really a tough category to figure out as neither team has a prolific wide receiving corps or even a dominant number one receiver. Both teams seem to get the job done without the flash of an elite receiver. The Patriots were led by Julian Edelman and Brandon LaFell with 92 and 74 receptions respectively. Edelman had 972 yards receiving and 4 touchdowns, while LaFell had 953 yards receiving and 7 touchdowns. Brady seems to click with both receivers. When throwing to Edelman, Brady's passer rating is 103.9 and when throwing to LaFell it is 104.2, both of which are in the top 15 among wide receivers. Seattle was led by Doug Baldwin and Jermaine Kearse, who had 66 and 38 receptions respectively. They only found the end zone a combined four times, but in Seattle's run heavy offense, neither receiver has had much opportunity to showcase their skills.
Advantage: New England
Tight End:
We'll go from the toughest category to determine to the easiest. Simply put, New England's Rob Gronkowski is currently the best tight end in the NFL, and when all is said and done, may end up being one of the best of all time. In five NFL seasons, Gronk is a three time Pro-Bowler and has accumulated over 4300 yards receiving and 54 touchdowns. He holds the NFL records for most touchdowns in a season and most receiving yards in a season by a tight end, both in 2011. This year he led the Patriots in receiving yards, touchdowns, plays over 20 yards, and did not fumble once. Gronkowski is a match-up nightmare; he is 6'6", 258 pounds, and runs a 4.7 40-yard dash. He is too quick for linebackers to stay with, and too big for defensive backs to tackle. Just as Lynch has the ability to take over the game for Seattle, Gronk can do the same for New England. Seattle's top tight end Luke Willson has shown significant promise in his second season, securing 22 catches for 362 yards and three touchdowns, however his skill level is nowhere close to that of Gronkowski.
Advantage: New England
Defense:
For the second straight year, Seattle has a dominating defense. They did allow more points per game this year than last (15.9 to 14.4) but allowed 100 few total yards over the course of the season. The Legion of Boom, consisting of Earl Thomas, Richard Sherman, Kam Chancellor, and Byron Maxwell, anchor the league's best pass defense. Thomas, Chancellor, and Sherman were all also selected to the Pro-Bowl this season for their exploits.  By now, even the non-football fan has heard of the Legion's primary pass defender, Richard Sherman. The loquacious Sherman has anointed himself "the best corner in the game," and he may very well be right.   When quarterbacks threw at Sherman this season, they did so with only a 38.7 QBR. In Sherman's seven career postseason games, he has the same number of receptions against as he does passes defended – eight – to go along with two interceptions. Teams just don't test him. Instead teams are challenging Maxwell on the other side of the field. The problem: Maxwell has not allowed a touchdown on balls thrown his way since week five. Beyond the Legion, Seattle has a phenomenal linebacker corps anchored by K.J. Wright and Pro-Bowler Bobby Wagner. Both players had over 100 total tackles on the season and a combined 15 tackles for loss. Even with all of the aforementioned standout defensive players, my player to watch is Michael Bennett. Look for Seattle's defensive end to be a constant thorn in the side of Tom Brady. Bennett racked up seven sacks this season and had 11 tackles for loss. Bennett could hold the key to the game. This season, Brady has faced pressure on 28% of his drop backs, but under those pressured situations, he threw seven interceptions. New England's defense can't be overlooked. As far as linebackers go, the Pats may have the best corps in the NFL. Jamie Collins had 116 tackles, 4 sacks, 7 tackles for loss, 4 forced fumbles, 2 interceptions, and blocked a kick. There are a lot of good linebackers in the AFC, but I think you could make a case for Collins being one of the top three, if not the best all around. Dont'a Hightower added another 89 tackles and 6 sacks. The two will have the duty of keeping Marshawn Lynch in check. If New England wins the game, Brady may get all the accolades, but I guarantee you Collins and Hightower were the difference makers. Darrelle Revis is still one of the best defensive backs in the game, and led the Patriots secondary with 14 passes defended. New England also has a very stout defensive line, moored by five-time Pro Bowl defensive tackle Vince Wilfork. Surrounding Wilfork are line mates Rob Ninkovich and Chandler Jones. The two have combined for 14 sacks this season, costing opposing quarterbacks over 100 yards.
Advantage: Seattle
Prediction:
I guess I am old fashioned, but it is just so hard for me to pull away from the traditional belief that games are won by running the ball and playing good defense (with the exception of the Greatest Show on Turf, of course) – and Seattle is just better at both of those aspects. I think the game is going to be close; I think the game is going to be low scoring. In the end, I think the game will come down to a final drive 'hold them' scenario, but when the dust settles, I have Seattle on top 24-20.
Still Looking For More Entertainment?
If you are still looking for more ways to enjoy the game on Sunday, try creating a "prop bet" score card and give them out to your Super Bowl party guests. You can include everything from the coin toss to the length of the National Anthem, to which players are often seen crying or how many times the word "deflategate" is said. Have a prize for the guest that acquires the most correct answers. For a full list of all of this year's prop bets, check out:
http://www.ninersnation.com/2015/1/30/7952533/super-bowl-49-prop-bets-full-list-patriots-seahawks-2015
Hope everyone enjoys the game!
Dave Sanders is a sports economist and instructor of economics at St. Louis University. He can be contacted at [email protected]