How-To: Stream any Movie to your TV for $50 and a Wi-Fi Network
With the rising popularity of downloadable and streaming media, people are finding it less and less necessary to hoard massive collections of DVD's and Blu-Ray's.  The main caveat being that portability is still a pain. Your PS3 or Blu-Ray player might be able to stream Netflix, but it can't play downloaded media from the iTunes store. Maybe you've redeemed some of those "Digital Copies" that come packaged in new releases; but how do you get those off your computer and on to your TV? The solution is here. With $50, a computer and wireless network, you can now stream any digital content from your computer to your television.
Creating your own digital cloud in 5 easy steps.
Step 1: Buy a Roku Box. Starting at $49.99 for the Roku LT, this is what you'll hook up to your TV to stream all of the content.
Step 2: Download Plex Media Sever and create a MyPlex account. (Completely Free and available for Windows, Mac or Linux)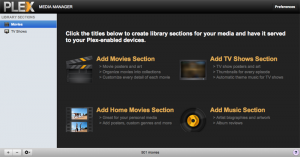 Step 3: Let Plex Media Server know what folder your media files are located in.
Step 4: Download Plex in the Channel Store on your Roku Box and validate it using your MyPlex pin.
Step 5: Wait for the Plex Channel on your Roku Box to recognize all your media and enjoy.
You can separate your files into Movies, TV Shows, Music and more. Plex also offers tons of channels within the app for moves and cable networks such as HGTV, Comedy Central and The Food Network where you can stream full episodes for free.
Oh yeah, and you can stream all the same stuff to your Android, iPhone or Windows Phone with the Plex App.
And while we highly discourage any unlawful use of pirated content, this will be able to play any movie or TV show you can obtain from the Public Domain Archive, such as Night of the Living Dead.
Let us know how it works out in the comment section below.