Steve Kelley Interviews Twilight's Booboo Stewart
Any guy who knows at least one girl has most likely heard of the Twilight book and film series. It's amazing how many women flock to the theaters to see the movies the instant they come out. Twilight is the women's version of ESPN 8, The Ocho – they just can't get enough.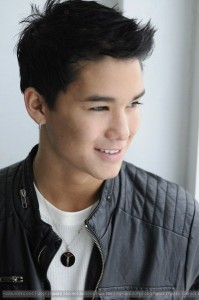 With that in mind, imagine the envy my lady friends had for me when I told them I'd be sitting down with Booboo Stewart, the actor who portrays Seth Clearwater in the films. The response was pretty predictable.
"That's so cool."
"Take me with you!"
"Get Rob Pattinson's number for me."
Yeah.
I sat down with Booboo (whose real name is Nils; Booboo is a nickname his parents gave him as an infant, and it stuck) at Blueberry Hill the other day and got the chance to talk to him about his role in the films. He's a pretty soft-spoken guy, but was rather quite gracious to his audience, even when I committed the faux pas of forgetting to turn my phone on vibrate during the interview. (Oops.)
He talked a little bit about the filming process and the interaction between the actors off-screen. When asked about the fact that he (as well as the rest of the shapeshifters in the series) appeared shirtless or in sleeveless shirts a lot, he pointed out, "It was freezing cold. Most of the times, I had like sleeveless shirts or no shirt on, and for the sleeveless ones and shorts, they actually put an extra layer underneath our clothes that's cut smaller." He also noted one small gimmick that nobody noticed: adhesive hand-warmers that they placed on their backs and legs to keep warm.
He also noted that during the filming of Eclipse, he never actually worked with some of the stars, including Robert Pattinson. "We were together in a scene, but I was a wolf, so I was never there. So this whole time, I filmed the movie, and we're doing press for it, and I still haven't met him, and then finally, we were at the Kids' Choice awards, and I got to shake his hands for a second." He did note that once they started filming Breaking Dawn, he got to hang out with Robert, and said he was a really nice guy. I asked him if any of his friends had asked for Robert or Taylor Lautner's numbers, and he laughed and said no.
Having just turned 18, he's among the youngest actors on the set, but he said everyone got along together really well. He specifically mentioned Chaske Spencer, who plays Sam Uley, as being especially close to him.
I asked him about whether his guy friends gave him a hard time for being in a franchise oriented towards women, and I was actually pretty surprised by what he said.
"They think it's really cool that I'm in it," he offered. "It is a really cool thing to be a part of. And yeah, it is obviously more a girls' movie. But in Eclipse and Breaking Dawn, there's definitely scenes for the guys."
Booboo's interests go well beyond the big screen, however; he's also incredibly into music (he's a guitarist and cites Boston as his favorite band) and has toured with Miley Cyrus. In addition, he's also a big fan of superheroes and comic books; he's even created his own character named Millenium Man.
"I made (him) up a really long time ago…It's just a hobby, it's all for fun. We'll see what happens with it. It's almost all done."
And if he could be any superhero? "Superman."
Booboo was an extremely easy-going guy and was great to talk to. I couldn't help but walk away thinking years down the road, I'd be telling my (future) kids about the chance I got to interview Booboo Stewart.
Not that fandom hasn't yet reached Stewart. He's noted it's more difficult to go out in public without being recognized and asked for autographs. Cognizant of the broad appeal of the franchise, Stewart has noted the occasionally absurd passion some of the fans display. "A girl got my name tattooed on her wrist," he quipped wryly.
Asked about his future plans, Booboo offered some insight into what's coming up. Coming out this summer is an indie film called White Frog. "I play a teenager with autism. It's about a family who suffers from a tragic accident, and they key on my character who has to bring everyone together," he offered, noting the learning disability that has only recently begun to garner the awareness it deserves. "I'm just really proud to have been a part of it and to create awareness for autism." Beyond that, on-screen, he'll be filming House of the Damned 3D, which will his first time working with 3D filming. In March, he'll be heading on tour with his sisters on the Digitour. Still, he's got an open ear to a few projects in particular. "I would love to be in Lord of the Rings…Even if I just got killed in the background," he laughed.