STARZ orders a second season of SPARTACUS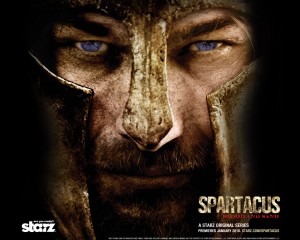 Spartacus hasn't even had its season premiere and already Starz is ordering a second season? If that isn't a resounding endorsement by a network, then I don't know what is. I'm even more intrigued to see the show. I don't know how many shows I've watched in their first season only to be disappointed by no second season. So, if you enjoy the pilot at least you know you'll be able to see more.
The series looks to be heavily influenced by 300, and has an impressive list of producers including Sam Raimi and Steven S. DeKnight.
"We couldn't be happier with the first season. 'Spartacus' delivers on all levels – action, characters, intrigue, romance and excitement," said Starz Entertainment EVP, Programming, Stephan Shelanski. "'Spartacus' is the most ambitious original project we've ever undertaken, and speaks to the commitment to our subscribers to provide truly original programming along with our unmatched lineup of theatrical features."
"Steven S. DeKnight and his team of writers have created a rich narrative that lays the groundwork for more great stories," added Executive Producer Rob Tapert. "The slave rebellion led by Spartacus and the oh-so-current political intrigue and personal dynamics laid out in the first season provide rich source material for the second season and beyond."
Synopsis:
Betrayed by the Romans. Forced into slavery. Reborn as a Gladiator. The classic tale of the Republic's most infamous rebel comes alive in the graphic and visceral new series, Spartacus: Blood and Sand. Torn from his homeland and the woman he loves, Spartacus is condemned to the brutal world of the arena where blood and death are primetime entertainment. But not all battles are fought upon the sands. Treachery, corruption, and the allure of sensual pleasures will constantly test Spartacus. To survive, he must become more than a man. More than a gladiator. He must become a legend.
Starring Australian actor, Andy Whitfield (McLeod's Daughters) as Spartacus, Lucy Lawless (Xena: Warrior Princess) as Lucretia, John Hannah (The Mummy, Four Weddings and A Funeral) as Batiatus and Peter Mensah (300, The Incredible Hulk) as Doctore, this unique mix of live action, graphic novel effects and brutal battle sequences is set to make "Spartacus: Blood and Sand" an epic television event.