'Starbuck' Opens April 26 in St. Louis! Enter to Win Passes to the Advance Screening!
Enter to win a pass for two!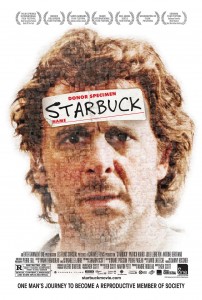 Patrick Huard stars as David Wozniak, a 42-year old lovable but perpetual screwup who finally decides to take control of his life. A habitual sperm donor in his youth, he discovers that he's the biological father of 533 children, 142 of whom are trying to force the fertility clinic to reveal the true identity of the prolific donor code-name Starbuck. Produced by André Rouleau, the film also stars Julie Le Breton, as David's long suffering girlfriend who suddenly finds herself pregnant and understandably reluctant to share parenthood with the unreliable David, and Antoine Bertrand, David's longtime friend, Paul, an attorney who takes on his case while trying to disabuse him of the joys of parenthood.
Cast: Patrick Huard, Julie Le Breton, Antoine Bertrand, Dominic Philie
Director: Ken Scott
In order to enter the contest, "like" ReviewSTL on Facebook . Then comment on the official contest page below, telling us why you can't wait to see the movie! While supplies last. Passes are available on a first-come, first-served basis.
Winners will be chosen at random from all entries. Supplies are limited. Limit one (1) pass per person, passes admit (2) two. Sponsor's employees and their dependants are ineligible. Screening is overbooked to ensure capacity. Please refer to passes for any other possible restrictions. NO PURCHASE NECESSARY.
Screening will take place Thursday, April 11 at Landmark Plaza Frontenac (7pm).