Stallone set to Write/Direct/Star in Rambo 5
Production for Rambo 5 has been greenlit, after the somewhat successful relaunch of the property last January. Sylvester Stallone is set to write, direct, and star once again. Given his age, it is a bit surprising that he is continuing to do such films, but as long as they draw an audience I guess it is worth it.
From Variety.com
---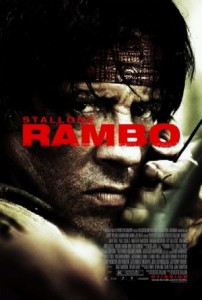 John Rambo's officially readying for a fifth mission.
Nu Image/Millennium Films has greenlit the franchise's fifth installment, with Sylvester Stallone starring and directing, repeating his duties from 2008's "Rambo."
The upcoming project's storyline revolves around Rambo fighting his way through human traffickers and drug lords to rescue a young girl abducted near the U.S.-Mexico border. Production will start in the spring.
The film will be produced by Avi Lerner, Kevin King Templeton and John Thompson. Danny Dimbort, Trevor Short and Boaz Davidson will exec produce.
Stallone had indicated in interviews that a fifth Rambo was in the works. He teamed with Nu Image/Millennium on the 2008 project, which grossed $42 million domestically and $113 million overseas.
Nu Image/Millennium is in post-production on "Expendables," starring Stallone, Jason Statham, Jet Li and Mickey Rourke. The actioner's set for release on April 23 through Lionsgate.
Rambo first appeared in the 1982 pic "First Blood," followed in 1985 by "First Blood II" and in 1988 by "Rambo III."
---
I've never been a huge fan of the Rambo series, I've always been more of a Rocky fan myself. I have watched all the films however, and I have enjoyed myself watching them time to time. Sometimes you just need to see someone go berserk and kill a bunch of bad guys for some stress relief.