The St. Louis Symphony Closes 2018 with A Glorious New Year's Eve Celebration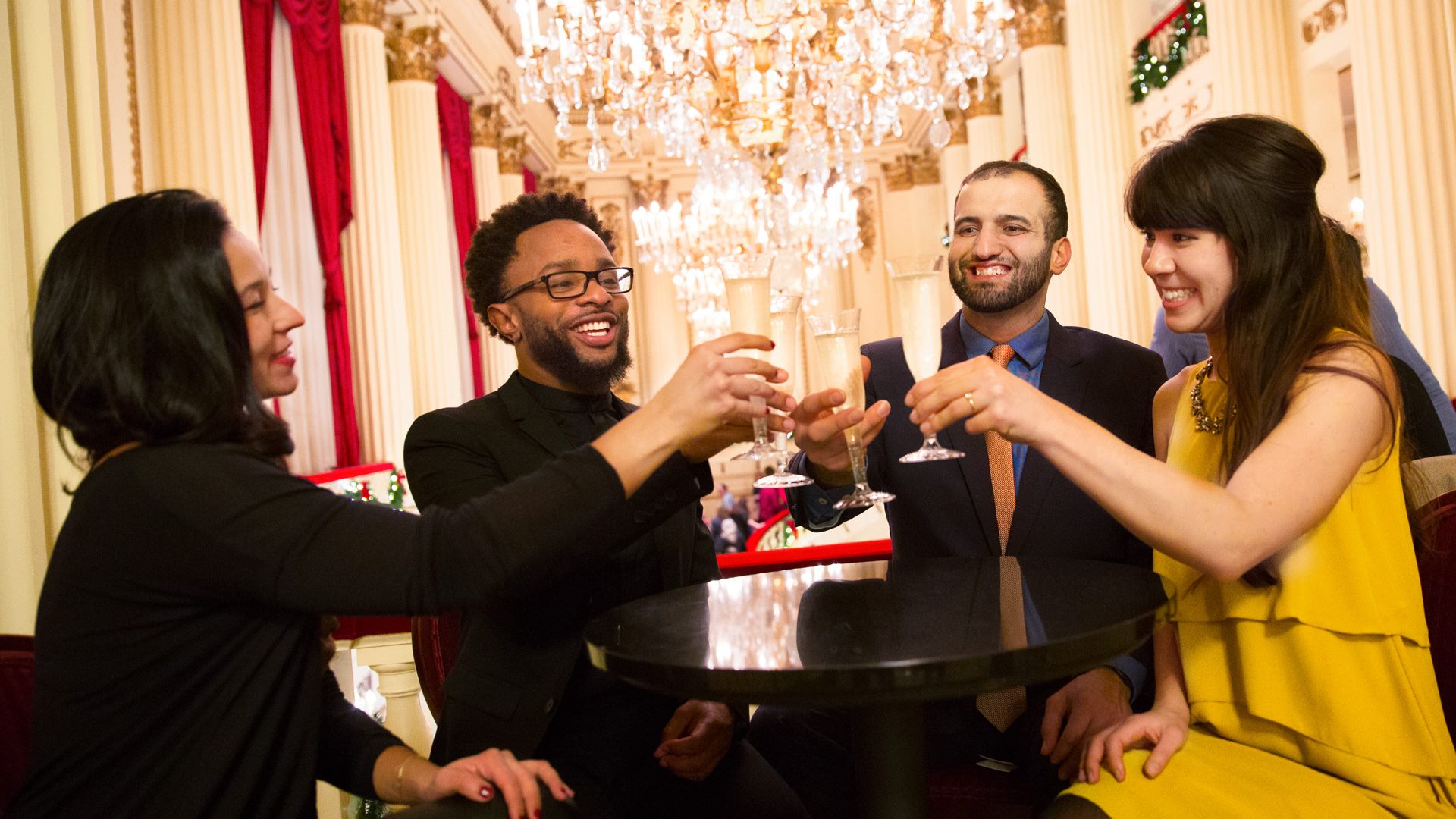 With their New Year's Eve Celebration, the St. Louis Symphony Orchestra ended 2018 on a high note with a program featuring a balance of Broadway favorites, waltzes and uptempo classical pieces.
A beloved musical tradition, the program for this annual Powell Hall fete is not announced to the audience until they arrive, lending an air of mystery and excitement to the concert.
Charged with ushering in 2019 former SLSO resident conductor Ward Stare shared the conductor's baton with Leonard Slatkin, giving the evening a nice contrast in styles with Ward's witty banter and informative exposition alongside Slatkin's a more reflective tone.
Clearly champions of St. Louis, the retuning Ward expounded on his love for the orchestra while Slatkin (who celebrates five decades of association with the SLSO this April) doubled down on the live by recounting how his time in town over the holidays allowed him to explore the Missouri Historical Society archives for information about his father, the accomplished violinist and conductor Felix Slatkin.
Opening the festivities was Berlioz's Roman Carnival Overture, op. 9, a melancholy tinged composition highlighting bassoons, horns and trumpets.
Noting that 2018 was the Leonard Bernstein Centenary, Stare provided some context in his prefaces for four selections from Bernstein's Divertimento, a unique arrangement that highlighted the composer/conductor's passion for multiple styles of music, noted here in Samba, Turkey Trot, Waltz and Blues.
Dolled out in small bites Divertimento gave SLSO listeners an energetic rendering of Bernstein's range and depth.
Shifting gears the orchestra's next offering, Richard Rodger's The Carousel Waltz was an unabashedly rousing affair that found the orchestra in full swing.
 It was followed up by one of celebration's best moments as soloist Timothy Myers, created euphonium euphoria as he struck up the band with a stirring rendition of Bellstadt's Napoli.
Gaining momentum, the St. Louis Symphony Orchestra doled out civic pride with the ever popular Meet Me In St. Louis, a triumph in every way as the Ward lead orchestra fired on all cylinders for a number complete with orchestral bravado and an audience sing-along.
Knowing that New Year's Eve is all about fun and laughter the SLSO welcomed guest star Ozzie Smith to the stage to help provide 'play by play' for Beethoven's Symphony No. 5.
For maximum effect a referee and Leonard Slatkin joined in, giving the SLSO's performance a full on sporting event feel complete with 'penalties' and an 'injury substitution' after a member of the bass section suffered a pulled groin.  Silly, overwhelmingly frivolous and delightful this light interlude also featured a nice moment as Slatkin acknowledged the contributions of Second Bassist Don Martin who was retiring from the orchestra after 56 years under eight different musical directors.
As 2018 ebbed into the past, Slatkin then took the helm, launching the SLSO into a stirring version of Shenendoah featuring plenty of oomph from the orchestra's horn section.
As noted onstage by Slatkin, his father was fond of sprucing up classical music selections by adding new elements that make it more accessible to the general public. This was evident in the rousing Carmen's Hoe-Down, a romp that briskly meshed Bizet's score from Carmen with a country swing barn dance hootenanny.
After emphasizing how polkas and waltzes have become synonymous with New Year's concerts, Ward Stare introduced Second Violinist Eve Kozma for a kinetic rendition of Johann Strauss II's Éljen a Magyar Polka Op. 332. Short and to the point, it was another of the evening's highlights.
Thanks to 2001: A Space Odyssey and performance at countless New Year's eve concerts most folks are familiar with On The Beautiful Blue Danube. Starting quietly before building to a crescendo it remains a quintessential part of rounding out every year. Stare's conducting masterfully enhanced the experience by allowing the orchestra to breathe with a sumptuous collaboration of clarinets, French horns, percussion and strings. In Ward's care it was precise, restless, tranquil and poignant as it unfurled, leading listeners warmly into a stirring finish
The concert ended with a roaring interpretation of Rossini's William Tell Overture, another classical piece with a lofty perch atop the lexicon of popular music that dutifully served its purpose by welcoming 2019 with a zippy melody and lots of toe tapping.
A festive party tradition for classical aficionados and party revelers alike, the St. Louis Symphony's New Year's Eve Celebration brought some heft to the clef by welcoming 2019 with an outstanding concert emphasizing bombast over booze.
For more information on the St. Louis Symphony visit www.slso.org.