St. Louis Local News Coverage of Give a Damn on KMOV
By JACOB KUERTH
KMOV.com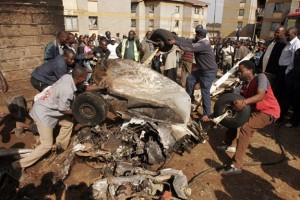 ST. LOUIS (KMOV) — Two documentary filmmakers from St. Louis County were injured Saturday in a plane crash that killed the pilot in Nairobi, Kenya.
Kenyans help to move the wreckage of a light aircraft that crashed into an apartment block in Nairobi, Kenya, Saturday, Aug. 1 2009. One passenger died, and three others were seriously injured. (AP Photo/Sayyid Azim)
The plane, a Cessna 206, crashed around 2:30 p.m. local time (6:30 a.m. CST) into the front of a three-story apartment building, reported Capital News, an African news outlet.
(VIDEO: News 4's Ray Preston reports on the accident)
The filmmakers — Dan Parris, 25, of Chesterfield and Rob Lehr, 26, of Ballwin — were transported to a nearby hospital, where they were treated for burns and other injuries, Capital News said.
Parris and Lehr were filming "Give a Damn," a documentary about poverty in Africa, at the time of the crash.
The plane's pilot was killed, Lehr posted on his Twitter account. He said he worked to free the co-pilot before the man's arm caught fire.
The plane blew up five minutes later, Lehr wrote.
Rose Mueni, a resident who saw the plane moments before the crash, told Capital News: "The doors of the plane were open, and I could see people trying to jump out. The plane got lower, and as it went further I couldn't see it anymore. Suddenly there was a huge fire."
The plane was preparing to land at Wilson Airport, about two miles away from the crash site, when it went down, according to the Standard newspaper.
Capital News reported that a fire truck was stoned by residents of the apartment building who said it took too long for emergency crews to respond.
Nearby residents had already extinguished the fire with soil when crews arrived.
Police picked up tapes and cameras from the scene that were being used by the filmmakers, the Standard reported.
Brothers David Peterka, 22, of Manchester and Tim, 30, of Kirkwood were also in Nairobi as part of the documentary film crew but were not passengers on the plane.
It was unclear what led to the crash, Nairobi police spokesman Wilfred Mbithi said. No one was injured on the ground.