St. Louis Filmmakers Travel to Africa on $1.25 per day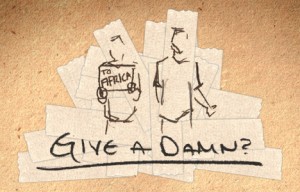 St. Louis filmmakers Dan Parris, Rob Lehr, David Peterka and his brother Tim, are traveling to Africa to promote awareness about poverty and global justice. But they are doing things a little different. The local filmmakers are actually hitchhiking top Africa, and living on only $1.25 a day. Their journey of a lifetime will be filmed for their documentary, "Give a Damn?"
The group was on Total Information AM this morning on KMOX. Listen to the entire interview here.
To learn more, visit www.giveadamndoc.com.
You can check out the entire release about their journey below:
Risking It All to Live in Poverty, Local Filmmakers to Live on $1.25 a Day in Africa
Local 20-something filmmakers embark on a hitchhiking journey of a lifetime to make a documentary about fighting poverty as they experience it themselves on $1.25 a Day in Africa.
While most college graduates dream of climbing the professional ladder and making the big bucks, not Dan Parris of Speak Up Productions, he is preparing to live on $1.25 a day or less. In these economic times there's frugal and then there's extreme documentary film making. According to the World Bank 1.4 billion people live in extreme poverty, the subject of the documentary entitled Give a Damn? St. Louis suburbanite filmmakers Dan Parris, Rob Lehr, David Peterka, and cameraman Tim Peterka are packing their A/V equipment and hitchhiking to Africa, voluntarily, to experience poverty. Starting from St. Louis on July 4, 2009 the documentary team will film their journey from America through East Africa living on $1.25 as they document the truths, causes, and whether Americans should Give a Damn when it comes to extreme poverty.
Experiencing the privileges of a St. Louis, Missouri West County life Parris and Lehr grew up in Ballwin, Marquette High School grads while the Peterka brothers lived down the road in Manchester graduating from Parkway West High School. In their undergraduate pursuits all four graced the halls of St. Louis Community College at Meramec. After separate trips to Africa, Parris and David Peterka returned home searching for answers. Why is Africa the most impoverished nation and why Americans are apathetic toward resolving the underlying causes? Lehr met their concern for extreme poverty with extreme skepticism "Why should I give a damn about poverty in Africa?" And thus, over coffee at Waffle House the film plot was born. Three friends, one skeptic and two activists, hitch to Africa to discover the truth about poverty and why they should care. From that conversation trailers and production information was created and posted to giveadamndoc.com. The rest will soon be documentary history.
"Our hope is to make a humorous, adventurous documentary compelling the next generation to make fighting extreme poverty and injustice a priority in their lives," said Parris a graduate of the Biola University film school, the film's producer, and one of three main characters.
In preparing for the film, the team has been interviewing noted African and poverty experts as well as conducting "man on the street" interviews with the average American to include in the documentary. When they depart on July 4th, they will hitchhike across America to New York City, fly to London, England on to Athens, Greece jumping a ferry to Cairo, Egypt, before flying to Kenya. Once in Kenya the team will hitchhike through East Africa with planned stops in Ethiopia, Kenya, Rwanda, Tanzania and Uganda. The mission is to live in extreme poverty in the U.S., Europe and Africa connecting the experience of poverty worlds apart through travel. The trip is expected to take four months.
The team has spent a successful year focused on raising funds for gear and flights as well as poverty fighting project contacts to film during their journey. Additional donations to the project in the form of contacts working on poverty issues, fundraising experts, locals on the ground, and lodging along the team's travel path, in addition to monetary donations, are still needed.
For more information about the upcoming feature length film Give a Damn?, the production company Speak Up Productions, the documentary team, or to make a tax deductible donation visit giveadamndoc.com or e-mail [email protected].