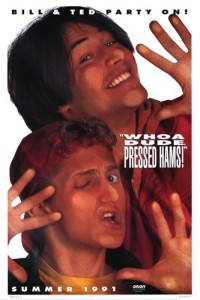 Bill and Ted's Bogus Journey
Running Time: 1 hr. 35 min.
Rating: PG
U.S. Box Office: $38,014,738
The plot of this movie is "Bill and Ted are killed by their evil futuristic robot twins and must travel through hell and heaven to enact their revenge." Need I say more?
Keanu Reeves and Alex Winter once again return as Bill and Ted, in the sequel to the 1989 movie "Bill & Ted's Excellent Adventure." Sure it may not be the best movie… or even the 1,287th best movie… But it might be good for a few laughs, and to bring back some pretty funny memories of Keanu Reeves. How is it that some of today's most famous actors started off playing stoner-esque, goofball characters like Spiccoli? Hopefully you can watch this one, and have a few good laughs.
Enjoy!