St. Louis filmmakers release 'Shadowland' at Tivoli 7/24
The Tivoli will be showing Shadowland, a film by St. Louis filmmaker Wyatt Weed starting July 24th, a week long engagement. Go out and support your local filmmakers!
Synopsis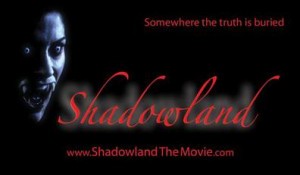 On the grounds of an old church in modern day North America, a construction worker uncovers an old cross and what appears to be a wooden stake, artifacts much older than the structure itself. That night, a woman crawls from the pit. Once young and beautiful, she is now weak and covered with mud, her face beaten, her throat cut. She is unable to speak, remember who she is, or how she got there.
She doesn't know it yet, but her name is Laura – and she is a vampire.
Hungry, thirsty, she ventures out into the city, stealing food and warm clothes to survive. Soon she sees things that begin to jar her memory: a picture on a wall, a historical marker, a map. Slowly, she starts to put the pieces together – the Old River Front, a house and a family, a lover and a jealous suitor. She embarks on a trek across the city, trying to blend in and adjust to a modern world she has never seen before.
Julian, a mysterious young man in the employ of the church, is sent out to find her. He seems to know more about her than she does, tracking her, quickly deducing that she is headed home, to the place she used to live – more than a hundred years ago.
After an unfortunate and violent encounter with a lecherous homeless man, Laura attracts the attention of the police. Soon she is in a race for her life, trying to reach her home and her lost memories before Julian or the police can capture her.
Cast and Crew Profiles
Caitlin McIntosh

Caitlin McIntosh is a fitness model, actress and figure competitor from the small Missouri town of Washington. A graduate of Lindenwood University with a BA in Dance Performance and Choreography, she was also Miss Missouri Teen USA 2000 and a semifinalist in the Miss Teen USA Pageant. During her reign as Miss Missouri Teen she spoke with over 10,000 Missouri school students, various community organizations and logged over 50,000 miles traveling across the state.
In 2003 Caitlin joined the Vee Entertainment Corporation as "Grover" and "Baby Bear" in the "Sesame Street Live – Everybody Makes Music" Tour. That show took her to Puerto Rico, Mexico, the Eastern United States and Bermuda. Then, in a complete change of pace, Caitlin joined the team at Hooters of America, the corporation that runs over 440 bars and restraunts worldwide, where she was chosen to be Miss Hooters International Girl of the Year 2007. She has appeared in the last two Hooters calendars, was chosen Miss December 2008, and was featured in a Hooters magazine layout that was distributed both nationally and internationally.
Caitlin came to the attention of the Shadowland filmmakers when she auditioned for a much smaller supporting part but was singled out and asked to read for the lead role.
"She made me re-think the part," said Shadowland's writer/director, Wyatt Weed. "I had originally imagined this slight, shy, waif-like victim who gets knocked around by everyone. Then when I met Caitlin I realized that the main character needed to be a woman – a tough woman who would be able to fight back. Caitlin could do soft and demure, then spin around and kick ass."
Caitlin is also, in Weed's opinion, "The most beautiful woman I have ever met who is still down to earth and genuinely friendly. She really doesn't seem to be aware of her looks, which makes her that much more attractive."
Caitlin is also "Super-Aunt" to her nephew, Sammy, loves frogs, and her "favorite guy" is a stuffed bear named Clem.
Jason Contini
Jason Contini is an actor, writer, and director from St. Louis. His acting career began at the age of three, nurtured by his father John, whose own career has stretched more than 30 years now.
Jason has had roles in more than 50 stage productions, including Jesus in GODSPELL, Macbeth in MACBETH, Jaime Escalante in STAND AND DELIVER, Laertes in HAMLET, and Jerry in THE ZOO STORY. He is currently finishing his third season with The Imaginary Theatre Company, the children's theatre division of the St. Louis Repertory Theatre. He can also be seen this spring as the lead in Avalon Theater's production of LITTLE BOSNIA.
Jason has had a starring role or supporting role in at least 8 feature films, including APRIL IS MY RELIGION, THANXGIVING, and the upcoming FALLEN SKYES. Recently Jason has been splitting his time between St. Louis and LA, where he created the short film SEPTEMBER MORN.
Jason lists the Universal and Hammer horror films as an influence, one that he and Shadowland director Wyatt Weed bonded over. It was producer Gayle Gallagher, however, who found Jason via Myspace, the online networking site. "It was strange, reading his profile on Myspace", recalls Gallagher. "His likes and dislikes, taste in movies and television shows sounded just like Wyatt's!"
Weed agreed, then took it one step further: "Jason reminded me of a younger version of me. I would have loved to have played Julian myself, but by finding Jason, I got to cast the younger version of me and still pay attention to the directing!"
In preparation to play the mysterious Julian in Shadowland, Jason studied the martial art uechi-ryu under David Martyn Conley, a Shadowland co-star who also choreographed the brutal fight scene in which Jason employs the close-quarters technique. Jason also took lessons on gun carrying, handling, and shooting, and worked with a personal trainer to help condition himself for the action scenes.
Jason is developing a feature film of his own, THE PITCH, an industry-savvy story about the ups and downs of getting a production off the ground. He is also a comic book artist, and has a cat named Fergeson Ventura.
Wyatt Weed
Writer and Director
Some of Wyatt Weed's earliest memories are of the movies. He vividly remembers seeing 2001: A SPACE ODESSEY at age 4 and shortly thereafter turning his living room floor into a moon base. Although his parents indulged him in drawing, sculpture, and photography classes, it was the release of Star Wars that inspired Wyatt to pick up a Super 8 mm film camera. Soon after, an obsession was born.
Moving from his hometown of Springfield, Illinois to St. Louis in 1980, Weed attended Webster University for film production, Meramec College for still photography, and Southern Illinois University for acting. He dabbled in American Cablevision's "public access" opportunities, introducing him to the growing field of video as well as live television. After a string of short film and video projects, Wyatt landed his first film job in 1986 on the St. Louis portion of the Taylor Hackford-directed HAIL, HAIL, ROCK AND ROLL.
Longing for bigger and better opportunities, Wyatt took the trek west to Los Angeles in 1988 and soon found himself working as a jack of all trades in a variety of television shows and feature films, including FLIGHT OF THE INTRUDER, STAR TREK: THE NEXT GENERATION, STAR TREK: VOYAGER, LORD OF ILLUSIONS, JAY-JAY THE JET PLANE, MUPPETS FROM SPACE, MISSION: IMPOSSIBLE 2, and RED PLANET.
Wyatt soon moved from building miniatures and art department work into second unit directing and visual effect supervision on the features KUNG FU RASCALS, GUYVER: DARK HERO, and DRIVE. He also directed STAR RUNNERS, a science fiction television pilot. The pilot was purchased by Universal but unfortunately was never aired.

 Wyatt met fellow filmmaker Robert Clark while working on long-time friend Ted Smith's GUARDIAN OF THE REALM, and joined Pirate Pictures after the completion of that feature. He recently returned to St. Louis permanently, writing and directing the short film TIMELINE, the music video RECAP, and the award-winning 48 Hour Film Projects BAG OF TRICKS and LOVE BYTES. He has just finished post-production on his feature directorial debut, SHADOWLAND.
Awards and Screenings


Heart of England International Film Festival (Tamsworth, UK)
Athens International Film Festival (Athens, Greece)
ConNooga Multi-Fandon Convention and Film Fest (Chattanooga, TN)
• BEST HORROR SUSPENSE FILM: Shadowland
Sedona International Film Festival (Sedona, Arizona)
Bourne To Die Horror Film Festival (Christchurch, Dorset, UK)
St. Louis International Film Festival (St. Louis, MO)
Piasa Film Festival (Wood River, IL)
Halloween Horror Picture Show (St. Pete's Beach, FL)
Freakshow Horror Film Festival (Orlando, FL)
• BEST ACTRESS: Caitlin McIntosh
• BEST CINEMATOGRAPHY: Nick Gartner
Otrocine (Bogóta, Colombia)
Archon Sci Fi and Fantasy Convention (Collinsville, IL)
St. Louis Filmmakers Showcase (St. Louis, MO)
• BEST DIRECTOR: Wyatt Weed
• BEST ACTRESS: Caitlin McIntosh
• BEST SCI FI / FANTASY FILM: Shadowland
---
The film premieres tomorrow night at the Tivoli in the Delmar Loop. Congratulations to Wyatt and crew to a successful film!