St. Louis Blues Hockey: 12 Down, 4 To Go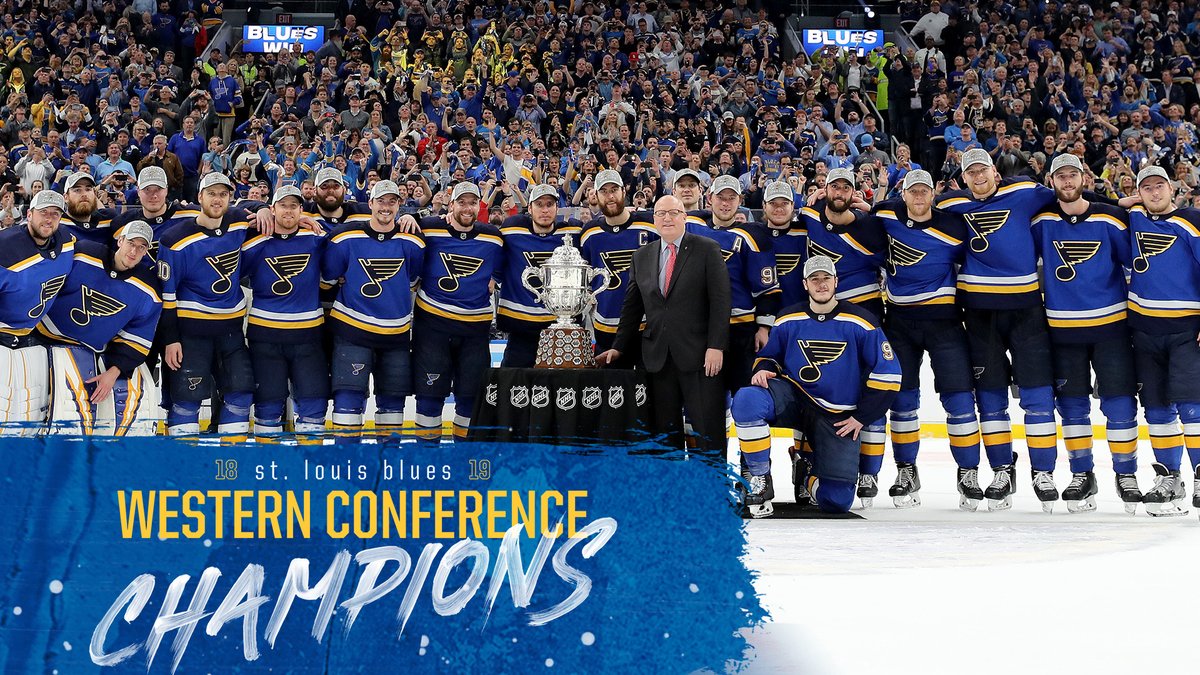 When I was 9, my dad took me up to the old Jamestown Mall one weekend afternoon. We'd found out earlier that week that a Blues player was going to be there signing autographs (pretty sure it was Curtis Joseph). I was so excited. I told all my friends at school that week I was going to get to meet CuJo. Back then, I absolutely loved to draw, so I drew up the best Bluenote I could and colored it in lightly so he could sign it.
When we got there, the line wrapped around what seemed like half the mall. We dutifully took our place in line and my dad struck up a conversation with the friendly fellow in front of us, an older gentleman who looked to be around 50. Initially, the conversation was cheerful; we were confident that we'd have plenty of time to get his autograph, but after an hour went by, the conversation turned a bit more pessimistic. Eventually, another man walked down the line and told us that due to time constraints, we wouldn't be getting an autograph.
So I did what any reasonable 9-year old Blues fan would do: I cried. Little did I know that wouldn't be the last time this team's made me cry.
Let's face it, this team's modus operandi in the past has almost felt like it was built around heartbreak. A 49-year stretch of not reaching the finals after being tantalizingly close at times: 1986, the year of the Monday night Miracle; 2001, the year after winning the President's Trophy; and most recently, 2016, in which the San Jose Sharks knocked off a battered and bruised Blues 4-2 en route to losing in the finals to the Penguins.
These were but three years of a 25-year stretch in which the Blues made the playoffs, yet never reached the promised land. We've faced heartbreak, disappointment and bitterness as our best efforts fell short and star players got ripped from our guts (Scott Stevens, Brendan Shanahan, Chris Pronger). We watched as former coaches and players went on to win the Cup elsewhere, leaving the rest of the NHL to laugh at our fortune. Four former Blues captains have gone on to win the Cup elsewhere after they've moved on (Stevens, Brett Hull, Chris Pronger, Dallas Drake).
And yet, here we are. A franchise and fanbase that has been forged by 52 years of adversity now stand firmly on the precipice, facing yet another former Blues captain (David Backes) and Boston, a city for whom St. Louis sports teams have become a punching bag. The last time the Blues played the Bruins in the finals, Bobby Orr scored perhaps the most iconic goal in hockey history to cap off the sweep against the Blues.
It won't be easy, obviously. We stand against a deep roster that's got high-end scoring talent. Brad Marchand (grr) reached the 100-point plateau with 34 goals and 64 assists. David Pastrnak (Pasta) had 81 points, with Patrice Bergeron (79) right behind him. Gumbi freak 6'9" Zdeno Chara appears to have reached a deal with Mephisto to play forever. On top of that, their best player in the playoffs hasn't scored a single point. Tuukka Rask, their famously volatile goaltender, leads all goalies in saves, save percentage, goals against average, and shutouts. Oh yeah, and the Bruins have home ice advantage.
"Yawn." – Jordan Binnington, probably
This is a Blues team that's been punched in the mouth and asked for seconds. At this point, everyone knows the story. Last in points in the NHL on January 3, scuffling amidst a coaching change and a goalie situation that became so dire, head coach Craig Berube resorted to starting a 25-year old rookie goaltender who was loaned to another organization (the Bruins, coincidentally) last year because he refused assignment to the Blues' ECHL team.
All the Blues did was have one of the most dominant second halves in history. They went on an 11-game winning streak and steamrolled several playoff teams on the way. Jordan Binnington (24-5-1) led the league in GAA and played his way into Calder (the NHL's rookie of the year award) discussion despite only playing in 32 games total. Vladimir Tarasenko (22 G, 24 A in 39 games) played like a man possessed, his shoulder seemingly healed after a tough first half (22 points in 37 games). David Perron contributed a point per game despite missing time to an injury. The Blues finished the season one point shy of winning the Central division.
Maybe the Blues are borrowing some of the Cardinals' famed devil magic. In the first round, they faced a Winnipeg team that had ragdolled them in the regular season (1-2-1, 18 goals allowed). So of course, the Blues won it in six, capping it off with a Game 6 win at home.
In the second round, they faced a Dallas team that had won 3 out of 4 games in the regular season. So naturally, the Blues won in seven games, capping it off with an emotional 2-1 overtime win at home.
In the third round, they faced a San Jose team that won 2 of 3 in the regular season and had knocked them out of the 2016 playoffs, a wound still fresh in the minds of many Blues fans. Despite a rather questionable no-call on a goal that handed the Sharks a Game 3 win, the Blues responded in stunning fashion, outscoring San Jose 12-2 the final three games, winning Game 6 5-1, again, at home.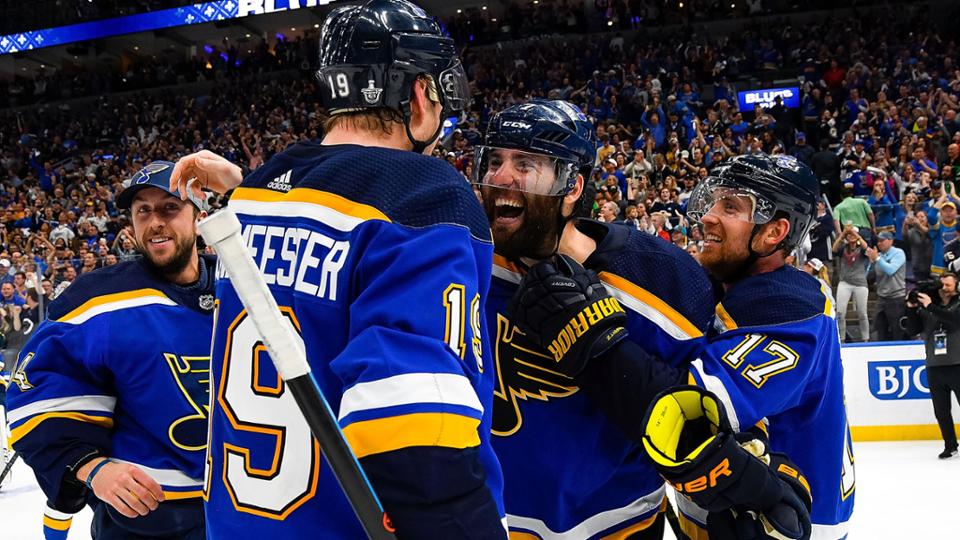 And now they face Boston, who's all but dominated the inter-city rivalry. Ten times Boston teams have faced St. Louis teams in a final, and seven times have they emerged victorious (Bruins beat the Blues in 1970, Red Sox beat the Cardinals in 2004 and 2013, Patriots beat the Rams in 2001, Celtics beat the Hawks in 1957, 1960, 1961), while St. Louis has won thrice (Cardinals won in 1946 and 1967, Hawks won in 1958). The teams split the season series this year, but the Bruins earned 107 points and are considered the favorites.
Coincidentally, there's been a neat pattern surrounding series sweeps these playoffs. So far four series have ended up with a sweep. Two of the teams that swept a round got swept the next series: Islanders swept Pittsburgh and was swept by Carolina, Carolina, in turn, was swept by Boston. So going on this pattern…hmm. I think you can do the math.
We could go the emotional route and say the Blues are winning for any number of causes. For Charles Glenn, the beloved singer of the national anthem before home games; Charles recently announced he's battling MS and will be retiring after the playoffs. For Arianna, a young child the Blues befriended a few years ago as she battled cancer; tragically, she lost her battle a couple of years ago. For all the former Blues players who fought and bled on the ice but never made the finals; Brett Hull (who won with Detroit and Dallas, but has always loved St. Louis and works for the Blues) broke down after the game, as did Kelly Chase. After the game, Pat Maroon tracked down Laila Anderson, a local young fan who's currently battling cancer, and told her the Blues are fighting for her.
For Doug Wickenheiser.
For Bob Gasoff.
For Barclay Plager.
For Pavol Demitra. Still miss you, Cookie Monster.
For every fan who's crossed the turnstile and worn the Bluenote for a lifetime and not gotten to see the Blues play in June. History may not be on our side, but Jordan Binnington is.
I forgot to say how that first story I told ended. As I started breaking down in the mall, the gentleman that my dad and I had been talking to handed me something. It was a puck that'd been signed by Murray Baron, a young Blues defenseman. He wasn't a superstar, but he would go on to enjoy a lengthy career in the NHL. From then on, I carried that puck everywhere with me. I couldn't believe the kindness of a stranger to do that, but I think he felt all too well the pain I was in.
Misery loves company, but sometimes joy does, too.
Let's go, Blues.