Spielberg no longer directing 'Harvey'
A little disappointing. I was looking forward to Spielberg's take on the remake of the 1950 Jimmy Stewart film. Although you can't blame any high profile actor for not wanting to take the part. I don't think it ever pays off to take a role what was done perfectly by an actor before, especially one as famous as Stewart. Since this project was supposed to start early next year, what is next for the world's most famous director, Steven Spielberg?
From Variety.com:
---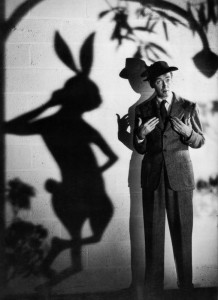 Steven Spielberg has withdrawn from "Harvey." He spent the past half year developing the pic, his first directing vehicle for the reconstituted DreamWorks.
Spielberg delivered the news this week to 20th Century Fox, which had earmarked soundstages on the lot for an early 2010 production start. Fox had agreed to have DreamWorks finance 50% of production through its new funding relationship with Reliance, and either distribute domestically or internationally through its arrangement with Disney.
Pic — an adaptation of Mary Chase's Pulitzer Prize-winning play about a man who befriends a six and a half foot tall invisible rabbit — has been a challenge to pull together since Spielberg committed last August. One of the biggest challenges has been setting a star to play Elwood P. Dowd, the character played by James Stewart in the 1950 film.
Spielberg's first choice was Tom Hanks, but the actor who is often regarded as a modern day Stewart wanted no part of taking over a role played by the iconic star. Spielberg and Fox spent several months courting Robert Downey Jr. While the star didn't commit, he made suggestions on rewrites of the Jonathan Tropper script. He and Spielberg never found themselves in creative sync on the script, and the director finally called the whole thing off.
A spokesman confirmed Spielberg's exit, but wasn't specific about the reason.
The development is certainly a disappointment for Fox, partly because the project's trajectory last summer was so dramatic. 20th topper Tom Rothman got the script from his Fox 2000 execs Elizabeth Gabler and Carla Hacken, showed it to Spielberg, and had a yes within days.
Fox 2000 will continue working on "Harvey" and could re-approach Spielberg and Downey.
It wasn't immediately clear which picture Spielberg will direct instead. He completed production last March on "The Adventures of Tintin: Secret of the Unicorn," and though he has been preoccupied with Stacey Snider in launching the new DreamWorks and godfathering projects like "Transformers: Revenge of the Fallen," Spielberg is itching to direct the first film for his new partners at Reliance.
There are several homegrown candidates — he's got such projects at the Abraham Lincoln Civil War film scripted by his "Munich" writer Tony Kushner, and the Jeff Nathanson-scripted "The 39 Clues," but it's clear that Spielberg will be reading a lot of scripts over the holidays.
The Reliance-backed DreamWorks made its first green light, the Shawn Levy-directed Hugh Jackman-starrer "Real Steel."
---
I'd really like to see him do the Lincoln piece. It'd be nice to see him do a good period piece on an interesting historical figure. If he does a Civil War film, how many other Civil War films will start up production after him? Does anyone remember the glut of WWII features after he propelled Saving Private Ryan to popularity?