"Green Hornet" Gets Converted to 3D, Delayed Until 2011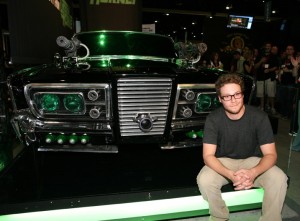 Sony Pictures announced Friday that "The Green Hornet" starring Seth Rogen will be converted to 3D. This will delay the release of the picture from it's original release date of Dec. 22, 2010 to Jan. 14, 2011.
This is really frustrating for me, because we have seen this a few times now. Movies converted into 3D in order to raise ticket prices a few bucks. Alice in Wonderland was converted to 3D, but luckily it turned out OK. But the worst example as of late was "Clash of the Titans." That movie, even though it might not have been any better than average, turned into a terrible failure with the 3D conversion. It made the movie ridiculous and almost unwatchable. The poor conversion was more distracting than anything, and made it extremely difficult to watch.
I have been looking forward to this movie for a while now, since before it's original release date of Summer 2009. This news is a little disappointing, not only because of the 3D conversion, but also due to the push to January. Sony says that the push back is only due to giving the studio enough time to adequately concert it to 3D. Hopefully that is the truth, and not a lack of confidence in the film.
The Green Hornet stars Seth Rogen as Britt Reid / Green Hornet, Cameron Diaz as Lenore Case, Christoph Waltz as Chudnofsky, and Jay Chou as Kato.