'Something Rotten!' Plays Fabulous Fox Feb 7-19! Interview With Leah Hofmann, St. Louis Native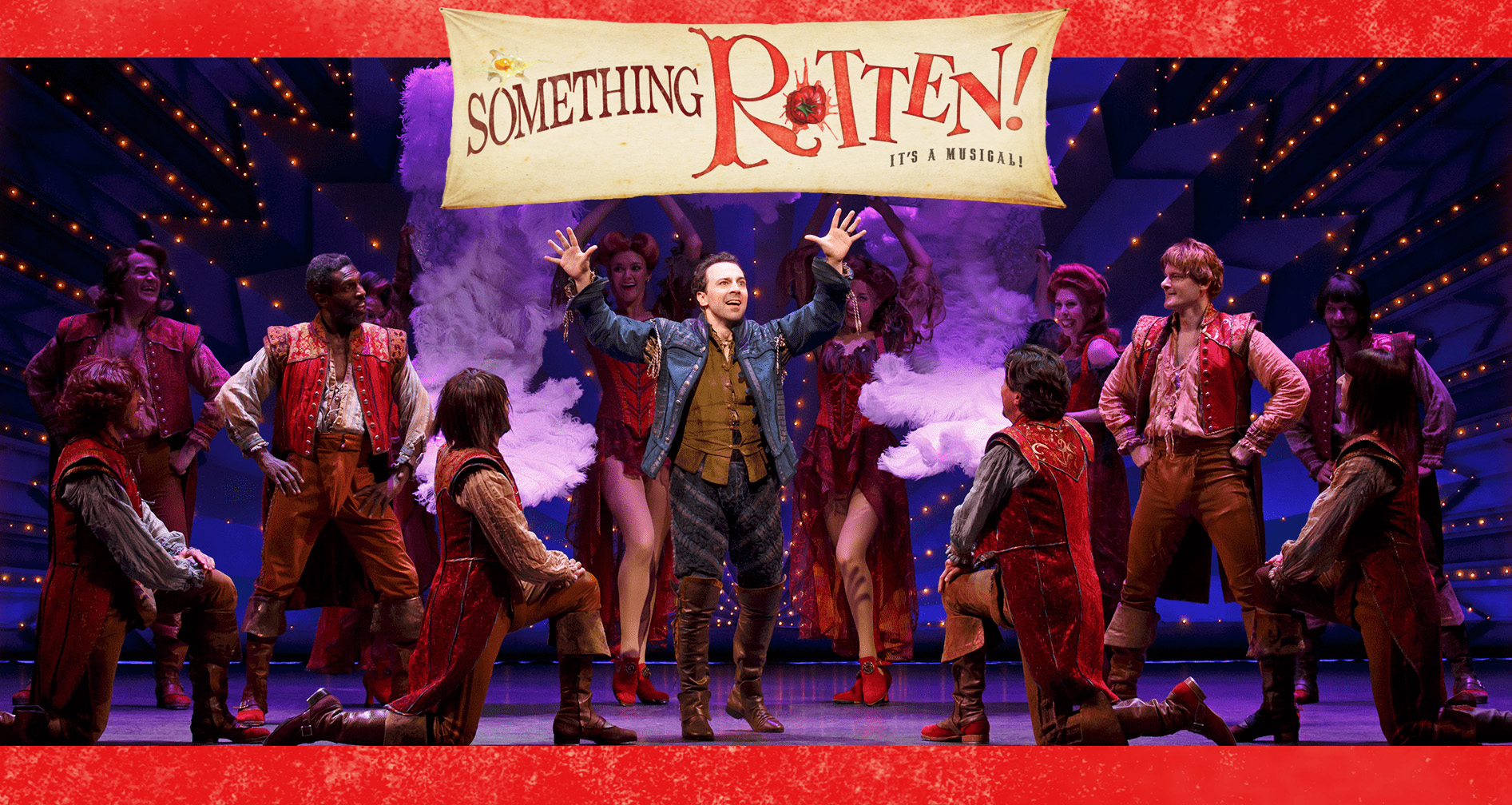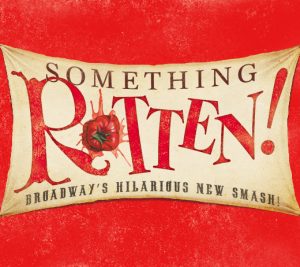 The Tony Award-winning musical Something Rotten! is heading to the Fabulous Fox Theatre February 7 – 19! The musical comedy is set in the late 1500s, where the two Bottom Brothers (Nick and Nigel) are competing to create the next great play against none other than William Shakespeare.
We had the pleasure of speaking with Leah Hofmann, part of the ensemble for the Nation Tour. The Broadway veteran, who hails from St. Louis, is excited to be returning home to perform at the Fabulous Fox in February. We spoke to Leah about her early love for performing, how she went from St. Louis to Broadway, and her never-ending love of the theatre.
"I would actually watch movies, and in my own daydreams I would create the sequel in my head," said the actress. Having grown up with involvement in dance from an early age, Leah used tap and ballet to pursue her artistic passions. In middle school, a touring theatre company came through St. Louis with a production of The Wizard of Oz, where she landed her first role as the Wicked Witch of the West. "It just hit. That was the bug, and really from then I never stopped doing community theatre." Leah was also actively involved in choir at Lafayette high school in St. Louis County.
On going from St. Louis to Broadway, Leah had to say, "There are actually a lot of people in New York City who are from St. Louis. There's not a lot of time that goes by without someone saying, 'oh, do you know this person from St. Louis,' and sometimes I do… there's a huge presence there, so there might be some kind of secret passage way."
After graduating, rather than jumping head first into professional acting, Leah attended the University of Missouri Columbia (Mizzou) and majored in physical therapy (where she also obtained her masters degree). Yet all the while she was actively involved in dance and theatre, performing every chance she could get.
"There's a school there, The Columbia Performing Arts Center, that gave me a scholarship to take dance class for free. And I just couldn't shake off the bug! I would go to New York on my breaks, go audition and take classes, and do shows. And I went to the Rockettes Summer Intensive, and from then on it was a goal of mine – to become a Rockette."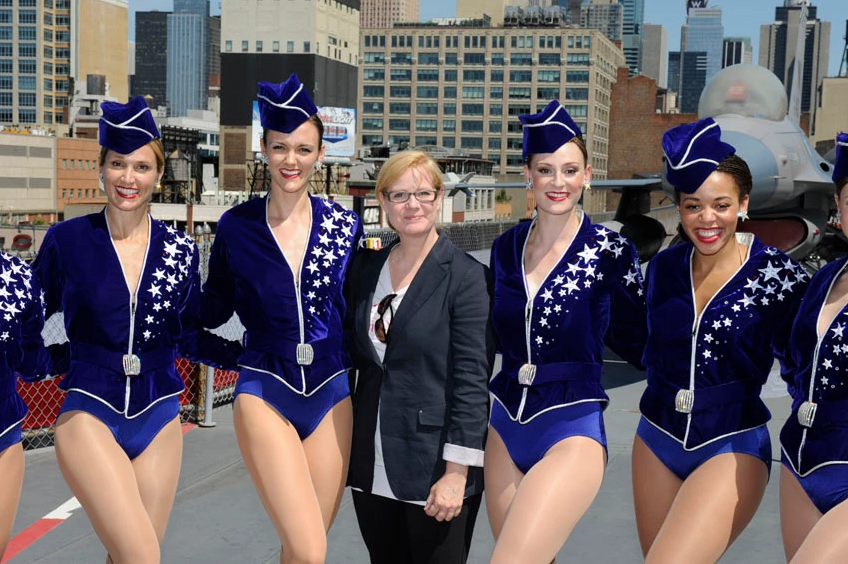 The goal would become a reality when Leah became a Rockette during her last year of school. "The Mizzou program graciously let me go do the contract, and come back and finish my degree. So I was able to graduate on time, and then I moved back to New York right after that." She performed as a Rockette for three years, using what she learned to audition for numerous regional roles (including work at The Muny), and was cast in the national tour of Young Frankenstein. Her many years of experience would eventually lead her to Broadway, landing her audition for a role in War Horse. "It changed my life. Any cast I would say, but especially that one because we worked so intensely together, becomes so close. It's just this family, and you create a lot of trust and vulnerability – in the rehearsal room to start, but even more so when you're on stage."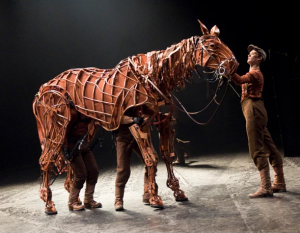 After War Horse, Leah was a part of the Broadway inception of Big Fish, based on the novel that was adapted into a 2003 film starring Ewan McGregor and directed by Tim Burton. That experience would become invaluable for the actress, as the show closed after 34 previews and 98 regular performances.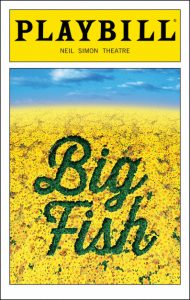 "I love that movie, and I love the story. And I was very sad – unfortunately it did not last very long on Broadway, and that was my first experience with being in it from the ground up. Being in the original company, and all the exciting things like recording the CD, and the out of town try-outs… So every time I go see a new show, there's just an amount of respect, and sympathy. You know how hard it is to put a show on."
Leah worked with Tony-award winning director Susan Stroman (The Producers) on Big Fish, who has since become a mentor and friend. "She always says creating theater is not for sissies. You have to be risky, and bold, and willing to put yourself out on a limb."
Her first role in a Stroman show was the regional production of The Producers at the Muny, which starred the cast from Broadway after the show closed in New York. There she met Angie Schworer (Ulla), who continues to be one of her best friends. "That was the first time we worked together, we had met previously. This Broadway legend… it was just wonderful to work with her in her iconic role. She was in Something Rotten! on Broadway, and I replaced her for a little bit. Then I came back to the show this year and worked with her again. And she was in Big Fish. We've done maybe four or five shows together."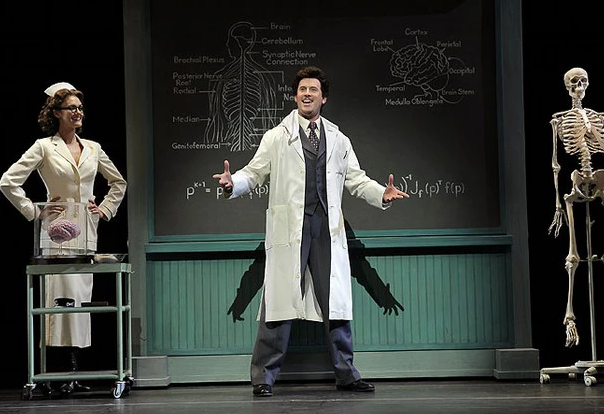 Having been a part of two Mel Brooks shows, Leah is admittedly a huge fan of his work and was excited to talk about the time she met the legendary filmmaker. "He came to the tour when we were out in LA. I joined a couple months into it, and we switched out in LA and he was there of course. Unfortunately, I had not auditioned for him. But the story goes that you have to be prepared to tell a joke in the audition room. I obviously appreciate his humor, and I worked with people who worked with him directly. And he has many wonderful lines, things you should write down or write in your memoirs that Mel Brooks told you. I know he still contacts Susan Stroman with an idea, or a song… He's always working."
Leah is thrilled to be a part of the national tour of Something Rotten! At the time of our interview, she was in Boston – about halfway through the performances for their first engagement on the road.
"Angie is a dear friend of mine, and I knew some other girls who were in the original lab. And they had invited me to come see the run-through in 2014. I remember seeing it, and thinking, wow! This is it! The new comedy we're all going to love. It was just so smart."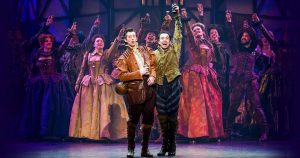 The show was created by two brothers, Wayne and Kerey Kirkpatrick, who are responsible for the music and lyrics (with the book by John O'Farrell).
"They wrote a story about two brother writers, and they've been working on this for fifteen years. And when I saw it I thought, this is the new 'Spamalot.' And it's directed by Casey Nicholaw, who also did 'The Book of Mormon.' So it's in that line of humor. With this one there is such wit, that's carefully crafted to include all these wonderful references to musical theatre, and Shakespeare classical theatre. And whether you like theatre or not, it kind of makes fun of it. It's a spoof. There's literally a song that's called, 'God, I Hate Shakespeare.' And so people who hate Shakespeare can definitely relate. But then also there are so many references; I'm still finding musical references in the orchestration of the music, or so many interactions that they've woven into the script."
Before landing a role in Something Rotten!, Leah was home in St. Louis – where she saw a production of A Midsummer Night's Dream at the Shakespeare festival on Art Hill. "I remember seeing the show, and then going to read the script for 'Something Rotten!' and I was like, oh my gosh, these are all of the characters that they have woven in! Literally the lead character in 'Something Rotten!,' his name is Nick Bottom. It's like Shakespeare then wrote the play, 'A Midsummer Night's Dream,' after this all happened and based the main character on him." 
Something Rotten! opened on Broadway in 2015 to critical acclaim, and was nominated for ten Tony Awards that year. "It was up against some really amazing shows too, but it really carefully crafted its PR. It was so witty, and charming. It was the little horse that could kind of thing… And they surpassed every other show that season that lasted longer."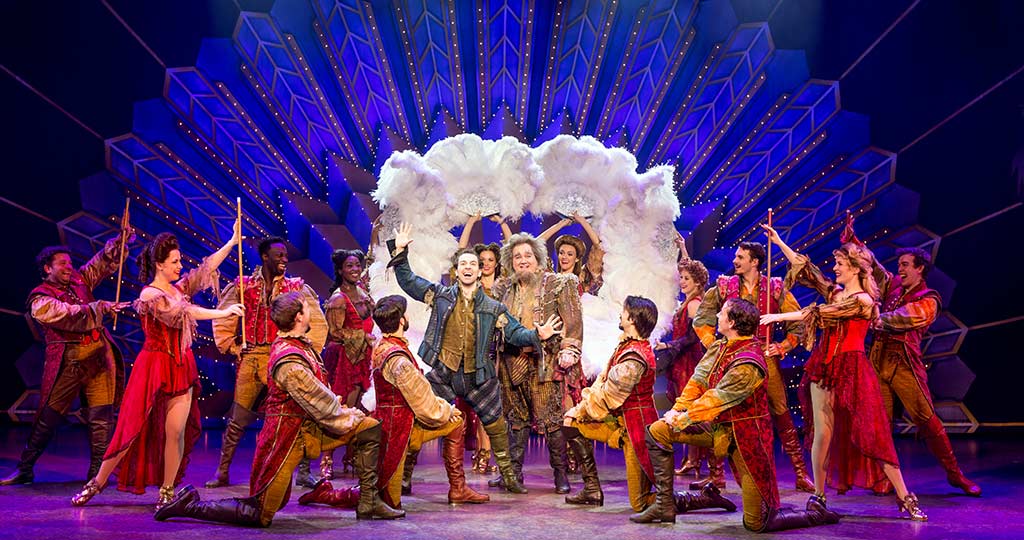 According to Leah, the show is sure to have you coming back for more.
"We had super-fans who had seen it 40 times on Broadway, or more. And they're still coming here, to Boston, because they love the show. And they're not following a person – we have some amazing stars like Adam Pascal, and Rob McClure. They're coming to see the show, because they love the show… It's just a joyful good show that people want to see. And because you know you're going to laugh, and going to smile. Going back to seeing it for my first time, I knew this was it. It brightened my entire day."
When asked how she landed the role, Leah said it was the first time that she was chosen out of a sea of worthy candidates.
"When Angie was going to leave to do a workshop for a new show, I auditioned for it in a room of fifty women. I've never been 'that girl,' the one chosen. But this is my wonderful chance, and I'll write about it in my memoirs… It's one of those things where I'll look back, and it changed my life. To go back on Broadway, to join this amazing cast – literally everybody in the show could have been a lead. From anybody in the ensemble to the supporting leads, there is a rich group of people and wonderful family."
Leah was offered the role in the national tour, which she accepted without hesitation, and also got an offer to go back to Broadway before close – when one of the other actors left.
"So I was literally practicing 'Something Rotten!' during the day, and then performing it at night in a different track. And I still didn't get sick of it! That is the commendable thing, I've always enjoyed it. Every moment."
St. Louis is the third stop on the national tour, and Leah can't wait to come home and perform at the Fabulous Fox Theatre.
"I have not been back in St.Louis to perform in almost ten years," said the actress. "I was at The Muny in 2009. I always missed it. I did Rockettes in Nashville, and when I did 'Young Frankenstein' they had already been to St. Louis." However this isn't her first time at the Fox. She performed there with Les Grands Ballets Canadiens for their production of The Nutcracker. "I was a rat. And a reindeer. So that was the last time that I performed at the Fox, and I loved it. It's going to be so magical."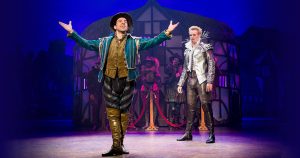 In preparation for the St. Louis stop, Leah said, "We are actually planning our wall art now, for what we are going to do to leave our mark at the Fabulous Fox… Theatres on Broadway are beautiful, but there's a lot of foot traffic that goes in every day, eight times a week. And backstage, your literally crawling through crevasses sometimes to get to your dressing room… they're a lot smaller, and there's a lot of charm to that. Of course, there's nothing like being on Broadway… The Fox is huge! And then all the Byzantine decor, and they are famous for the wall art. There is so much history, and people are already talking about St. Louis."
Like most St. Louisans, the actress confirmed that there is no lack of connection to her hometown wherever she travels.
"Our dance captain, his name is Brandon Bieber, is also from St. Louis and we grew up parallel to each other. We knew each other, and we had mutual friends, but this is our first show together… And we love that we are both coming home to perform. Also Rob McClure, who is our leading man, has been at The Muny so many times and I've already heard he is so beloved in St. Louis. And he loves St. Louis too. I think that audiences are going to recognize him, and fall in love with him all over again.  He is so charming, and so perfect in this role."
Although Something Rotten! is packed with musical theatre and Shakespeare references, Leah says you don't have to be a die-hard fan to enjoy the show.
"It's funny for the sake of being funny, like 'Spamalot' is, and 'Book of Mormon.' It finds the humor in life… The two brother writers are competing with Shakespeare to write the next big hit. Well they get in a lot of trouble trying to do that, and on the way they write the first musical. At the heart of it is a charming brothers story. Shakespeare is kind of depicted as this rock star, Steven Tyler or Eddie Izzard type, who has a Queen'esque song that he opens the second act with. So there's also that aspect… So it's not just theatre, but just a charming show that makes you smile because it's depicting life, so-to-speak."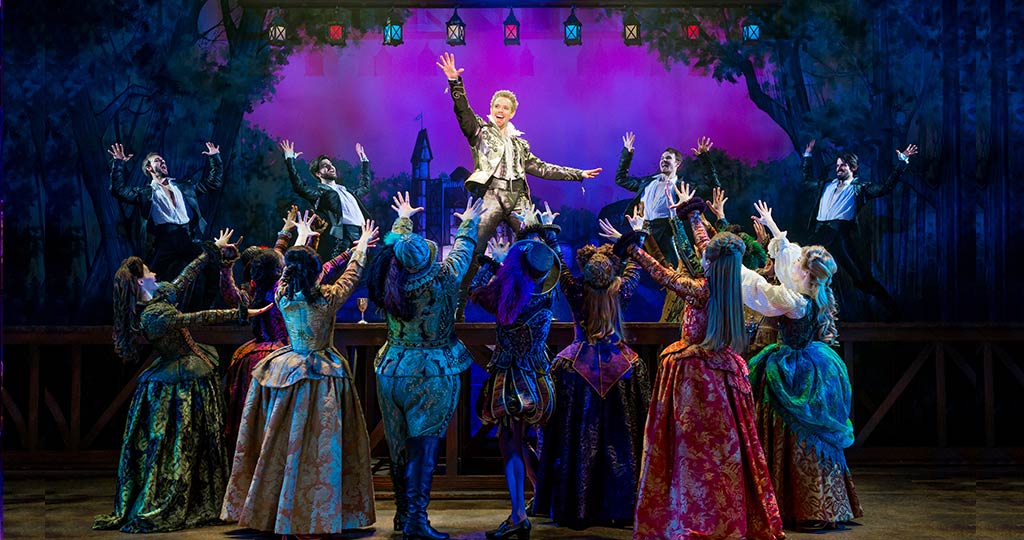 Hearing the audience laugh, and "not just laugh, but belly laugh. And cackle at some of these jokes," is one of Leah's favorite things about the show. "It just gets funnier as it goes." The actress says she loves the song "A Musical," performed early in the first act. "I don't know how many references there are to musical theatre. But again for people who don't even like musicals, it kind of does a spoof on why musicals are so ridiculous. But that's why we love them. And why don't you love them? It's just so carefully crafted. Blake Hammond, our Nostradamus, is seeing into the future at the point of renaissance Europe – and what is going to be the future of theatre. And he predicts it's a musical."
Aside from her love of dance and theatre, Leah is also a lifelong fan of film. "I admit it, I am a theatre girl at heart. That's my first love, but I definitely love movies. I just saw La La Land, and love it!" When asked about the backlash the film is receiving for its ever-accruing accolades she said, "It's just a feel good movie, that we need right now. No matter where you are, it makes you feel good and it's joyful."
In high school, her favorite film was Baz Luhrmann's 2001 musical Moulin Rouge starring Ewan McGregor and Nicole Kidman. "I loved the style, I loved the production quality, and all those really minute details given into creating that time and space. And, carefully crafting those songs that we know so well in a new way."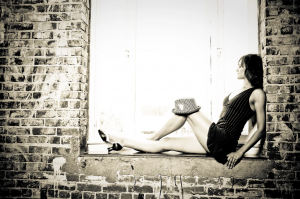 As far as an inspiration, Leah watched a lot of MGM musicals with her grandmother growing up. "I would have to say, Julie Andrews, who is so charming. 'Mary Poppins' and 'The Sound of Music.' Just such class. How could you not want to live in a musical with her? And "Singin' in the Rain," I watched that until that VHS broke.  
Leah believes we are in a new golden age of theatre. "Especially musical theatre, because there are so many new things. We love movies that are turned into musicals, and then there is 'Something Rotten!' which is a new piece. It had never been a movie, never been a book even. And it is carefully crafted by these two brothers over fifteen years." Even more impressive, the show is the brothers' first musical they've written.
Something Rotten! is coming to the Fabulous Fox Theatre in St. Louis February 7 – 19! Tickets range from $25 – $88 and are available at Metrotix. For more information, visit the Fabulous Fox website or the Something Rotten! official tour page.
[embedyt] http://www.youtube.com/watch?v=ZKKGeR2v7Kw[/embedyt]