"Solitary Man" HD Trailer Starring Michael Douglas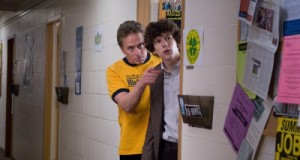 I really don't know what to say about this trailer. I neither enjoyed it or hated it. I feel strangely apathetic about it. I read the cast list and synopsis, and think, "Oh, that looks good." Although, the trailer just never really sells me on the film. Maybe it is because I've never been a big fan of Michael Douglas. Although, I do like seeing that him and long time real life friend, Danny DeVito, are once again appearing in a film together. I don't really find it far fetched that a man like Douglas would be into younger women, he is after all married to Catherine Zeta-Jones. At least the film has a bit of reality pulling for it.
Synopsis:
A once successful Manhattan mogul who owned a chain of car dealerships finds himself on the brink of a fantastic comeback. His marriage and businesses were lost to him through a series of indiscretions of romantic and financial natures. His new girlfriend has a father that is offering him a second lease on life, but the one catch is he has to take his girlfriend's daughter on a weekend college visit where he absolutely must behave himself or lose everything.
Starring: Michael Douglas, Mary-Louise Parker, Susan Sarandon, Danny DeVito, Jenna Fischer
Directed by: Brian Koppelman, David Levien
Produced by: Avi Lerner, Danny Dimbort, Trevor Short
Release Date: May 21, 2010