Soderbergh casts MMA fighter Gina Carano in 'Knockout'
Looks like Steven Soderbergh is using the MMA circuit as a recruiting ground, giving the good looking MMA fighter Gina Carano the lead in his latest film, Knockout. The concept seems cool enough. Gina Carano is a tough fighter and will play a femme fatale character really well.
From Variety.com
---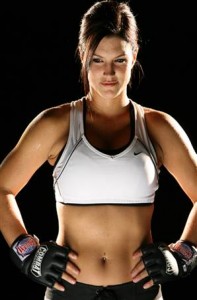 Director Steven Soderbergh has committed to next direct "Knockout," a spy thriller that will mark the screen starring debut of Gina Carano, the mixed martial arts circuit fighter.
Relativity Media will fully finance, and Soderbergh plans a late January production start. Domestic distribution is expected to be locked quickly.
Soderbergh locked in the film just as his Warner Bros. comedy, "The Informant!," made its world premiere at the Venice Film Festival. The Matt Damon-starrer opens stateside on September 18.
Scripted by Lem Dobbs, "Knockout" casts Carano as a girl from the wrong side of the tracks who is given a second chance to use her skills for constructive purposes. The film is a closer cousin to "La Femme Nikita" and "Kill Bill" than "Million Dollar Baby," in that it doesn't take place in the fight ring. Rather, Soderbergh considers the film as a flat out action film in the James Bond mold, and will shoot in locations around the world that include Ireland, Turkey and the U.S.
Soderbergh will surround Carano will name actors in supporting roles.
The MMA circuit is where Soderbergh discovered Carano, a lightweight division slugger with movie star good looks. The Muay Thai-trained fighter has compiled a 7-1 record. Though Carano suffered her first loss in a title fight last month, she is considered the face of the fledgling women's mixed martial arts fighting circuit.
Dobbs previously scripted "Kafka" and "The Limey" for Soderbergh.
The film will be produced by Gregory Jacobs, Soderbergh's longtime collaborator. Relativity topper Ryan Kavanaugh will also be a producer, and Tucker Tooley is executive producer.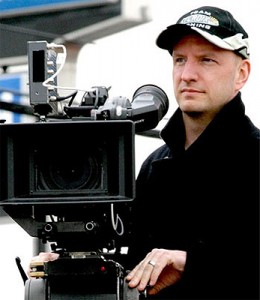 In his deal, Soderbergh waived his upfront salary and will share any ownership stake with Relativity Media.
"We couldn't be more thrilled to be working with Steven Soderbergh on this project, which is clearly right in his sweet spot," said Relativity's Kavanaugh.
"This deal creates a true partnership between us and Steven, where together we will make a mainstream action film with universal appeal for a reasonable budget, and with the incentives for the studio and filmmaker totally aligned," said Tooley.
Soderbergh Soderbergh, who earlier this summer exited a plan to direct "Moneyball" for Columbia Pictures, most recently directed "The Girlfriend Experience," a pic that starred Sasha Grey in her first performance in a legit film.
Carano so far has appeared as herself in the docu "Ring Girls" and the Oxygen reality series "Fight Girls." She also served a stint as Crush on NBC's "American Gladiators," and had a role in the upcoming Michael Jai White action film "Blood and Bone."
Carano is repped by Gersh, manager Scott Karp and attorney Gary Stiffelman, while Soderbergh is repped by manager Michael Sugar at Anonymous Content and attorney Michael Adler.
---
Here is the press release from Relativity Media:
RELATIVITY LANDS "KNOCKOUT" WITH STEVEN SODERBERGH
Martial Arts Spy Thriller Heads into Production February 2010
LOS ANGELES, CA, SEPTEMBER 6, 2009 – Relativity Media, LLC ("RML") announced today it will finance and produce Steven Soderbergh's next project, Knockout. Soderbergh will direct the film, as well as produce alongside his producing partner, Gregory Jacobs, and Relativity's Ryan Kavanaugh. Lem Dobbs has been tapped to write the screenplay. Dobbs and Soderbergh previously collaborated on The Limey. Relativity's Tucker Tooley will serve as executive producer. Production is slated to begin in February 2010. Knockout is an action-packed, female spy story in the vein of The Bourne Identity. All other plot details are being kept under wraps. Martial arts breakout star Gina Carano is in talks to join the cast.
In an arrangement very unique to the industry, Soderbergh will forgo his upfront salary, and retain ownership of the film, along with RML.
"We couldn't be more thrilled to be working with a world-class filmmaker like Steven on this project, which is clearly in his sweet spot," said Ryan Kavanaugh, CEO of Relativity Media. "Steven's deal is structured to help control the budget and align the filmmaker and studio to play for the upside. As Steven is sure to make a movie that delivers, we all succeed. More and more filmmakers understand this model, which perfectly pairs our mutual interest. This is the future."
"Audiences have spoken- they want cool, fresh, action-packed content, and this film hits that target," says Tucker Tooley, Relativity Media's President of Production. "This deal creates a true partnership between Relativity and Steven, where, together, we will make a mainstream action film with universal appeal for a reasonable budget, and with the incentives for the studio and filmmaker totally aligned."
Soderbergh, whose latest film The Informant makes its premiere at the 2009 Venice Film Festival, is repped by Anonymous Content's Michael Sugar.
ABOUT RELATIVITY MEDIA
Relativity Media, LLC ("RML") is a media and entertainment company which focuses on creating, financing and distributing first class, studio quality entertainment content and intellectual property across multiple platforms, as well as making strategic partnerships with, and opportunistic investments in, media and entertainment related companies and assets. Relativity also owns and operates Rogue, a company that specializes in the production and distribution of lower-budget genre films, as well as the label's entire library of films. Under Relativity's new ownership, Rogue has had particular success within the horror genre including The Unborn and The Last House On the Left.
To date, Relativity has financed and/or produced over 60 films that have seen wide release and have accumulated $7.4 billion in worldwide box office revenue. Fifty of those films are "Top 10" box office releases from the past two years. Relativity's recent films include: Fast and Furious, Step Brothers, Hancock, Wanted, Burn After Reading, Death Race, The House Bunny, Mamma Mia!, You Don't Mess With the Zohan, Pineapple Express, The Mummy: Tomb Of the Dragon Emperor, Hellboy II: The Golden Army and A Perfect Getaway. Upcoming films for Relativity include: Brothers, Spy Next Door and MacGruber.
Relativity's 2008 slate included five of the top twelve highest-grossing films of the year; eighteen of the company's films have opened at #1 at the box office, and eighteen of RML's nineteen summer releases landed in the top three highest earners in their respective opening weekends. Their films have earned 29 Oscar® nominations, including nods for: Frost/Nixon, Atonement, American Gangster, and 3:10 To Yuma. Twenty-nine of RML's films have each generated over $100 million in worldwide box office receipts. This past summer, Relativity Media, LLC announced an extensive international distribution program, which included thirteen output deals covering 100+ territories.