SNL Digital Short – "Boogerman" Starring Andy Samberg and Featuring Katy Perry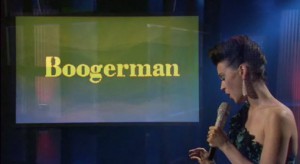 This past Saturday on SNL, Katy Perry was the musical guest – and also starred in a few sketches. Above is the latest Digital Short from Andy Samberg, titled "Boogerman." The premise is that Katy Perry is performing the theme from the film "Boogerman," which is up for an award. It is pretty funny how the footage of celebrities in the audience are cut with the footage.
If you didn't see the sketch where Katy Perry appears in a revealing Elmo shirt, check it out here.