Showtime Renews "Dexter" For Sixth Season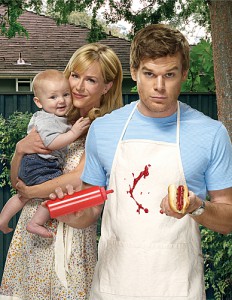 I reckon there are very few fictional murderers that people cheer for, but Dexter seems to occupy that niche.  Most of the time the murderer is the villain of the film or show, but in Dexter's case it is the central point that drives the plot. Lucky for all of you, it looks like you'll be getting at least another season of him doing his thing.
"Dexter is the best suspense drama on television," said Showtime president of entertainment David Nevins.  "To grow its audience so significantly in its fifth season is an enormous accomplishment by this amazing cast and crew."
Nevins remarked that the renewal was, "the easiest decision I've made since I got to Showtime." Not surprising since the show that aired on November 28th netted only slightly less viewers than the season 4 finale. The episode on the 28th brought in a viewership of 2.54 million, where as the finale drew 2.57 million.
You can't really stop a show like this when it is enjoying high ratings, high critical praise, and is having one of its best seasons creatively. I figure in a season or two the show might finally move on, but no reason to stop a train that is charging its way through the Emmys.
What do you think? Let us know in the comments!