Trainer Killed by Killer Whale at SeaWorld's Shamu Stadium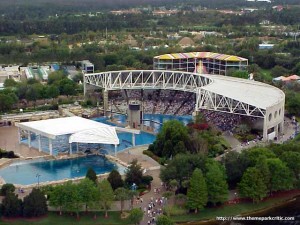 Tragic news down in Florida after one of the whale trainers was killed by one of the killer whales housed at SeaWorld Amusement Park.  The female worker was grabbed by one of the whales while in the middle of a public show.
"He was thrashing her around pretty good. It was violent,'" park guest Victoria Biniak told local Orlando news station Local 6. She also said that the whale "took off really fast in the tank, and then he came back, shot up in the air, grabbed the trainer by the waist and started thrashing around, and one of her shoes flew off."
Officials evacuated the area, but so far at the time of this posting have not shut down the park. Orange County Fire Rescue arrived on scene just five minutes after receiving the distressed 911 call. The woman, who is still unnamed, was already dead by the time help had reached her.
Sad stuff, but this is why working with wild animals is dangerous. Once more news comes out we will keep you updated.