Win FREE Passes to "Alice in Wonderland" at the St. Louis Advance Screening
ReviewSTL invites you to enter to win passes to the St. Louis advance screening of "Alice in Wonderland"
Enter for your chance to win a pass good for two!
Synopsis: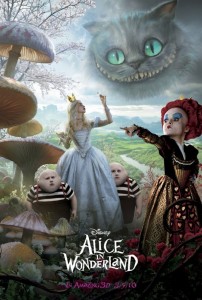 From Walt Disney Pictures and visionary director Tim Burton comes an epic 3D fantasy adventure "Alice in Wonderland", a magical and imaginative twist on some of the most beloved stories of all time. Johnny Depp stars as the Mad Hatter and Mia Wasikowska as 19-year-old Alice, who returns to the whimsical world she first encountered as a young girl, reuniting with her childhood friends: the White Rabbit, Tweedledee and Tweedledum, the Dormouse, the Caterpillar, the Cheshire Cat, and of course, the Mad Hatter. Alice embarks on a fantastical journey to find her true destiny and end the Red Queen's reign of terror. The all-star cast also includes Anne Hathaway, Helena Bonham Carter, and Crispin Glover.
In order to enter the contest, go to my.reviewstl.com and register for a free account. Leave a comment on the contest page telling us why you want to see this movie. Winners will be chosen at random and notified via e-mail. NO PURCHASE NECESSARY.
Screening is Tuesday, March 2 at Ronnie's 20 Cine. Please note that winning passes to "Alice in Wonderland" does not guarantee admission to the film. You must arrive early as seating is first-come, first-served. It is usually safe to arrive at least 1 hour or more before show time!