'Season of the Witch' HD Trailer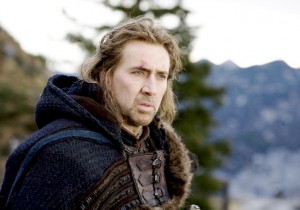 I'm amazed these days at trailers. Almost everyone makes me at least a little intrigued at the film it is promoting. Sure there are exceptions, and it appears that Season of the Witch is one of those. Even before Nicolas Cage popped up on the screen I thought, "Man this looks horrible.". Then the sage (sarcasm ha!) Nicolas Cage comes on the screen, and I knew it was destined to look horrible. Not only does the trailer make the movie look cheesy and stupid. It also sells a very vague plot that seems to more along the lines of a Xena plot. There is still a while for this to come out though, so maybe another trailer will come out and change my mind.
Also, after checking out who directed this film my suspicions were confirmed. Dominic Sena is responsible for one of the worst movies I've seen so far this year, Whiteout.
Synopsis:
When two knights (Nicolas Cage, Ron Perlman) return from the Crusades, they find their homeland ravaged by the Black Plague. The church blames the plague on sorcery, and orders the knights to escort an accused witch (Claire Foy) to a remote abbey , where monks will perform a ritual that they hope will put an end to the pestilence. When they arrive, the knights make a horrific discovery that pits them against a powerful and destructive force.
Cast: Nicolas Cage, Ron Perlman, Stephen Campbell Moore, Claire Foy, Robbie Sheehan
Director: Dominic Sena
Genres: Thriller, Supernatural Thriller
Release Date: March 19, 2010