Scotty Lago Racy Photo Controversy at 2010 Winter Olympics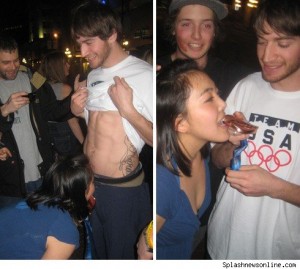 In 'racy' Olympic news that has gained tremendous momentum around the internet over the past few days, snowboarder Scotty Lago has been forced to leave the Winter Olympics. Why would the bronze medalist form the US have to leave so abruptly? Well, it's all because of photos that were released of him, his medal, and a girl. You would think that they might at least be relatively "risque," but by the internet of today's standards – they don't even come close (pictured right).
Until March 3, Scotty Lago is not allowed to speak about the situation. It will be interesting to hear from him, and get his side of the story. The saddest part is that the snowboarder has achieved something that few athletes ever get the chance to be a part of, and yet he has been sent packing. It is a shame that a bunch of uptight committee members have to ruin something so great, all on account of some mild photos.
The photo was released by TMZ, generating a lot of buzz around the athlete. Shortly after receiving word of the racy photos, sources say that the Olympic Committee said it was either 'get out of Dodge… or we'll make you get out.'
U.S. Ski and Snowboard Association President and CEO Bill Marolt said in an e-mail yesterday, "Scotty Lago is a great athlete, but with that comes a responsibility of proper conduct, and his involvement in this situation is not acceptable." I understand that they want to keep everything prestigious, but I think they are being a little ridiculous. It seems like they are really trying to make him the scapegoat, to make an example out of him to all of the other young athletes that compete in the games. Marolt goes on to say, "Scotty realizes his conduct was inappropriate. He has formally apologized and also made a decision to leave Vancouver today."
---
What do you think of the situation? Is it a bit ridiculous to force Scotty Lago to leave on account of the pictures? Or was he ousted rightfully? Leave a comment below.