Scorcese, DiCaprio, Dujardin Team Up For Drama 'The Wolf of Wall Street'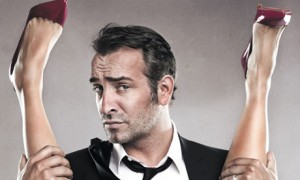 The director of my favorite film of last year is reuniting with my favorite actor of the last decade and is being joined by one of the most charismatic actors to break out in recent years.
Let me rewrite that so it may be a little more clear for some people.
Martin Scorsese, director of "Hugo", is once again working with Leonardo DiCaprio, star of "The Departed", "Blood Diamond", "Shutter Island", and "Inception".  Those two greats will be joined by Jean Dujardin, star of "The Artist", who won over half the world with his likability and charm on the red carpet last year as he swept up almost every major award for his work in the "The Artist".
"The Wolf of Wall Street" is based on the autobiography of the same name about Jordan Belfort.  Belfort became involved in the stock market and quickly was swept up in the world of partying, fraud, corruption, and the mob.
DiCaprio has been signed on to play Belfort for some time.  This would be the fifth time that Scorsese and DiCaprio will work together.  Past films include "Gangs of New York", "The Aviator", "The Departed", and "Shutter Island".  Jean Dujardin is reported to play the role of a Swiss banker who is laundering money for Belfort's firm.  Other actors reported to be in the film include Jonah Hill and Kyle Chandler as an FBI agent.
I think with the talent involved, you have to be anticipating this film.  The film is set to be released sometime in 2013.