Comic Review: "Spider-Men" #1
Spider-Men #1
Written by Brian Michael Bendis
Art by Sara Pichelli
"You know how this works: I get to break your fishbowl helmet at the end of the fight"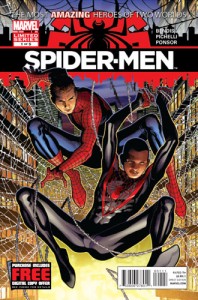 Quick history lesson:  In 2000, Marvel Comics was in serious  financial trouble.  The Editor in Chief, Joe Quesada, realized the only way to save the company was to bring in new readers.  He took some up and coming talent and began the "Ultimate Universe".  The first book to come out of the launch was Ultimate Spider-Man.  The book was written by indie darling Brian Michael Bendis and drawn by comic veteran Mark Bagley.  The book was a mega hit and went on to have 160 issues, even setting the record for most consecutive issues (111) by the same Writer/Artist team.  The Peter Parker story in Ultimate Spider-Man came to an end in issue 160 when Peter gave his life to save the city of New York (go pick up Ultimate Spider-Man: The Death of Spider-Man).  In 2011, Ultimate Comics: Spider-Man launched with a new Spider-Man named Miles Morales.  Flash forward 10 issues and you're at Spider-Men.
Spider-Men is a book about what would happen if the Ultimate version of Spider-Man met the original version.  What if Peter Parker met Miles Morales?  This book marks the first time The Ultimate Universe crosses with the original Marvel Universe.  We get to see the creative team behind Ultimate Comics: Spider-Man  take on the regular Wall Crawler as well.
The story is easy to follow.  The Peter Parker Spider-Man sees a flash of purple light.  He goes to investigate and is confronted by someone we believe to be the Mysterio of the original Marvel Universe (or is it?).  Old Web Head gets knocked into the strange light and ends up in the Ultimate Universe. The interesting part of the story comes towards the end when someone tells Spidey that his costume is in bad taste and disrespectful of the memory of the Ultimate (and deceased) Peter Parker.  As Pete tries to collect himself, he comes face to face with his Ultimate replacement, Miles Morales.
I was worried that Bendis's teenage voice for Peter wouldn't transfer to the adult version, but I was wrong.  Bendis understands Spider-Man.  Peter isn't Steve Rogers or Tony Stark.  Peter Parker is a nerdy kid from Queens who has been given Great Power.  He cracks jokes in the middle of a fight.  Peter is the every man.  Bendis gets that, and he writes him accordingly.
Sara Pichelli is a name you need to remember.  She is a relative newcomer but has already won the 2011 Eagle Award for Favorite Newcomer Artist. She was the artist on Ultimate Comics: Spider-Man before taking on Spider-Men. She is simply amazing.  Her action sequences are flawless.  Her facial expressions look real.  It can be difficult to show emotion through a mask.  Sara shows Peter's emotion with subtle changes to the eyes of the mask.  It's very smart and a veteran move.
Spider-Men has the potential for some gut wrenching moments.  How will Peter react when he sees that Gwen Stacy (Peter's girlfriend killed by the Green Goblin in the original Marvel Universe) is very much alive?  What will the Ultimate version of Aunt May's reaction be when she sees the adult version of her dead nephew?  Only time will tell.
If you're a fan of a good "What If?" story or a good Spider-Man story or if you a fan of good comics, I reccommend Spider-Men. It's fun, and you'll get your money's worth.
Story: 4 out of 5
Art: 5 out of 5
Please feel free to leave your thoughts and comments below.  I would love to hear what other people thought about this book or any other book that came out this week.  Also, you can hit me up on Twitter at @JoeyButts21.