Sam Hunt and Friends Heat Up Hollywood Casino Amphitheatre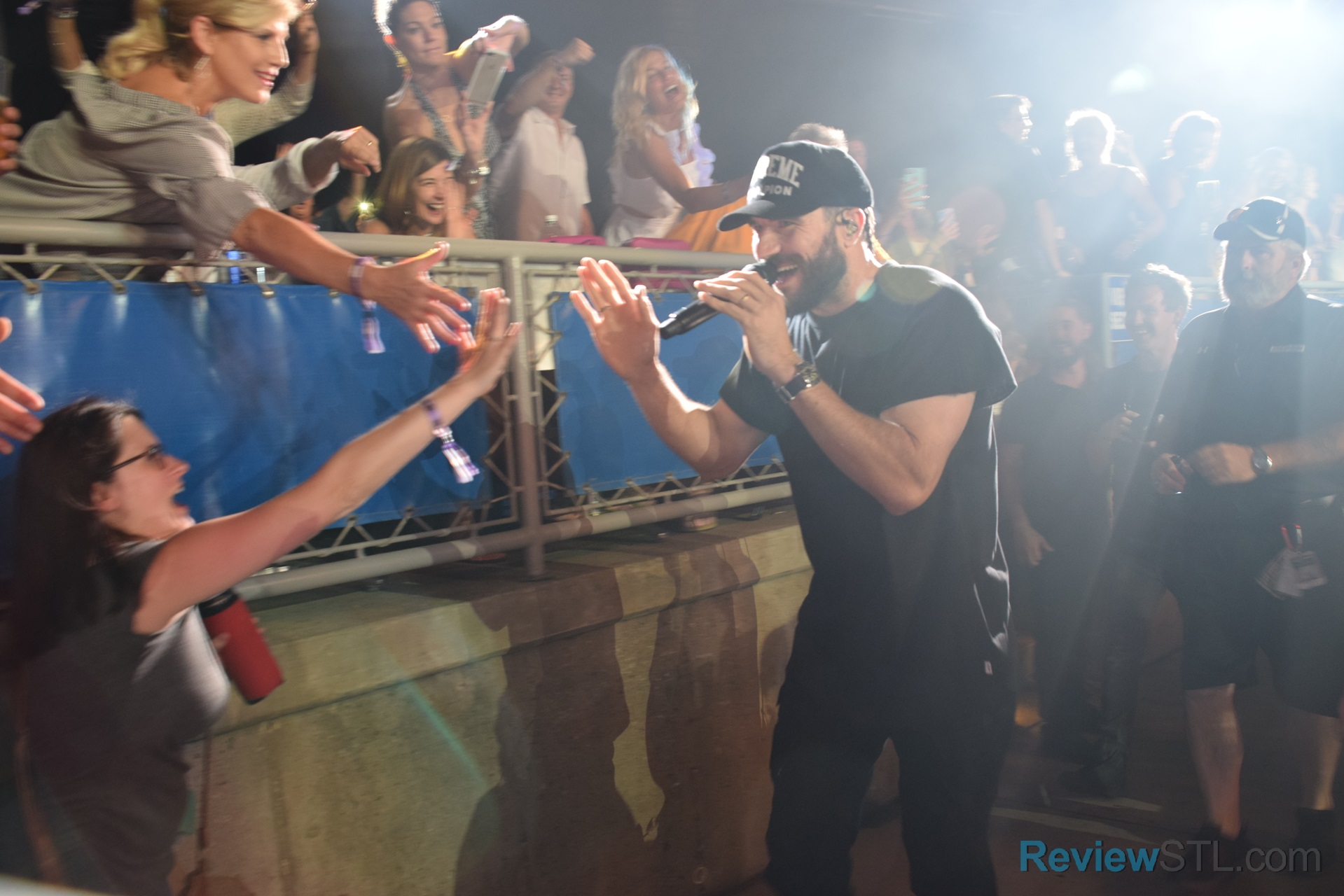 Sam Hunt showed he is ready for the big time on Friday night. The Grammy winner played to a sold-out crowd along with a few of his friends.
As the Hollywood Casino Amphitheatre slowly filled, first act Ryan Follese took the stage with a young and energetic band behind him. Though some of the crowd may have been unaware of his break into country music, by the end of his set everyone from the pit to the grass seats were ready to hear more. It's nice to see Sam Hunt supporting the up-and-coming artists on his "15 In A 30" tour, especially given his own troubles in breaking into the country music scene.
More people filed in as the tour crew switched around the stage for Chris Janson. From the moment he bounced out, Janson made it clear that this was his stage. His interaction with the crowd as he skipped and ran all over the stage got us on our feet the whole time. When he moved, we moved. When he sang, we screamed. Apart from his dedication to spirit fingers and his signature dance move (the American Eagle), Janson's love for his home-state pumped up the crowd and brought a sincere aspect to his set. Born and raised in Perryville, Mo., Janson was no stranger to the love us Missourians have for beer and the St. Louis Cardinals. After a little backstory, he performed his hit "Holding Her" while home videos of his wife and family played on the screens above him, a sweet end to his dynamic set.
After Janson's performance, I was eager to see how Maren Morris was going to top her predecessor. Although she lacked in the energy she brought to the crowd, her vocals held her up throughout the set. Unfortunately, the band often overpowered her voice, leaving her to fight for control of her songs. By her fifth song, "80s Mercedes," Morris renewed the crowd's interest and as she finished out her set with her other hits, we were jamming along with her.
The amphitheatre filled up, proving the sold-out status, and left the place buzzing. As a screen came down and blue lights drowned the stage, the excitement was palpable. Security and venue workers were on their toes as people flooded back through the gates for the first look at Sam Hunt. With each beat of the music, a shadow of the band members appeared across the screen, amping up the crowd. I was not prepared for what came next.
It was electrifying! I wasn't sure how anyone could've surpassed Chris Janson, but Sam Hunt smashed through my expectations, proving himself light years ahead of his openers. Widely known for his blend of R&B and Country genres, Hunt brought elements from each into every aspect of his performance. Encompassed in a light show of bright neon and geometric shapes, paired with his all-black attire, I felt like I was at a pop concert before he opened his mouth. His style and vision was executed perfectly in displaying all influences of his music, and his energy was unmatched. From start to finish Hunt kept me in the moment, feeling each song with the same emotion demanded of him.
Before performing "Cop Car," a song he wrote for Keith Urban, Hunt let the crowd in on his personal life, his wife, and his family. He continued to connect with the crowd through personal anecdotes that paired with each new song. Hunt took us through his life, starting at his childhood when he grew up knowing every Alan Jackson song and not much else.
"I never knew the difference between Madonna and Nirvana," he said.
This was accompanied by "Don't Rock The Jukebox" by Alan Jackson. As he grew into his teenage years, Hunt was introduced to R&B through his cousins, giving us a sample of "Remix To Ignition" by R Kelly. I loved how he incorporated this journey of his life into this tour. He went on to explain how he finally was taken seriously as a mixed-genre musician, and ended this section of the show by applauding the "computer generation" and how we don't care about "genres of music or genres of people."
During the closing of the show Hunt stayed with his theme of performing covers and brought Follese, Janson, and Morris back out on stage to sing "Hey Ya!" by OutKast. The song choice was unexpected and a big risk, but the crowd went wild. The genre switch was more than welcomed and the whole amphitheatre screamed the lyrics along with them.
Although this show was filled with more covers than original songs, Hunt owned everything he put up on that stage, and held a fantastic performance that would have entertained even the most avid country-music fan.