Russell Brand Starring as 14th Century Swashbuckler "Hawkwood"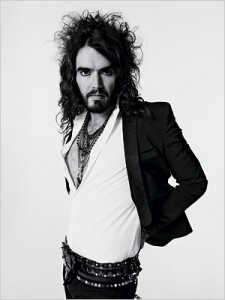 20th Century Fox's comedy division, Nicky Weinstock to be precise, is working on a project based on a 14th Century swashbuckler by the name of Hawkwood as a vehicle for Russell Brand. Scripting this tale will be Jared Stern, who also penned Brand's upcoming turn in the remake of Arthur.
Hawkwood tells the tale of a highly sought after swordsman, so sought after that he incites a bidding war between countries in the 14th Century.  The real life Hawkwood was friends with historical heavyweights such as Geoffrey Chaucer, author of The Canterbury Tales. Most likely the story will not stick completely to its historical underpinnings, and most likely use it in light of comedic situations.
This isn't the first time Brand will be working with Weinstock either, who was involved with both Forgetting Sarah Marshall and Get Him to the Greek. I wouldn't be too surprised to see some of Brand's other cohorts from those films making appearances as well.
Does anyone else think this role is going to draw comparison's to Johnny Depp's Captain Jack Sparrow? It just seems that Russell Brand's rock star persona is very similar to how Johnny Depp stylized his character?
What do you think of this role? Let us know in the comments!