Robert Downey Jr. Premiering "Iron Man 2" Trailer on Jimmy Kimmel After Oscars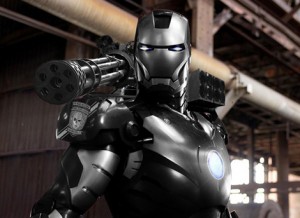 Finally, after speculating about it not long ago, it seems that the Iron Man 2 full length trailer is finally coming! (Watch the latest Iron Man 2 Featurette) Robert Downey Jr. will be promoting the film on Jimmy Kimmel Live on ABC after the Oscars.  What a smart marketing move by ABC, to market a popular film around the most popular film event every year. I don't usually tune into Kimmel, but you better believe I will be Sunday night. My HD DVR from UVerse will be fired up and ready to record.
Host Jimmy Kimmel welcomes two-time Academy Award(R)-nominated Robert Downey Jr. and a musical performance by Grammy Award(R) winner Keith Urban to the fifth consecutive "Jimmy Kimmel Live: After the Academy Awards", SUNDAY, MARCH 7, immediately following the late local news (12:05-1:05 a.m., ET, approx). Downey will introduce the world premiere of the new "Iron Man 2" trailer only moments before Urban performs his new hit single, "Til Summer Comes Around," from his 2009 album, "Defying Gravity."
On a historic night where Jimmy Kimmel has previously debuted such pieces as "I'm F***ing Ben Affleck" video and Mel Gibson's "The Colonel," tune in to see another celebrity-filled surprise this year featuring special appearances from such notables as Matthew McConaughey, Rob Lowe, Sting, Ben Affleck, Jennifer Garner and many more.
Previous "Jimmy Kimmel Live: After The Academy Awards" celebrations have welcomed Hollywood's biggest movie stars, including two-time Academy Award winner Mel Gibson and Emmy(R) Award winners Jon Stewart and Ellen DeGeneres. Two years ago Kimmel welcomed winner Ben Affleck and premiered the internet sensation music video, "I'm F***ing Ben Affleck," as a rebuttal to the Emmy Award-winning "I'm F*** Matt Damon" video with Sarah Silverman and Matt Damon.