RIP Scott Weiland, Lead Singer of Stone Temple Pilots Dead at 48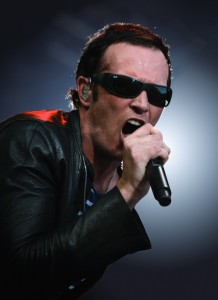 Growing up as a child of the 90s, Stone Temple Pilots was one of the biggest bands of that time. Besides Pearl Jam, one would be hard-pressed to find a bigger musical act.
Frontman Scott Weiland was not only the lead singer of STP, he also fronted Velvet Revolver.
Like a lot of his fans, I feared the day would come where I would be reading about Weiland's death, unfortunately, that day has come.
Weiland, 48, was found dead on his tour bus in Minnesota around 9 p.m. Thursday night. His current band, the WIldabouts, was scheduled to perform. The concert was canceled.
STP rose to fame in the early 90s with hits, "Creep," "Big Empty," "Interstate Love Song," and "Interstate Love Song."
The band won a Grammy in 1994 for the song "Plush."
Weiland's drug problems led to his exit from STP in 2002. Weiland then became the frontman of Velvet Revolver, a supergroup with former Guns N Roses members.
Velvet Revolver's first tour opened in St. Louis at the Pageant. I will always remember that show, as it was one of the best rock shows I've ever been to.
Weiland looked healthy at the time, free of the demons that haunted him.
After a pair of gold selling singles and a Grammy, Velvet Revolver split up.
In 2008, Weiland found his way back to STP. The band toured for a bit and split up again. The group came together for a single show in 2012. Weiland was replaced by Linkin Park frontman, Chester Bennington in 2013.
Weiland was convicted of buying crack cocaine in 1994 and had a DUI in 2003 and 2007.
Weiland leaves behind two children, Noah and Lucy, from a marriage to his ex-wife Mary Forsberg. He married Jamie Wachtel in 2013.
Having seen Weiland perform three times throughout the years, he was nothing short of mesmerizing on stage.
For us 30-somethings who grew up in the grunge-era, this one hurts, but it is probably not all that surprising.
As a frontman, I'd put Weiland up there with Kurt Cobain, Eddie Vedder, Chris Cornell and Perry Ferrell.
There's no doubt that the six albums that Weiland made with STP and the two he made with Velvet Revolver still stand as strong rock albums today.
Weiland's road as a songwriter took him from grunge to jazz and back. He even experimented with a country, acoustic sound on "Circles," one of the songs on his album with the Wildabouts.