Rhianna Signed on to Star in Peter Berg's "Battleship"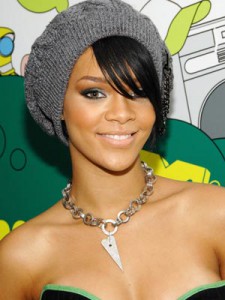 Rhianna is setting out to prove she can do more than just sing, after signing onto a starring role in Peter Berg's upcoming action film, Battleship. In the film Rhianna will be joining Alexander Skarsgaard and Taylor Kitsch who have been attached to the project for a couple months.
The project is based around the famous Hasbro board game of the same name. Kitsch will be playing the hero, Alex Hopper, the commanding officer of a warship which must gear up to help stop an alien invasion. Skarsgaard will be playing Kitsch's fellow crewmate and brother. No word on what role Rhianna will be playing int he production.
Is it just me or does this sound like the most ridiculous film coming out over the next couple years? First of all, the story is based on a board game where you guess an area of a board, and hope it is where your buddy put his ships, all so you can put a little peg in it and yell out, "You sunk my Battleship!".  It isn't something that really lends itself to big screen adaptation. Thrown in an alien invasion, and a pop star, and you have me shaking my head. I'll gladly admit I'm wrong if it ends up being awesome, but I have a bad feeling this is doomed from the get go.
What do you think? Let us know in the comments!