Review: 'Yeast Nation' Closes Out 27th Season at New Line Theatre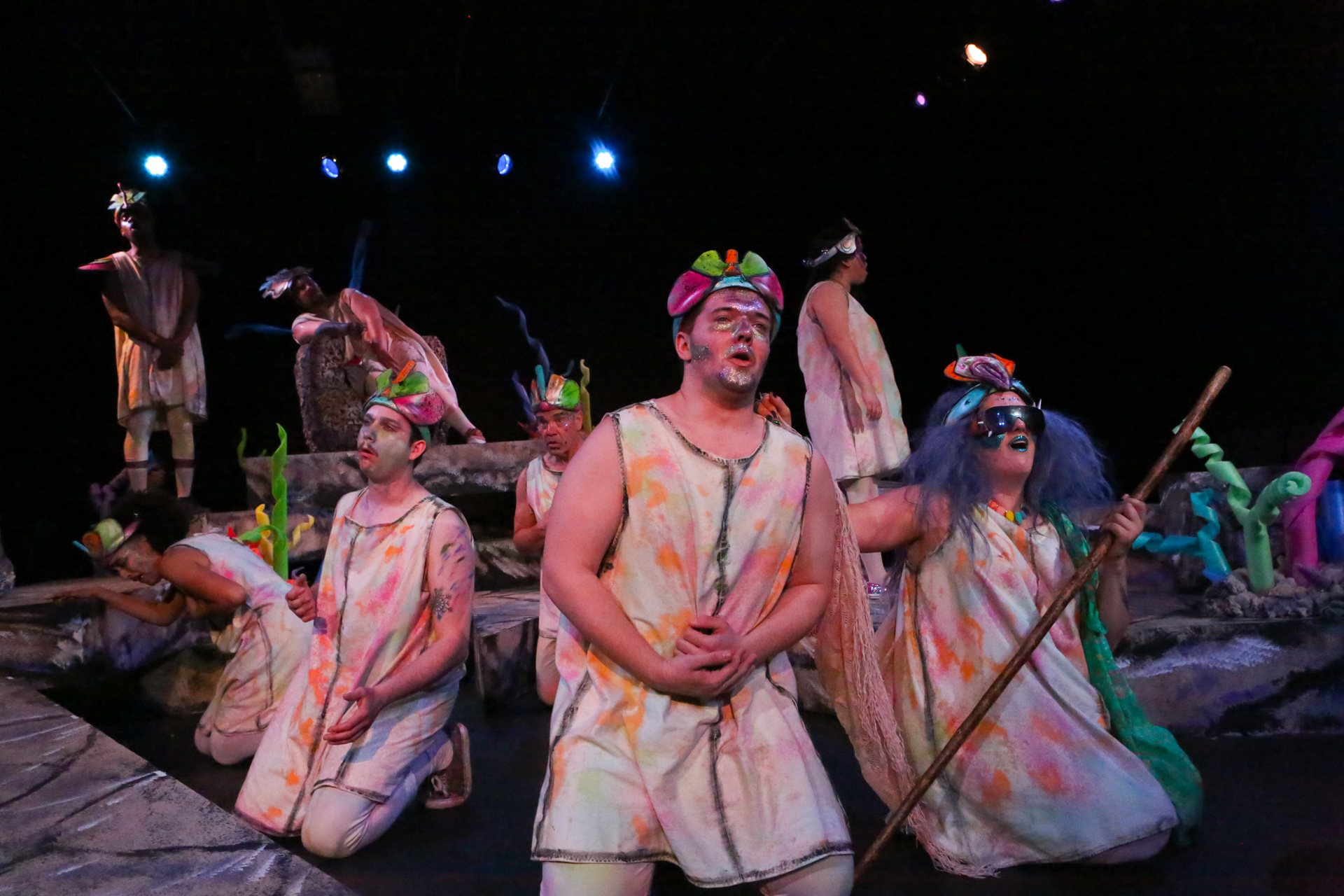 "The Triumph of Life"
New Line's production Yeast Nation, a show which premiered in 2007, is only the eighth time it has ever been staged. But if you are at all familiar with the St. Louis theatre company, helmed by Scott Miller and Mike Dowdy-Windsor, it will come as no surprise that what we have is yet another undiscovered gem.
The year is 3,000,458,000 BC – long before man, animals, dinosaurs, or basically any other forms of life for that matter. Except for the yeasts, the single-celled organisms that live below the seas. They are ruled by an aging king, Jan the Elder (Zachary Allen Farmer), who has two heirs to the throne: Jan-the Second-Oldest (Dominic Dowdy-Windsor) and Jan-the-Sly (Grace Langford). The king's eldest son starts to question their way of life when it is discovered that Jan-the-Wretched (Keith Thompson) has been venturing above the surface. The law-breaker's daughter Jan-the-Sweet (Larissa White) becomes the object of affection for the Second-Oldest, as well as the King's advisor: Jan-the-Wise (Micheal Lowe). What follows is a battle for the throne, Sweet's affection, and whether or not the yeasts should dream of life beyond their waters.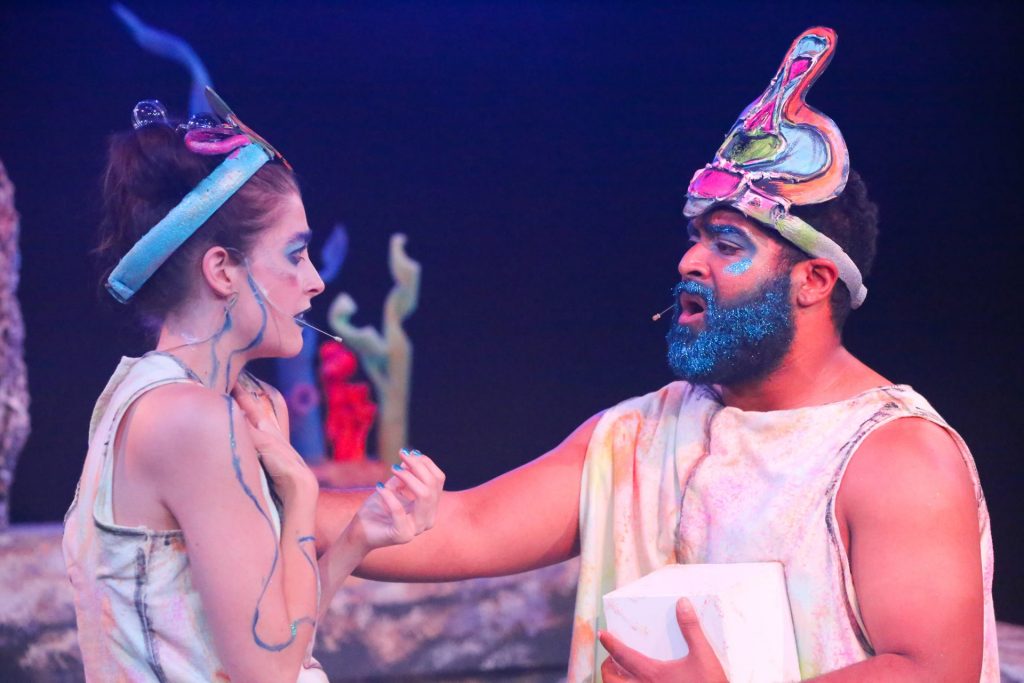 Sounds like a pretty typical story, no? Never expect a boring show from New Line.
Director Scott Miller found the show by following its creators Mark Hollmann and Greg Kotis, who are responsible for the Tony Award-winning musical Urinetown. Yeast Nation is a prequel of sorts, in Hollmann and Kotis' planned musical trilogy.
The production is absolutely spellbinding. From the moment you walk in and see the "underwater" set design from Rob Lippert, it's clear that it will be impossible to look away. It is amazing how effectively modified pool noodles can be as sea plants, with their neon colors and playful shapes.  And when we are introduced to the yeasts, it is their unique and colorful costumes designed by the talented Sarah Porter which steal the collective gaze of the audience. There are no rules when it comes to outfitting a yeast, whether they be a king or loyal subject. Each of the actors is decorated by an array of colorful, crown-like headwear, glitter symbols resembling tribal tattoos, and one-of-a-kind outfits with matching shoes.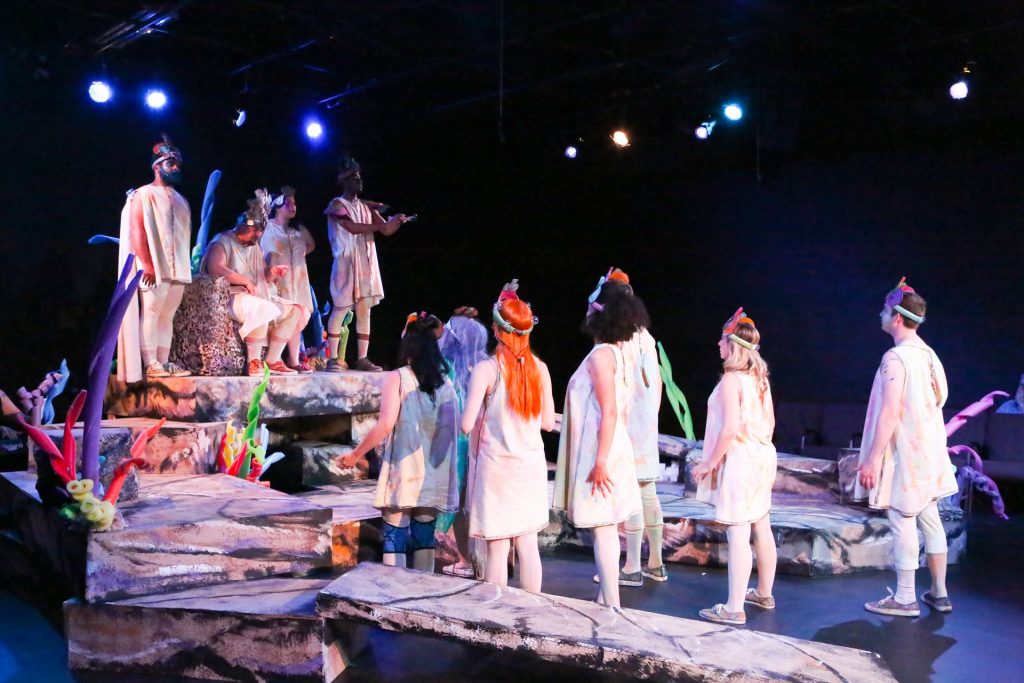 For those who are familiar with New Line, Yeast Nation features an all-star cast of actors.
The show opens with Sarah Dowling as Jan-the-Unnamed, a narrator who helps guide the audience through these ancient waters by telling the story to a group of yeasts (Evan Fornachon, Brittany Kohl Hester, Eleanor Humphrey, and Bradley Rohlf). Dowling is fantastic in the fourth-wall-breaking role, playing a sage-like character who is also blind. Often times she is speaking in the wrong direction, or pointing the wrong way, and Fornachon quickly guides her where she needs to go. It's a comedic style that works very well throughout the show, as Dowling elicits many laughs through her timing and humorous body language.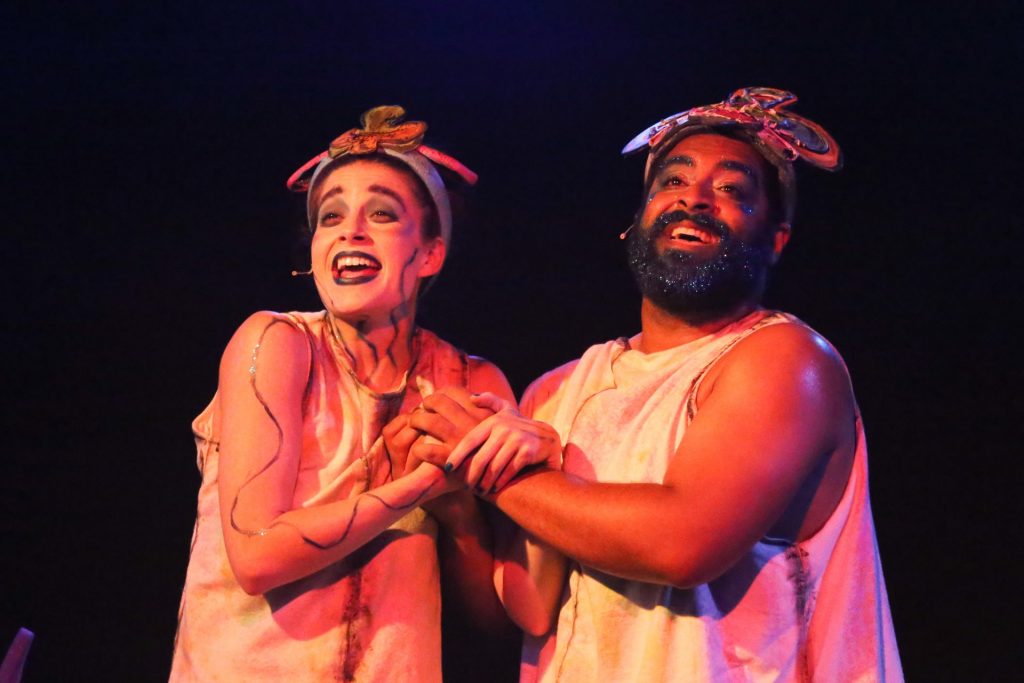 Dominic Dowdy-Windsor and Larissa White have great chemistry with one another, and are terrific as always. Dowdy-Windsor has a beautiful voice, and never fails to command the stage with his presence. I always get excited about seeing him in a New Line production. White is another one of my favorite actors in St. Louis, and she once again delights here as Sweet. Her body language and facial expressions say it all, as her character struggles with the oppressive yeast society. Her love and compassion are always believable, and she never fails to deliver her character's kindness.
Zachary Allen Farmer was in the first New Line musical I saw – High Fidelity – and I could instantly tell that he was a tremendous talent. Since then, I've immensely enjoyed his presence in most of the company's shows that followed. He has a great singing voice, but also an undeniable magnetism that takes a hold of the audience until the curtains close. Farmer is excellent here once again, this time as the ruler of this primitive-yet-sophisticated underwater society.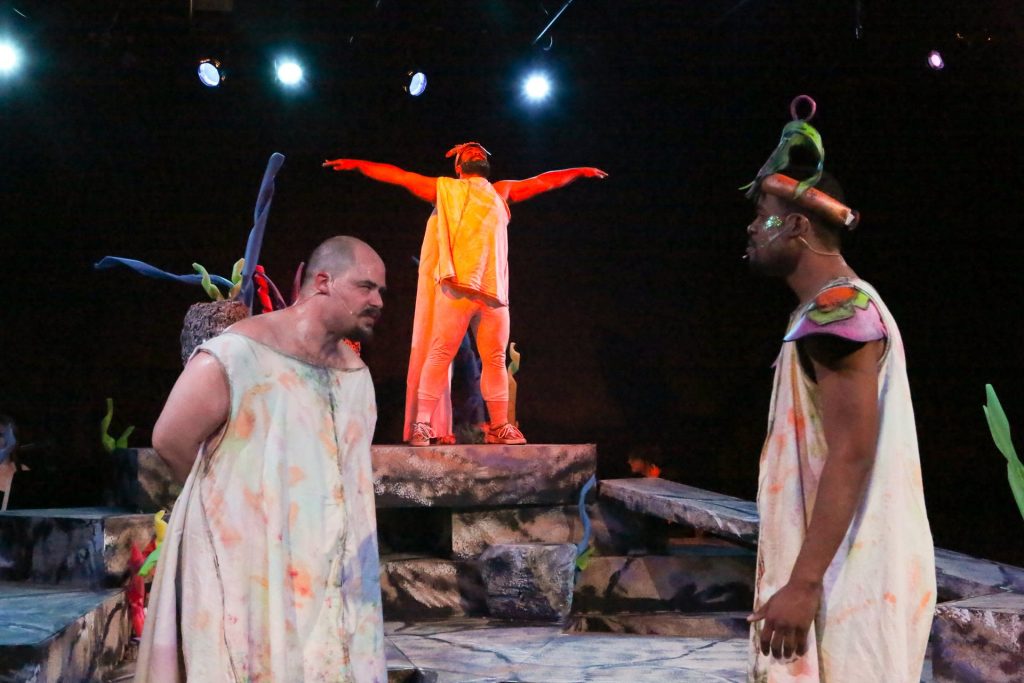 Grace Langford is perfect as the diabolical schemer, Jan-the-Sly. Together her and Jan-the-Wise (Micheal Lowe) plot to seize control of the kingdom. Lowe reminds of an evil Disney villain (think Scar or Jafar). He makes a great bad guy, and I'd love to see him in some more roles like this.
Jennelle Gilreath and Colin Dowd play well off of one another as  Jan-the-Famished and Jan-the-Youngest. And Lex Ronan is equally adorable and terrifying as The New One.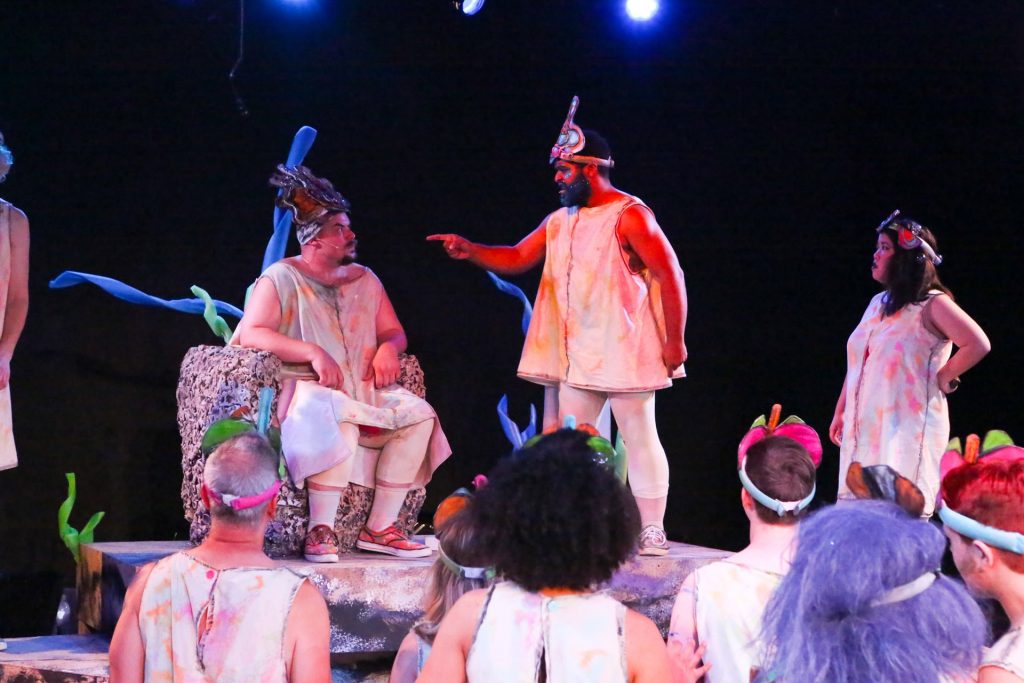 The music, which is a new orchestration by John Gerdes, is magnificent. I only wish that I could find a cast recording so that I could hear it again. There are some really catchy songs in the show, and the entire cast sounded great together. Directed by Sarah Nelson, the New Line Band performed the score wonderfully as always.
Yeast Nation is probably considered "odd" by Broadway standards, and most likely why it never found a home there. But that is more the reason to love it, as it epitomizes the creativity we yearn for when discovering new art. The show is very smart, and surely benefits from a second viewing to truly appreciate all of the clever writing. Yet at the end of the day, the sights and sounds will have you captivated – all while having a lot of fun.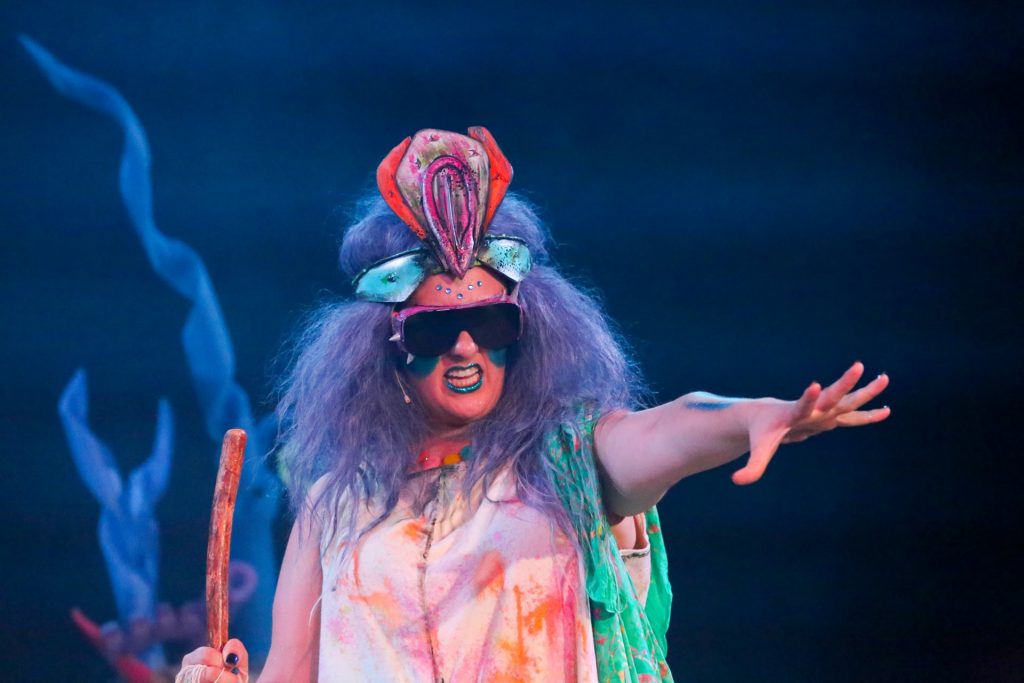 Yeast Nation runs through June 23, Thursday through Saturday evenings, at the Marcelle Theater. Tickets are available at MetroTix.com. For more information about the show, visit newlinetheatre.com.