Review: WWE Monday Night Raw (3/3)
The WWE sure knows how to play the fans. Raw was live from Chicago this week. After weeks of wondering what would happen due to local boy and company star CM Punk leaving, Raw went off without a hitch, and without Punk. Much to the chagrin of the fans, Punk never showed. What made it even more surprising, was that WWE actually mentioned Punk, teasing fans of a Punk appearance to start the show, as Paul Heyman came out to Punk's music. The start of the show made it clear that Raw was going to be interesting.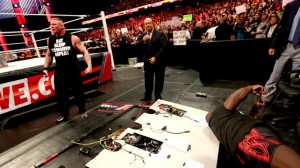 Heyman came out and delivered his own so-called "Pipe Bomb", but not about Punk, but Brock Lesnar. Heyman said Lesnar would end the Undertaker's streak at WrestleMania 30. To prove Heyman's point, Lesnar destroyed Mark Henry with an F5 into the announcer's table. In the process, Lesnar nearly seriously injured a young fan, as he madly tossed the prompters from the announcers table. It was a great way to kick off the show in a hostile environment.
While some may have been disappointed at Punk's no-show, the Wyatt's and The Shield made up for it with another classic battle. The Wyatt's got the win again, but this time it was due to Seth Rollins leaving his team stranded in the middle of the ring as he walked away. This will no doubt set up a triple threat match at WrestleMania between Dean Ambrose, Roman Reigns, and Rollins.
It appears that Christian and Sheamus are on track for a WrestleMania match. If this is so, why do we continue to be bored by their matches on Raw every week? I don't really get that one, and neither do the fans, as they voiced their disapproval during the match.
Another great match was the tag team title bout between the New Age Outlaws and The Uso's. I was glad to see the Uso's get the titles, they deserve it. They are probably more over than any other tag team at this point, so it makes sense. It was a nice run for the Outlaws, but let's hope it's over with.
Fans were treated to another Cesaro and Big E match ,which again ended in a disqualification, thanks to Jack Swagger. It's pretty clear that Cesaro and Swagger are heading for a match against each other at Mania. I am actually looking forward to it. Both men are solid in the ring, and should put on a great match.
The main event of the show featured Daniel Bryan against Batista. Is there a more hated wrestler than Batista at the moment? The match ended in disqualification as Randy Orton and The Authority interfered. After refusing to fight Bryan at Mania, Triple H hit him with a pedigree. It will be interesting to see if Triple H accepts the match next week on Raw. Orton, meanwhile, continues to be a lame duck champion. I just pray that either Bryan or Punk gets tossed into the title match at Mania, making it a three-way dance. Nonetheless, it was a great ending to a great show, which featured a hot crowd.
Now, on to the big question; where is CM Punk? The WWE continues to sell his gear, so I for one, feel he will return for WrestleMania in some sort of role. Maybe, he will be the guest referee in the Triple H and Bryan bout, but it's hard to say at this point. Or, just maybe, Punk is really gone for good. Either way, the WWE put on a top notch show on Monday night.
WWE Raw gets an A.
Photos © WWE.