Review: Tom Cruise Does It Again With 'Mission: Impossible – Dead Reckoning Part One'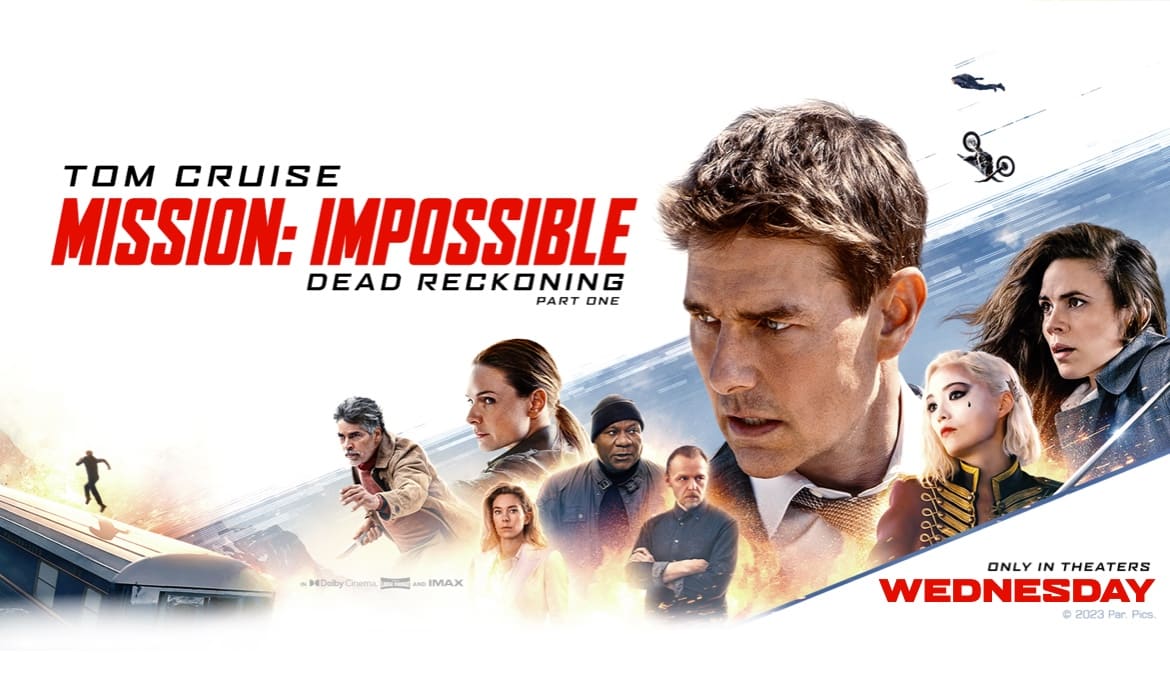 Click here for Jeremy's take on DEAD RECKONING PART ONE.
Who would you consider to currently be the biggest action star on the planet?
I asked my friends on Facebook this question and got quite a few different answers. The Rock, Jason Statham, Keanu. A couple of people mentioned older stars like Stallone or Jackie Chan, and perhaps 30 years ago, I'd have agreed with that selection.
Based on some conversations I'd had with some friends, I put forth the name Tom Cruise. It's not a name many people would immediately think of. He's not the tallest, most chiseled guy (although at 61, he's still in remarkable shape), but when you look at his résumé (plus the fact that he does his own dangerous stunts), the only recent big action film of his that bombed that I could recall was The Mummy. Love him or loathe him (I'm still not a fan of him as a person for his promotion of Scientology), Cruise has a legitimate claim to being the most marketable action star on the planet.
Now, the four of you that read my reviews and aren't related to me will recall how much I adored last year's Top Gun: Maverick, but I admit that I went into Mission: Impossible – Dead Reckoning Part One essentially blind: I haven't seen Mission: Impossible 3-6. I recall enjoying the first quite a bit, but John Woo did such a meh job with 2 that it turned me away from the series, even after hearing how well the series had rebounded. Well as it turns out, the series did indeed rebound pretty well once Christopher McQuarrie took over at the helm, and after watching Dead Reckoning Part 1, I now feel the urge to go back and watch 3-6, so if you'll excuse me, I'll see you in a week.
I have to admit that given the happenings of the first half of 2023, the plot couldn't be more relevant to current events. The secret Russian submarine Sevastopol is underway in the Arctic circle testing its detectability using an AI program known as the Entity, which presumably has the ability to trick the sonar of other ships. Detecting an enemy sub launching torpedoes, the Sevastopol fires its own before discovering the enemy ship was a decoy generated by Entity and Sevastopol is destroyed by its own torpedo, killing the officers that hold the two keys to activating/deactivating Entity.
Given the task of retrieving these keys is Ethan Hunt (Tom Cruise), the wily veteran of the IMF (which I'd forgotten doesn't stand for the International Monetary Fund, but the Impossible Missions Force). Given his mission by Eugene Kittridge (Henry Czerny, who starred in the first film and is making his series return), he is told to find Ilsa (Rebecca Ferguson), a former MI6 agent who's helped Ethan and the IMF in the past. As it turns out, Entity has essentially learned not only the secrets of every government, but the methods with which they obtain these secrets. And so control of the Entity is something not only governments want, but nefarious individuals.
Thus, the race is on not only to find both pieces of the key, but to discover what exactly they unlock, as the Sevastopol is completely unknown to the Western world. And it's truly a race, as the film is essentially nonstop action from beginning to ending credits with a few brief breaks to allow for plot development and allow people to catch their breaths. With locations ranging from the Arctic Ocean to Venice to the Swiss Alps, there's quite a variety in scenery as Hunt goes head to head against Gabriel (Esai Morales), a handsome, charismatic figure who's gone up against Hunt in the past, and Alanna (Vanessa Kirby), a black market arms dealer whose life is at stake if she can't obtain the keys.
It's a lot going on. I haven't even mentioned Haley Atwell's character Grace, whose moral compass seems to be open to interpretation. She comes off at times as greedy and selfish, but at others caring and compassionate. It gave me strong Helena Shaw vibes from Dial of Destiny, in a good sense. Atwell is an excellent actor and gives some real humanity to a character that the audience may find ambivalent.
The plot moves very quickly and well enough that you may not even notice how long the film is, thanks in large part to the superlative action sequences. One of Cruise's hallmarks is his willingness to perform his own stunts, and his work (as well as the work of everyone else) is so well-done and coordinated, I'd be shocked if the film doesn't allow Cruise to dominate the summer box office for a second consecutive year. For what it's worth, I brought my buddy Nick who's a big fan of the series, and he may have enjoyed it even more than I did. "I thought that the theme of 'Friends mean the most to me,'" he chimed. "And Ethan's unwillingness to put the mission above his team was both essential to adding some humanity to the otherwise cold feeling of 'espionage' or the doom and gloom of the last film [Fallout]."
All in all, it's a pretty exemplary film, and it truly made me wish I had gone in with a full knowledge of the series; however, if you're like me and you missed a few iterations, you won't be totally lost. You may not catch a few callbacks or easter eggs, but all in all, anyone can go in and have a good time. I know I did.
Word of caution: if you go see this in theaters, unless you've got an iron bladder or don't care about making a mess, I strongly suggest using the restroom before the movie starts. Part 1 clocks in at a hefty 2 hours, 43 minutes.
At the very least, get a Stadium Pal or Stadium Gal. I am confident in saying you won't want to miss a single scene.
Mission: Impossible – Dead Reckoning Part 1 gets an A-