Review: SHOTSPEARE is Literally Shots + Shakespeare, and It's Hilarious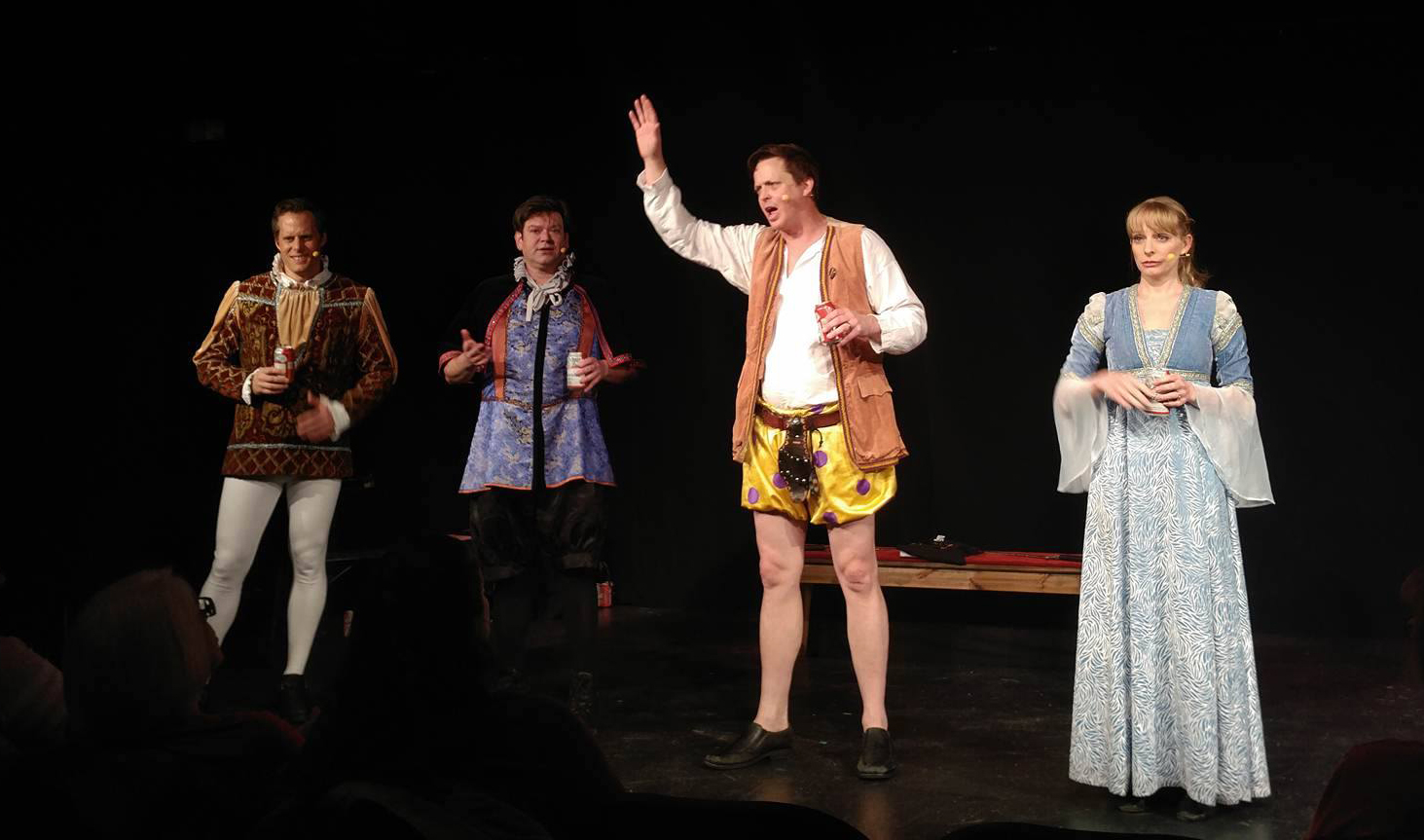 To drink, or not to drink? That is the question!
Wouldn't it be crazy if there were a version of Romeo and Juliet where the cast would go out into the audience, and poor shots of vodka straight into your mouth from the bottle? Or what if members of the audience could yell out, "SHOTSPEARE" in the middle of a sword fight, and the entire cast would have to stop to take a shot and drink a beer? Or how would it be if Benvolio randomly threw cans of beer into the audience and told you to chug?
If any of this sounds fun, you are about to have your world rocked. That is exactly what happens in SHOTSPEARE, a show comprised of – you guessed it – shots and Shakespeare.
Playing for three days only at the Playhouse @ Westport Plaza, this is not your grandfather's "Shakespeare in the Park." Starring a cast of five veteran Shakespearen actors, you will watch a play like Romeo and Juliet in its entirety. But what makes it different than something you might see at the community theater is the actors are getting progressively more drunk throughout the show. And hilarity loves company; the audience is encouraged to drink and interact throughout the entire performance.
SHOTSPEARE has teamed up with Shakespeare Vodka, originally produced in Poland (and now in the U.S.), and is not afraid to let you sample their wares. Literally for around 30 minutes before the show, the cast was pouring vodka straight out of the bottle into the mouths of audience members. The house was packed, and it was amazing to see the size of the crowd that was partaking. People were there to have a good time and, without a doubt, that is what was had by all.
Aside from the shots and beers, there are a couple of things that really make the production stand out.  One of them is the "Wheel of Soliloquy." Instead of simply boring the audience with a long-winded monologue, the actor speaking gets to spin a giant wheel to spice things up. The options are: Socks, All Drink, Saltines, Spanks, Chug, and Stranger Danger. It's like a drinking game that you would play with your friends, except you are in a theatre with hundreds of people and classically trained actors.
One lucky audience member will get to be a part of the show, which is downright hilarious. They become an honorary member of the cast – reading lines, wearing costumes, and even doing "Shotspeares" with their fellow actors. It looked like an absolute blast for the guy in our audience, and hopefully it was half as much fun as it was for us to watch him perform!
If you are looking for a truly unique piece of theatre, look no further. Whether or not you are fan of Shakespeare, laughter is universal. And there is just as much to go around in this production as there is alcohol.
SHOTSPEARE stars Matthew Morgan, Timur Kocak, Brian David Sloan, Heidi Brucker Morgan and Brandon Breault. Directed by Matthew Morgan. St. Louis is the first stop for the show outside of Las Vegas, New York and Los Angeles.
UPDATED: See SHOTSPEARE at the Playhouse @ Westport Plaza November 15 – December 8, 2018! Tickets are available at MetroTix. For more information, visit the Playhouse @ Westport website or Shotspeare.com.