Review: Raleigh Supercon 2017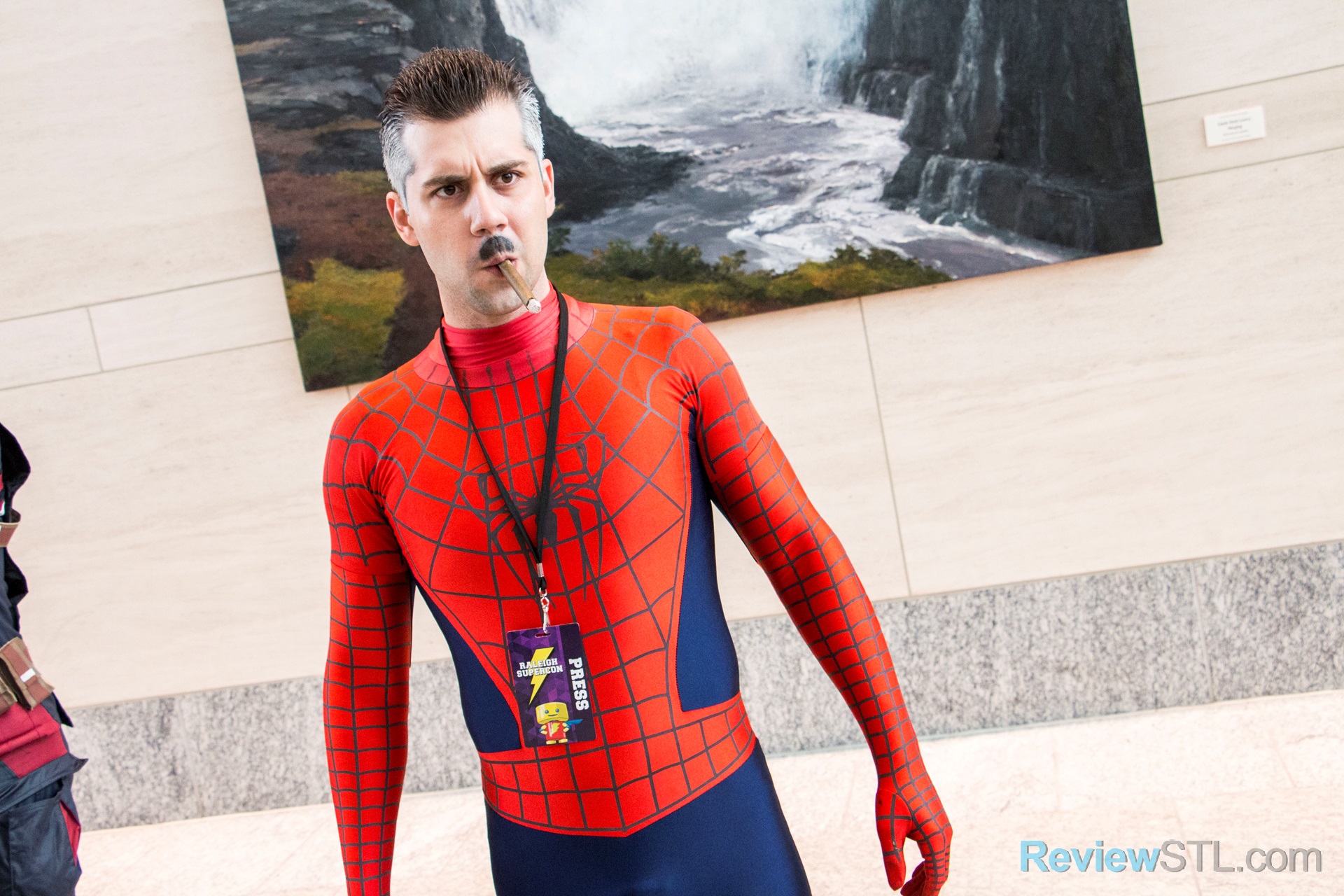 Before I delve into the amazing splendor that was Raleigh Supercon, I must give a shout out to my North Carolina con-family: Jenn (Jenna Say What???), Jenny (Goth Mama Cosplay), Stormy (Tiny Villain Cosplay), and Kayla (Travelin' Chui). You are some of the most kind, wonderful, and sweet people I've ever met and I want to thank you so much for helping facilitate this experience. This was the most fun I've had at a convention since meeting the four of you at C2E2.
I'm also going to shout out to the members of my STL con-crew that could make the trip. Justin, Ryan, and Tank… you are the best travelling buddies a nerd could ever ask for. I'm so happy we got to share our first NC con together. I only wish more of our STL friends could have made the journey.
Going into this con, I knew it would be a unique experience. Until now, just about all my convention experience was from St. Louis. C2E2 was a fascinating joy ride, but we went into that experience with a very fresh perspective. We didn't know what to expect and the weekend in Chicago could have gone either way. This time, however, our wonderful North Carolina con-family was more than ready to help show us a good time and make sure we enjoyed ourselves.
Luckily this con was extremely affordable. Only $60 for the whole weekend, and our con-family was more than willing to host us in their lovely homes. Justin and I stayed with Jenn and her husband Sergei. I must say, walking into their house for the first time I wasn't sure what to expect. What I found was a cosplayer's dream. Their entire bottom floor was a costume workshop! Jenn, if you're reading this, I want to tell you again how jealous I am of your and Sergei's epic house.
FRIDAY
Since we'd be attending all three days of Supercon, I decided to kick off Friday in the Vault Suit. I had recently picked up a few additions to the costume, including a new belt, shoulder strap, bandana, and goggles, so I was excited to see how it played out.
The response was about as great as I'd come to expect from past cons. People were drawn in by the big blue beacon walking around blasting Diamond City Radio. Fans of the Fallout franchise were a plenty at Supercon, and I didn't have to walk the wasteland alone this time. Tank was dressed as the Mysterious Stranger, and Stormy was donning a freshly made Raider Alpha costume.
(For those of you unfamiliar with Fallout, the Mysterious Stranger is an NPC that activates randomly through the game to finish off enemies with a powerful revolver. The Raider Alpha is a custom character based on The Pack, one of the Raider factions featured in Fallout 4's DLC Nuka World.)
We were stopped countless times across the floor to take pictures with fans of the games. I also had to stop quite a lot to capture all the extraordinary cosplays donned by our fellow con-goers. Speaking of extraordinary cosplay, our host Jenn was one of the featured cosplayers of Raleigh Supercon, manning her own booth to sell prints as well as participating in multiple panels throughout the weekend. It's no wonder why Jenn cosplays as so many insane characters. She wore not one, not two, not even three, but SIX costumes over the course of the weekend! Calling it impressive would be an understatement.
The con floor was big. While not quite as big as C2E2, there was still a whole lot to see. I had gotten used to seeing the same artists over and over at St. Louis cons, so it was exciting to see so many different artists showcasing their wondrous pieces. I wish I'd had more time to shop over the course of the weekend, but I did pick up a few business cards for some online shopping later.
While travelling the floor, Stormy and Jenn introduced us to quite a few of their Raleigh friends, all of which were a delight to meet. It was hilarious watching their friend Taylor, dressed as Old Gregg from The Mighty Boosh, asking person after person if they'd ever drank Bailey's from a shoe.
In the afternoon, Tank and I decided to check out the Fantasy Super Cosplay Wrestling show in Ballroom C, which had been set up as a wrestling arena for the entire weekend. Ryan and his friend were big wrestling fans and were all about going to see this. I thought it would make for some great photos. Tank was a bit apprehensive on our way up to the show. He was never a fan of wrestling, but when we got up there he took the opportunity to sit down. Mysterious Stranger wears a trench coat over dress clothes, so he certainly needed the rest.
As match after match went by, however, I think Tank became the biggest fan of the show. It was indeed thrilling to see beloved characters from all genres take on one another in the ring. Excitement filled the room as Casey Jones fought Bane, Shocker tangled with Mr. Satan, Jinx ran Negan around the ring, and Spiderman and Daredevil took on Junk Rat and Road Hog. It was a fantastic experience and I really hope to see them perform again someday. I'm sure Tank hopes they'll let him wrestle with them one day too.
One thing we all really enjoyed about this con was the healthy night life. At most of the cons we've been to, the day is pretty much over as soon as the exhibition floor closes. Not this one. Supercon had events and panels going well past midnight every day. Friday night, as we hung out in the lobby of the adjoining Marriot hotel, Tank decided to wander down the hall and sign up for cosplay karaoke.
Most of us (both STL and NC crews) followed him and proceeded to have an amazingly fun time mingling with other con-goers from the day as well as just about all the wrestlers from FSCW. While meeting new people and having a good time, the entire room was stunned to see a guest performer approach the front of the room. Brian freakin O'Halloran, better known as Dante Hicks from Clerks and Clerks II, took the stage to sing War Pigs by Black Sabbath. If that room had an excitement meter, it would have shattered. After the performance, Brian being the amazingly cool guy he is, took selfies and briefly spoke to the fans that approached him. I snagged a moment with him and Justin grabbed a photo with his phone.
The karaoke line was quite long, and about 3 hours after signing up, Tank finally got up on stage to sing Sweet Caroline by Neil Diamond. I never would have known this veteran could sing! Nearly the whole room sang the chorus along with him, and I could see that everyone still there at 12:30am was absolutely enthralled by the Mysterious Stranger.
Continued: Saturday